This list of Buddhist Guru Master monks will auto-update each time we add a new Master. Click each link in the list to view the amulets and read about each Guru Monk

External Pages
---
Rian Kring Solos Tat - Nuea Solos 16 - 66th Birthday 1st Edition Amulet 2518 BE - Ajarn Chum Chai Kiree
02845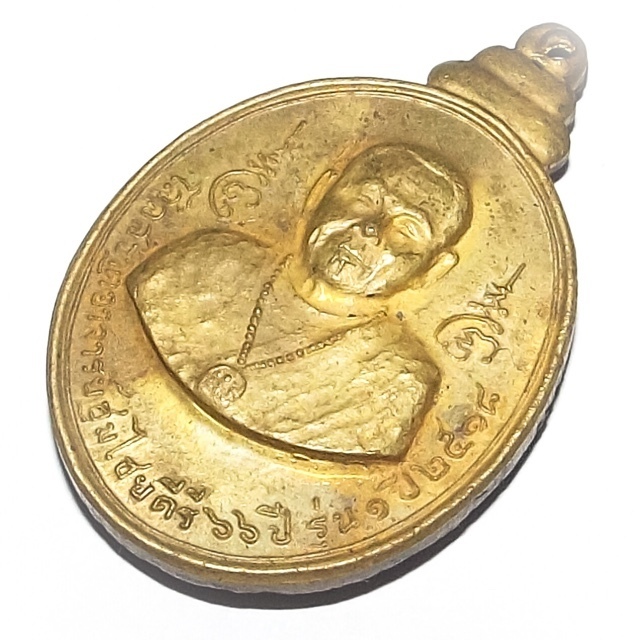 Rian Kring Ajarn Chum Chai Kiree Hlang Pra Pid Ta Guru Coin Amulet with Kring Bead Rattle inside the Buddha on rear face - 66 Birthday Edition 2518 BE - Nuea Solos Tat (Solasa Loha + Galai Tong with Tat Kring Bead).
This is extremely rare ‪Amulet of the Pantheon of Ajarn Chum,‬ and highly prized possession of Devotees of Ajarn Chum Chai Kiree, of the Dtamnak Dtak Sila Khao Or Southern Academy of Sorcery. The amulet is a twin sided amulet with Ajarn Chum on one side, and Pra Pakawambodee (Pra Pid ta Nirodha Buddha) on the other side.
The coin is made from Nuea Solasa Loha Galai Tong (Gold Galvanized over 16 kinds of Sacred Artifact Alloy), and has an inimitable surface sheen that is the first criteria used by experts in authenticating this coin, which has many fake editions imitating it, but which no single forgery edition has managed to replicate properly. Inside it is a bead of Chanuan Metal with Solos Tat Elemental relics in it.
Hence, this coin is a perfect Ongk Kroo for study of how an authentic Rian Kring Ajarn Chum should appear, and to use it to remember its features and characteristics, as a reference model when comparing with other examples of this coin. We have taken as clear photos as we could so that our readers can study the appearance of the authentic coin for gathering knowledge.
The front face of the amulet features the image of Ajarn Chum Chai Kiree, in 'Kreung Ongk' (Half Torso Cameo Bust), and has the words 'Solos Tat Ajarn Chum Chai Kiree 66 Pi Run 1 2518' around the edge. the Khom Agkhara 'Put' and 'To' are placed either side of Ajarn Chum's head.
The rear face has a Pra Pakawambadee (Pra Pid Ta) amulet heat fixed on to the surface of the coin, which has a Kring bead of Sacred Elemental Substance (Tat) inserted within, taken from the World Famous Pra Pid Ta Hlaem Sai 2481 BE first edition amulet ceremony at Wat Chai Mongkol on Songkhla.
At that time, Ajarn Chum was a Bhikkhu (Ordained Buddhist monk), who was staying at the temple of Wat Chai Mongkol. he attended the full 16 Days and Nights of that empowerment ceremony, and kept an amount of the Sacred Chanuan Alchemical metals from the smelting ceremony, and used them for the 2518 BE Rian Kring Solos Tat coins.
Ajarn Chum Chai Kiree was the Greatest Lay Master in all Living History of Thai Buddha Magic, and his powers remain undoubted by his many tens of thousands of Devotees around the world, since his Merits have spoken for them-self, through his amazing abilities which he carried since childhood, and the easily noticeable real effects which can be sensed coming from his amulets.
Second to none for truly potent Magical Power, Ajarn Chum commands a top position in the History of Thai Buddhist Amulets and the Status of Occult legend. Ajarn Chum was arguably the most powerful and famous Laymaster of all Thai Occult History, and his amazing miraculous feats of Magickal Prowess are still the talk of every Samnak Saiyasart around the country, many years after his passing.
His public shows of Miraculous Magick, has amazed a whole generation of faithful devotees. His Devotees, are filled with Faith in his inexplicable shows of power, and the miraculous events which many people who rever his amulets have encountered, has served to raise Ajarn Chum Chai Kiree to the Status of Grand Master of the Khao or Academy of Occult Sorcery.
When Ajarn Chum was just 7 years old, he once grabbed the rifle barrel point of his father's friends gun who had come to visit, and chanted a mere 11 syllable Kata.
The gun exploded and broke in half the next time it was used to shoot with. These events caused the villagers to believe in his powers, and have faith in his Magick. When he reached the age of Ordination, he ordained under Pra Ajarn Kong and stayed at Wat Chai Mongkol, until his disrobing.
After this, he studied hard further as a Lay Practitioner and studied the Buddha-Dhamma. Later, he moved to Pattalung, and became a practitioner at the Dtamnak Dtak Sila Khao or, under Ajarn Iad (Wat Don Sala), as his Mentor in Magickal Sorcery.
He already had fifteen years of ordained study and practice behind him befriended with the Great Luang Por Kong, and now became the Legendary Master of Khao or Sorcery.
He is famous for many Miraculous feats from his amulets, including his famous Noo Kin Nom Maew Metta Oil, which he made, and tested with a show of putting baby mice and a cat who was giving milk into the same cage, after smearing some oil on them all.
The mice ran to the teats of the cat, and the cat gave milk to the mice. Ajarn Chum had a very strange ability to decipher difficult methods of Sorcery and had a special mind that was attuned to mysterious forces. Ajarn Chum always used his famous magical 'Nam Man Solos Mongkol'' oil, to smear on the heads of the Devotees before performing Kong Grapan Magic.
The Sacred Chanuan for these coins is Solos Tat, made from 16 kinds of Sacred Element; 1. Lek Lai, 2. Jao Nam Ngern, 3. Gold, 4. Silver, 5. Bronze, 6. Copper, 7. Brass, 8. Leaden Mineral, 9. Wolfram Mineral, 10. Rae Jakr Narai (Vishnu's Chakra Mineral), 11. Rae Sangkwanorn (Ayuttaya temple roof leaden nails), 12. Rae Chin (Ancient Silvery Leaden Artifacts), 13. Rae Dtakua Dam (Black Lead Mineral), 14. Rae Dtakua Thuean (Wild Leaden Mineral), Rae Lek Nam Pi, and 16. Rae Yord Pra Prang (metal from the top of the old temple Chedi Stupa).
The amulets were blessed in the same method as the Pid Ta Hlaem Sai of 2481 BE ceremony, performing 16 days and nights of consecutive empowerment. The coins were blessed in the same ritual along with the Grom Luang Chumporn Coin Amulets of 2518 BE also a highly revered and sought after amulet of Thai Buddhist People and of devotees of Ajarn Chum. The ceremony was held with the Summoning of Luang Por Tuad, Luang Por Kong, Khun Phaen, and Pra Pikanes Deity to Manifest and assist Ajarn Chum in the Empowerment at the Samnak of Ajarn Chum.
Ajarn Chum summoned and beseeched the Devas, and began to empower, performing single individual empowerment on each single coin, one by one, in the tradition of the Wicha Solos, and performed continually until 16 days and 16 nights had passed, and then the amulets were taken to the temple of Wat Traimit Voraram in Bangkok, and empowered in the Uposadha Shrineroom of the Temple for a further 7 days and nights.
The amulets received a final empowerment on Thursday 8th May 2518 (Wai Kroo Ajarn Chum), to be handed out during the Master Day Ceremony.
Kata Bucha Pra Krueang Ajarn Chum Chai Kiree
Na Rong Hai - Na Maa Khao Haa - Na Jidtang Maa Ni Maa Maa - Jidtang Maa Ni Maa Maa (3 Times)
Chant
Na Mo Tassa Pakawadto Arahadto Sammaa Samputtassa
Na Mo Tassa Pakawadto Arahadto Sammaa Samputtassa
Na Mo Tassa Pakawadto Arahadto Sammaa Samputtassa
Then Chant
I Sawaasu Susawaa I - A Sang Wi Su Lo Bu Sa Pu Pa (3 Times)
Facts that are hardly known; The Rian Kring Solos Tat was actually first made in 2517 BE with the year 2517 embossed, but Ajarn Chum did not like the image, which he said looked too much like an Ordained Monk, and was disrespectful to the Sangha, and so forbade its release. Hence, the devotees beseeched another edition, which was released in the Year 2518 BE, with the new date embossed. Ajarn Chum Chai Kiree stated that the forbidden first pressing could be released only after he had passed away.
Temple:Dtamnak Dtak Sila Khao Or
Maker of Amulet:Ajarn Chum Chai Kiree
Weight:15 Grams
Recommended Uses:Protection, Prosperity.
Size of Amulet:4 x 2.5 Cm
Encasement Options
Solid Gold Custom Casing (we will email you with a price quote according to current gold prices at the time of inquiry) (0) Waterproof Casing (Free Offer with this Amulet) (0) Without Casing (0)