This list of Buddhist Guru Master monks will auto-update each time we add a new Master. Click each link in the list to view the amulets and read about each Guru Monk

External Pages
---
Rian Lor Rakang Hlang Pra Sangkajjai Sawasdee Mee Lap Plord Pai Edition 2538 BE - Nuea Rakang - Luang Por Kasem Khemago
03047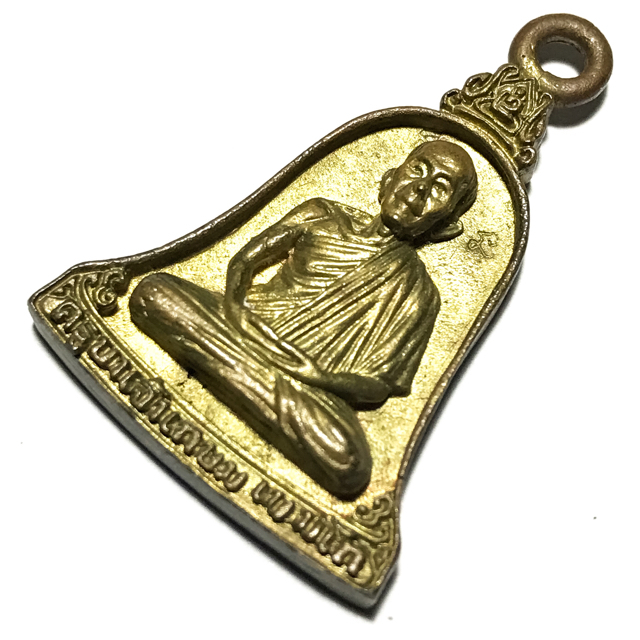 Rian Lor Roop Muean Kroo Ba Kasem Nuea Tong Rakang Pim Song Rakang Hlang Pra Sangkajjai - Sawasdee Mee Lap Plord Pai Edition - cast brazen alchemically forged guru monk coin amulet, released in 2538 BE at the Sussaan Trailaks forest Cliff Cemetery temple.
Luang Por Kasem was a Master Guru Monk of the Lanna Tradition whose dhamma practice and renunciation is worthy of great reverence. Presumed to be an Arahant, His amulets are full of Puttanupaap (Buddha power of protection and fortune), because of the purity of this monk's practice. His meditative power and clarity of concentration used in blessing the amulets is that of an Adept practitioner.
The front face of the amulet features the image of Luang Por (Kroo Ba) Kasem, with a Buddha floating over his head. The amulet has a heavy cast highly defined detail to the relief imagery and lettering, which bear the words 'Kroo Ba Kasem Khemago' on the maroon the bottom area of the coin. A code stamp with Khom letter 'NA' is indented into the surface of front face, as authenticity stamp
The rear face of the amulet has the image of Pra Sangkajjai Arahant embossed on the upper part of the coin. Underneath Pra Sangkajjai, are the words 'Sawasdee Mee Lap' Meaning 'Happiness Peace and Luck in Wealthy Fortunes' Pra Sangkajjai is renowned for the bestowal of Maha Lap and Maha Pokasap blessings, increasing wealth and prosperity.
Below this is the Kata in Khom Agkhara "Sappē Chanā Sukhidtā Hōndtu (which means 'May i be Happy'). Below that, the next line of Kata Khom reads Mahā Lāpō Pawandtumē' (which means 'Bless me with Lucky Fortunes'). The third line of Kata below that reads 'Sappē Andtarāyō Wināssandtu' (which means 'all danger be eradicated)'.
Below that, the next line reads in Thai 'Plord Pai' (meaning 'Safe'). Underneath this, says '30 January 2538' marking the date of the Buddha Abhiseka blessing ceremony of the edition's release date.
The bottom line of Thai script curves around the lower edge of the bell shaped coin, and says 'Sussaan Trailaks Lampang' which is the name of the temple of Luang Por Kasem. LP Kasem is one of the few Master Monks whose power and sacredness is legendary on a Historical level, but whose amulets are still affordable compared to some other amulets of other top Gaeji Ajarn.
His amulets have always been very popular with Thai people even during Luang Por's early years., for the purity of practice and massive faith which the devotees had in his Patipatā (practice).
Even more so since many Devotees who wore Luang Por Kasem's amulets turned up constantly at the temple over the years, telling stories of great luck in commerce, love, as well as tales of miraculous escapes from fatal accidents, and lethal attacks from enemies.
Many of these stories became National News stories, and the amulets of Luang Por kasem have long been the treasured protectors of military, navy, airforce and police officers, who consider his amulets to be very powerful Maha Ud Klaew Klaad Kong Grapan Chadtri magic.
This edition is one of the many popular and sought after editions of amulets made by Luang Por Kasem, and is valued by collectors and "Sian Pra" in the professional amulet collector circles.
The Rian Lor Rakang is most certainly yet another great amulet worth collecting and making Bucha to, for recieving the blessings of Metta, Kong Grapan, Choke Laap, Maha Sanaeh and Klaew Klaad that Luang Por Kasem's great purity endowed the amulets with when he blessed them.
This amulet is an true masterpiece of miniature Buddhist Arts, with true old school class and style, and is a Pra Niyom Category amulet that is an immensely recommended for devotees of the Guru Monk Luang Por Kasem Khemago.
Kata Luang Por Kasem Khemago
(Praying and paying reverence to the Sacred Buddha relics and images around the Universe)
Wantaami Jaedtiyang Sappang Sappadthaanae Subpadtisadtitdtaa Srirataadtung Mahaapoting Puttaruubpang Saggaarang Sattaa Naakalogae Taewalogae Daawadtingsae Prahmalogae Chompootiibpae Sanggaatiibpae Srirataadtuyo Gaesaataadtuyo Jaedtiyang Kantagudtii Jadturasii Dtissahassa Tammakhantaa Bpaadtijaediyang Narataewae Hibpuuchidtaa Ahang Wantaami Duuradto Ahang Wantaami Taadtuyo Ahang Wantaami Sappaso
Kata for increasing personal Metta (LP Kasem)
Sataahang Sukhidto Homi
(Chant 15 times a day)
Kata for spreading Metta to Other Living Beings
Sukhinowaa Khemino Hondtu Sappae Sadtaa Pawandtu Sukhidtadtaa (Chant 20 times a day)
Kata for Apologizing to Books
Luang Por Kasem was a great lover of books, and would restore or clean any ripped pages or discarded pieces of book.
Agkharang Tosang Khamadtumae
Kata for Paying Reverence To Books
Agkharang Wantaamihang
Books are the source of knowledge, and are thus sacred.

BIOGRAPHY OF LUANG POR KASEM KHEMAGO
Temple:Sussaan Trailaks (Lampang)
Maker of Amulet:Luang Por Kasem Khemago
Weight:11.14 Grams
Recommended Uses:Protection, Auspicious Karma, Prosperity and Health, Guru Worship, Buddhanussati
Size of Amulet:3.5 x 2.5 Cm
Encasement Options
Solid Gold Custom Casing (Waterproo​​​​​​​f) - We will email you with a price quote according to current Gold Prices, and Invoice You after Agreement (0) Waterproof Casing (9) Without Casing (0)