This list of Buddhist Guru Master monks will auto-update each time we add a new Master. Click each link in the list to view the amulets and read about each Guru Monk

External Pages
---
Rian Lor Roop Muean Nang Suea 2540 BE Pim Lek Nuea Rakang Luang Por Phern Tidtakuno Wat Bang Pra
03240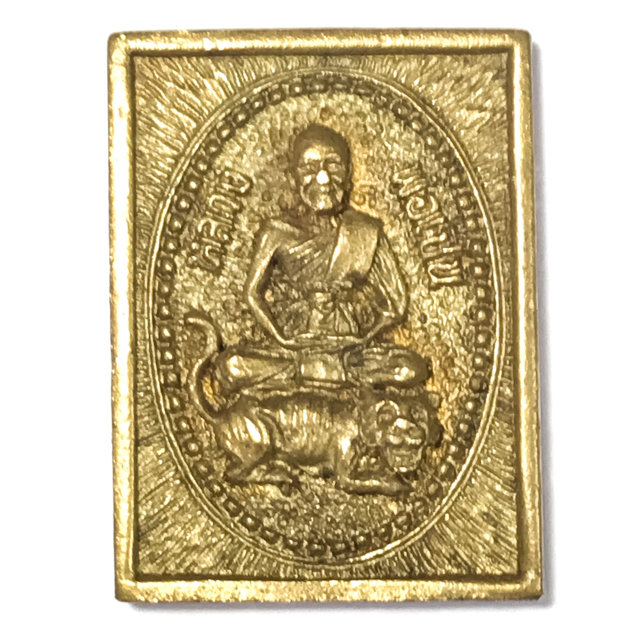 A very rare example of Luang Por Phern Tidtakuno's 2540 BE Edition 'Rian Nang Suea' Guru Monk Coin, in Nuea Rakang Sacred Brass Alloy. The front face of the coin features the image of Luang Por Phern seated on top of a Tiger, wihtin an oval border, enclosed by the rectangular frame of the coin, which is embellished with 'Jud Khai Pla, which means 'fish eggs', and refers to the round spherical decorative pattern around the edges of the oval.
The rear face of the amulet (below), has the name of the edition 'Yok Chor Fa Bor Gor Sor' (raise the roof struts), and the year of release 2540 BE. The amulet measures 2.5 x 1.8 Cm and is highly portable, and is cast in thick gauge, weighing 6 Grams without casing.
The amulets of Luang Por Phern Tidakuno (Wat Bang Pra) are highly renowned for their Kong Grapan Chadtri Klaew Klaad, Maha Lap, Maha Amnaj and Serm Duang Powers. This is of course, one of the reasons why the Great Luang Por Phern, has hundreds of thousands of devotees around the world, if not millions.
Luang Por Phern (Pra Udom Prachanat), is one of this Century's Greatest Master Gaeji Ajarn Guru Monks, and holds World Famous International Status as well as being a revered Monk of the Thai Royal family. Luang Por Phern Is one of the most internationally famous monks all of this century mainly for his grand role in the promotion of Sak Yant Sacred Tattoos, And of course his powerful amulets which are now becoming ever more favored and ever rarer.
And of course,ever more valued. Those who rever the Great Luang Por Phern will be at best served with this purely Buddhist Amulet of Auspicious Blessings, for the faith of the Devotee and the Metta of the Guru Master, is the connection that causes the Miracle Events which are so often attributed to amulets to occur.
Kata Bucha Luang Por Phern Tidtakuno
Kata Ārātanā Pra Krueang
Puttang Ārātanānang Tammang Ārātanānang Sangkang Ārātanānang - Make a Wish/Prayer and continue with; Puttang Bprasittimē Tammang Bprasittimē Sangkang Bprasittimē
Temple:Wat Bang Pra
Maker of Amulet:Luang Por Phern Tidtakuno
Weight:8 Grams
Recommended Uses:Protection, Invincibility, Evasion of Danger and Enemies, Prosperity, Promotion, Good Karma
Size of Amulet:2.5 x 1.8 Cm
Encasement Options
Waterproof Casing (9) None (0)