This list of Buddhist Guru Master monks will auto-update each time we add a new Master. Click each link in the list to view the amulets and read about each Guru Monk

External Pages
---
Rian Luang Por Phern Nuea Tong Daeng 2519 BE 1st Edition Guru Monk Amulet - Block P Kheed Niyom - Wat Bang Pra
02724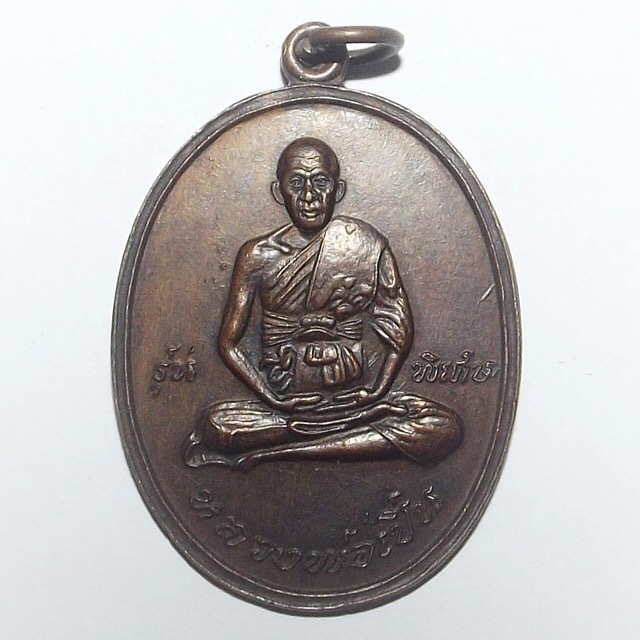 Extremely rare Pra Niyom Category first edition Guru Monk Coin amulet from the Great Luang Por Phern, of Wat Bang Pra. This coin is a Pim Niyom Block P Kheed Niyom, from the preferred Master Block Press. The Block P Kheed Niyom pressing was the most popular and preferred casting mold, and is the most highly sought after in high end collector circles, and of course, is the most eminent of all block presses for the purpose of competition entry. The coin is cast from Nuea Tong Daeng (Rom Man Pu), and features Pra Udom Prachanat Luang Por Phern Tidtakuno, Sak Yant Master of Wat Bang Pra temple in Nakorn Pathom.
Luang Por Phern (Pra Udom Prachanat), is one of this Century's Greatest Master Gaeji Ajarn Guru Monks, and holds World Famous International Status as well as being a revered Monk of the Thai Royal family. Luang Por Phern. Is one of the most internationally famous monks all of this century mainly for his grand role in the promotion of Sak Yant Sacred Tattoos, And of course his powerful amulets which are now becoming ever more favored and ever rarer, and of course,ever more valued.
Luang Por Phern Tidtakunoe is the Beloved Guru of hundreds of Sak Yant Masters and Hundreds of Thousands (if not Millions) of Devotees, who believe in his great Purity and Kindness, and Power of Wicha Sak Yant.
Those who revere the Great Luang Por Phern, will be at best served with this purely Buddhist Amulet of Auspicious Blessings, for the faith of the Devotee and the Metta of the Guru Master, is the connection that causes the Miracle Events which are so often attributed to amulets to occur.
Attributed Powers; Kong Grapan Chadtri, Maha Pokasap, Metta Mahaniyom, Serm Duang Klaew Klaad, Maha Amnaj.
Always say; 'Namo Dtassa Pakawato Arahato Sammaaa Samputtassa' first, three times before making any Kata for amulets.
Puttang Aaaraatanaanang Tammang Aaaraatanaanang Sangkang Aaaraatanaanang Puttang Prasittime Tammang Prasittime Prasittime Sangkang Prasittime
Kata Bucha Luang Por Phern
Pra Udom Phrachaanaat, Was popularly known as Luang Por Phern Tithakunoe, or Hlwong Por Phern for short. Luang Por Phern Tithakunoe was Born in Thambon Bang Gaew Faa, Nakorn Patom, on the 12th of Singhaakom (August) Putta Sagkaraach 2466 it was a Sunday at 13:00 hours..This time was in alignment with the first Lunar Quartal.
Shortly after his Birth, his Mother and father decided to move to live in the small Village of Baan Tung Kork (CowshedVille, translated), in The district of Sorng Pi Norng province of SupannBurii. SupannBurii was a territory that Teemed with "Nak Laeng (Gangsters), and Infamous Highwaymen of that era nearly all were from SupannBurii: Famous names of the time; Suea Dam, Suea Bai, and not to forget Suea Mahaesworn.
At this time, Hlwong Por Phern was still a Layman, and found it wise to find some magic Charms to protect himself. Living in a dangerous Region and all.In addition to this, Hlwong Por Phern had always been attracted to themes involving Buddha Magic used by Warriors in the Historic Past. Suffice to say he was seriously interested in all things paranormal.
He sought out the Extremely Respected Monk of the time, Luang Por Daeng (Pra Kroo Suwanna Satugij). Luang Por Daeng was based in the area at Wad Tung Kork, in SupanBuri Province.Hlwong Por Phern became a Lay – Disciple of Luang Por Daeng, who was in turn a disciple of Luang Por Hnoeng (Wad Klong Madan); an Expert in matters of Sorcery.At a later phase Luang Por Phern would "Buad Pra" (become ordained as a Monk), at the age of Twenty Six, to be exact.
He would never leave Monkdom again. He was ordained by Pra Ajarn Huem, who was also his teacher in Buddha Magic and Sorcery for a while. Apart from that, Hlwong Por Phern was a Disciple of "Agkara Khorm" and a student of Yant design and application who came to be highly admired as an expert.His Yant were renowned for their Aesthetic beauty and the power they carried with them.
Luang Por Phern studied Vipassana Meditation with utmost dedication for many years and through these studies was able to become a disciple of the Great Hlwong Por Oe Paa Sii, one of the Greatest monks of the time, known for his powers of white magic. After this, Luang Por Phern went to practise "Dern Tudong" (walk aimlessly through the Jungle renouncing the comfort of the Wad), through the western border of Central Thailand, in the Kanjana Buri province. He crossed the border into the realm of Marit (Burma), through the remote areas of Saesawoe and Bang Graeng Gawia; Known in that time as being thickest darkest Jungle.
There were Jungle fevers, Mortal dangers such as Poisonous snakes, and other animals such as tigers and the like were teeming in this part of the wilderness at that time.According to Thai beliefs, there was also the added dangers of "Nang Mai" (wicked fairies and tree spirits), Phii Bpoeng and Phii Phaa (Jungle ghosts) and all sorts of evil spirits.
The inhabitants of this jungly and mountanous region are mostly "Gahriang" (Karen Tribe), and many of them became disciples of L.P. Phern, due to the fact that L.P.Phern "Mii Dii Hai Haen" (have good can see).
Hlwong Por Phern seemed to be loved and respected wherever he travelled, due to the fact that he possessed such a transparent personality that allowed all to see his great Compassion and his power to help the folk with his Buddha Magic. After this, L.P. Phern continued to "Dern Tudongk" through Thak Province, Rachaburi, and PaetchBuri and many other Provinces.
Until one day Luang Por was called upon by the local folk to be "Jao Awaas (Abbot) of Wad Tung Nang Hlork (Temple of the field with the lady ghost), in Kanchanaburi.This was the first time he was to be Abbot of a Wad, but he was able to successfully develop the temple complex during his stay there of five years.After this, Hlwong Por Phern Tithakunoe returned to "Dern Tudongk" for many years.
The Ruesi of the Ramakian, probably the fathers of Yant tattoo, were the first to practice dern tudong.This practice involves wandering solitary in the forest, meditating in the darkest night in ancient graveyards and ruined temples, right in the middle of the thickest darkest jungle.This is suppose to strengthen ones mind and help to enlighten one, due to the extremely fearful nature of the meditation location.
The Year 2509 Puttasagaraach (Buddhist calendar we are now in 2548, which is 2005 our time.)Admirers and Disciples of Hlwong Por Phern formed a comittee to erect a statue of Hlwong Por in honour and respect of all the great acts of compassion he had performed for the folk of Nakorn Phatom province.At this time L.P. Phern was Abott (Jao Aawaas) of wad Koeg Khaema in Nakorn Phatom, but after the erection of this statue, was very quickly allocated to be Jao Awaas of Wad Bang Pra temple.He stayed there to the date of his Passing away in 2004.
Temple:Wat Bang Pra
Maker of Amulet:Luang Por Phern
Weight:12 Grams
Recommended Uses:Protection, Evade Danger, Prosperity, Status Increase
Size of Amulet:3.5 x 2.5
Encasement Options
Solid Gold Custom Casing (Waterproo​​​f) - We will email you with a price quote according to current Gold Prices, and Invoice You after Agreement (0) Waterproof Casing (9) Without Casing (0)