This list of Buddhist Guru Master monks will auto-update each time we add a new Master. Click each link in the list to view the amulets and read about each Guru Monk

External Pages
---
Rian Nang Dtem Ongk Run Raek 1st Edition Guru Monk Coin - Nuea Albaca - Luang Por Sai Wat Tong Kung
03195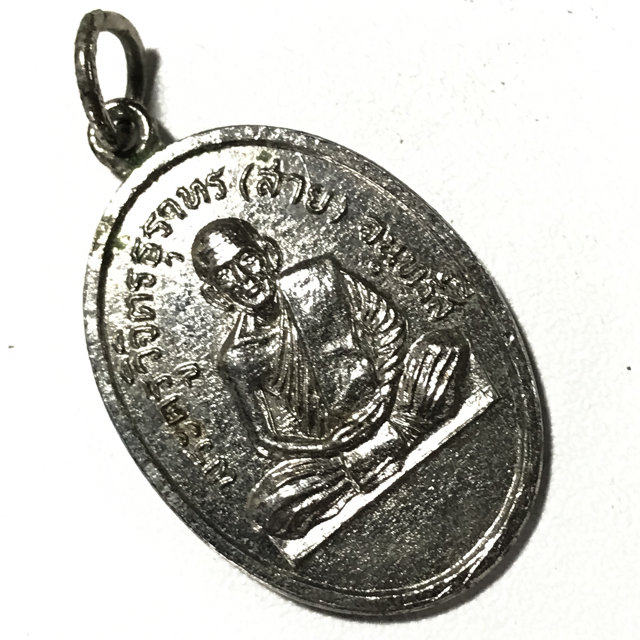 Early Era first edition 'Rian Kanajarn' first edition Guru Monk Coin, in Nuea Albaca, from Luang Por Sai, of Wat Tong Kung (Ang Tong). This coin is cast as a 'Rian Roop Khai Nang Dtem Ongk' oval shaped coin, in medium size at 2 x 3 Cm, with the image of Luang Por Sai seated in meditative posture. The rear face of the coin features a Sacred Yantra spell embossed, and Khom Agkhara Spells
Luang Por Sai of Wat Tong Kung was a Gaeji Ajarn Guru Monk of the Ang Tong Province, who inherited his wicha from OIden days Guru Master Luang Por Gim, of Wat Klang, who was one of the Greatest Masters of the region in the history of the Ang Tong Province.
Luang Por Gim introduced Luang Por Sai to the Great Luang Por Glan of Wat Prayat, who is a well known Master Adept of Benjapakee amulet making, and also introduced him to learn Wicha from the Great Luang Por Im of Wat Hua Khao, who was an Elder Master of that Era, and comrade of Luang Phu Suk ( Wat Pak Klong Makham Tao). Luang Por Sai learned the Wicha Yant Dtakror Hwaen Pirod from Luang Por Im, who was so famous for his Legendary Magic Hwaen Pirod, and Hwaen Ngu snake head Rings.
Luang Por Sai became equally famous for his Wicha and his powerful Hwaen Dtakror Pra Pirod amulets, and his rings became equallly revered in in high demand by the Looksit (devotees), and these days, it is very rare to be able top find amulets from any edition made by Luang Por Sai.
Luang Por Say afforded the use of the olden days methods of alchemical metallurgy in the same fashion as applied by the great Luang Por Im. His magic rings are known for their power to fend off poisonous beasts, and all his amulets are famous for their Klaew Klaad Evasive Magic, and Kong Grapan Chadtri Maha Ud Power of Invincibility and Protection.
His amulets are very popular with soldiers who guard the borders of Thailand, to protect them against weaponry and projectiles, and this Rian Run Raek first edition Guru Monk Coin is one of the preferred classics of his pantheon. The amulets of Luang Por Say, is considered a very powerful protection against weaponry and deadly accidents, making this a highly desirable amulet for those seeking Maha Ud, Klaew Klaad and Kong Grapan Chadtri. The wearer should not 'Dtaay Hoeng', meaning, will not die in disastrous circumstances.
Temple:Wat Tong Kung
Maker of Amulet:Luang Por Sai
Weight:9 Grams
Recommended Uses:Protection, Evasion of Danger and Enemies, Prosperity
Size of Amulet:3 x 2 Cm
Encasement Options
Solid Gold Custom Casing (Waterproo​​​​​​​​f) - We will email you with a price quote according to current Gold Prices, and Invoice You after Agreement (0) Waterproof Casing (9) None (0)