This list of Buddhist Guru Master monks will auto-update each time we add a new Master. Click each link in the list to view the amulets and read about each Guru Monk

External Pages
---
Rian Pidta Wat Hnang 2514 BE Nuea Tong Daeng Rom Man Pu - Blessed by LP To, Ngern, Daeng, Sud, Chaem, Pae, Te, Kong, Kling, Uttama, Nam, Nong
03800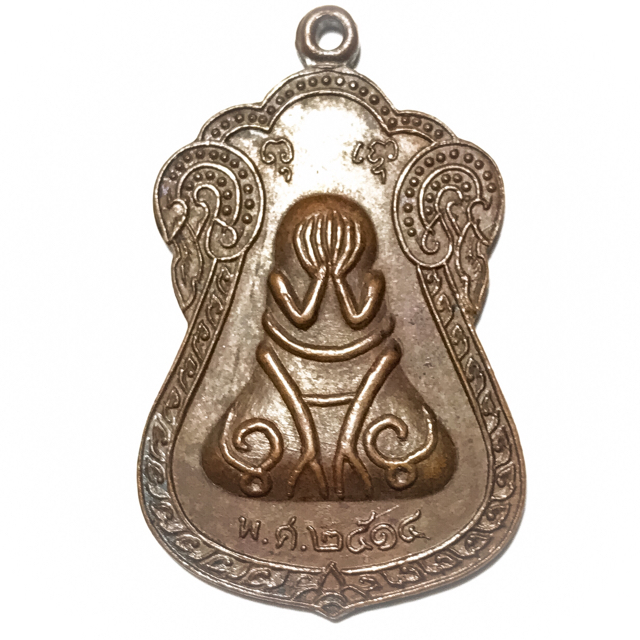 Rian Pra Pidta Nirodha Buddha Coin, Released from the temple of Wat Hnang in the year 2514 BE, along with various other amulets, to be blessed at Wat Ko Non. This edition included the famous 2514 BE Pra Pid Ta Nuea Takua miniature leaden amulet, which was smelted from leaden Pidta found buried in a Kru Hiding Place Chamber by Luang Phu Iam, which were placed there by his Kroo Ba Ajarn, and abbot of Wat Ko Non. The Chanuan Alchemical Metal alloys used hence contain original Pidta amulets of Luang Phu Rod and Luang Phu Iam smelted into them, which were dug up from the Kru chamber in 2512 BE two years previously.
Free Registered Air Parcel Shipping Worldwide is included with this amulet. The Pidta amulets were taken from Wat Hnang to be re-blessed and re-released during the 2514 BE Look Nimit Arahant Ball burial Ceremony Celebrating the New Uposatha Shrine Room at Wat Ko Non. The Ceremony was presided over by the Great Luang Phu To, of Wat Pradoo Chimplee, and a host of some of the greatest Masters of that Era, including;
Luang Phu To (Wat Pradoo Chimplee), Luang Phu Tiam (Wat Gasatratirach), Luang Por Pae (Wat Pikul Tong), Luang Por Ngern (Wat Don Yai Horm), Luang Por Chaem (Wat Don Yai Horm), Luang Por Sud (Wat Ka Long), Luang Por Thin (Wat Pha Lelai), Luang Por Tong Yoo (Wat Ta Sao), Luang Por Tong Yoo (Wat Mai Nong Pa-Ong), Luang Por Bun Mee (Wat Ang Gaew), Luang Por Ming (Wat Gok), Luang Por Te (Wat Sam Ngam)......
Luang Por Seng (Wat Kanlayanamit), Luang Por Phu Sim (Wat Tham Pha Bplong), Luang Por Do (Wat Na Madtum),Luang Por Gee (Wat Hoo Chang), Luang Por Nueang (Wat Julamani), Luang Por Paitoon (LP Toon - Wat Po Nimit), Luang Por Daeng (Wat Khao Bandai It), Luang Por Horm (Wat Sak Hmak), Luang Por Pra Ajarn Nong (Wat Sai Khaw), Luang Por Mum (Wat Prasat Yer)......
Luang Por Mum (Wat Na Sak), Pra Ajarn Nam (Wat Don Sala), Luang Por Tan Kling (Wat Thalung Tong), Luang Por Uttama (Wat Wang Wiwekaram), Luang Por Somchai (Wat Khao Sugim), Luang Por Kong (Wat Wang Sapparos), Luang Por Ge (Wat Mae Nam), and many others.
The Great Masters spent a total period of 9 Days and 9 Nights meditating and chanting over the amulets, making this edition a most powerful and special edition, which is extremely recommendable for its highly sacred value, and Buddhakun Power.
The Pra Pidta of Wat Hnang of Luang Phu Rod and Luang Phu Iam are so famed for Kong Grapan Protection, after they were distributed to the Military to keep them safe when protecting the frontiers of the nation. Made from Nuea Tong Daeng Rom Man Pu, the amulets are a very favored edition for the fact that they were Blessed by some of the Greatest Guru Monks of the Time.
After the release of this edition, many devotees tested the power by shooting guns at the amulets, which resulted in a multitude of reports of guns not firing, or the bullets being duds, and not a single report of the amulets being affected by projectile weapons at all. This led to this edition becoming very famous and sought after by police and military and devotees around the country.
Luang Phu Iam was a World Famous Master Monk of the previous Century, and maker of the Number 2 Amulet of the Top 5 'Benjapakee' of Pra Pid Ta of all Thai Buddhist History, the Pra Pid Ta Yant Yung. Luang Phu Iam was the No.2 Master of all History, renowned for Pra Pid Ta Amulets, and his Rare and Powerful First Edition Monk Coin, which fetches extremely high prices in auctions.
Above; The Famous Yant of Luang Phu Iam of Wat Hnang, is emblazoned on the rear face of the coin

Luang Phu To of Wat Pradoo Chimplee was one of the greatest Masters of the Last Century, and a Highly revered Monk around the whole Kingdom of Thailand. he was Respected and revered by His Majesty Our great King, who was a close friend and companion.
This Great Monk achieved his status through his Great deeds and his great Diligence in his Patipatā (Practice of Purity and Renunciation), and in his Great Attainments in Dhamma Pariyatti and Dhamma Patipatā. Luang Phu To was born on the 27th March 2429 BE in Ban Klong Bang Noi in Samutr Prakarn and passed away on 5th March 2524 BE.
His amulets are both highly revered for their sacred Power of Protection and Prosperity, but also as a connection and Buddhanussati reminder of the Great Guru master, tto beseech his blessings through the amulet. One of the most highly sought after Pra Niyom Category Amulets, which is seen to grace the pages of any and every important amulet encyclopedia, and the highly prized and jealously guarded talisman of the high end collector and devotee.

Use the Buddhist Method of Chanting Kata Aaraatanaa Pra Krueang to pray to the amulet
Kata Aaraatanaa Pra Krueang is a Special prayer to ask blessings and wish fulfillment from all types of Buddhist Amulet. Because this Prayer calls upon the triple gem to bestow blessings, it is also possible to use without any Amulets at all, empowering results purely with the power of prayer and faith.
Before chanting to any amulets, you should always chant the Maha Namasakara (Namo Dtassa), to Revere the Buddha first;
Namo Dtassa Pakawadto Arahadto Sammaa Samputtassa, Namo Dtassa Pakawadto Arahadto Sammaa Samputtassa, Namo Dtassa Pakawadto Arahadto Sammaa Samputtassa
Kata for Chanting to Amulets (Kata Aaratanaa Pra Krueang)
Puttang Aaraatanaanang
Tammang Aaraatanaanang
Sangkang Aaraatanaanang
(Pray and make wishes and continue with)
Puttang Prasittimae
Tammang Prasittimae
Sangkang Prasittimae
Chant this Kata 3 times whenever you are about to place the chain over your head or put on the amulets, and also when you take them off.
The Kata calls upon the power of the Buddha, Dhamma and Sangha to be with you and protect and Guide you.
Temple:Wat Hnang + Wat Ko Non
Maker of Amulet:Wat Hnang
Weight:12 grams
Recommended Uses:Protection and Lucky Fortunes
Size of Amulet:4 x 2.8 Cm
Encasement Options
Solid Gold Custom Casing (Waterproo​​​​​​​​​f) - We will email you with a price quote according to current Gold Prices, and Invoice You after Agreement (0) Waterproof Casing (9) Stainless Steel Casing (9) No Casing (0)