This list of Buddhist Guru Master monks will auto-update each time we add a new Master. Click each link in the list to view the amulets and read about each Guru Monk

External Pages
---
Rian Pra Putta Lila Kampaeng Niw Nuea Galai Tong - Ngan Piti Pra Kring Naresuan Satan Trai Pob 2507 BE
02866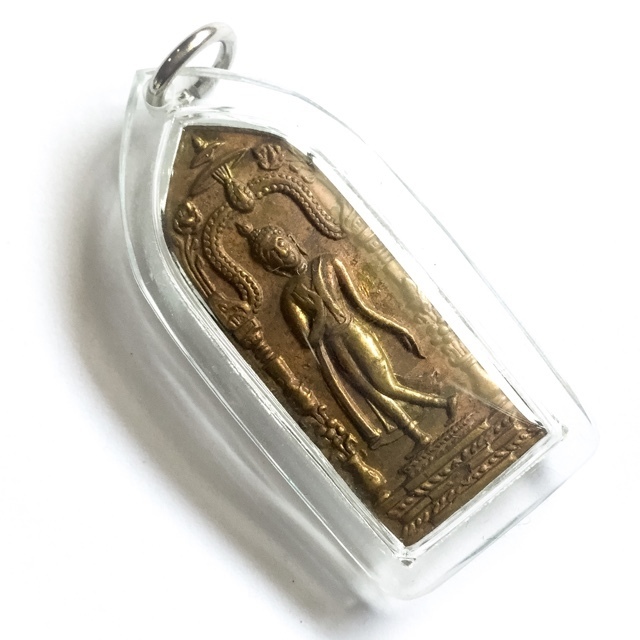 Commemorative Pra Lila Walking Buddha metallic coin amulet blessed in the first ever Edition of the making of the Famous Pra Kring Naresuan Buddha statuettes in Pitsanuloke. These coins were made in the ceremony of the casting and Buddha Abhiseka Ceremony of the Pra Kring Naresuan Satan Trai Pob statuettes, and contain special Chanuan Metallic Muan Sarn empowered by a Host of the Top Masters of that Era.
Both the Lila Kampaeng Niw and the Pra Kring Naresuan are highly sought after and valued amulets with Thai Buddhist people, especially Civil Servants, Military, Police and Politicians for the Powerful Kong Grapan Chadtri and Klaew Klaad Power to Protect and Status Increase (Serm Yos), as well as Prominent Businessmen who seek the powerful Maha Lap and Kaa Khaay powers invoked within the yantra Foils which are smelted into the metals used in these amulets.
This edition was made most prominent by the Pra Kring which were the first ever Pra Kring made with the Invocations of King Naresuan Maharach.
The Pra Kring Naresuan edition became a major favourite with Civil Servants, Police, Military, and have been made again with great popularity ever since that first edition, which became an immensely popular Pra Kring for its powerful cermeony and the sacred Chanuan Muan Sarn Ingredients, and great Master Monks who donated their yantra Foils for mixing into the Metallic Chanuan Muan Sarn.
The front face features the image of the Pra Lila walking Buddha in the style of Kampaeng Niw artistic interpretation. Pra Lila amulets have been made in various eras and in various regions of Thailand, and were found in this particular artistic form in the Kampaeng Niw Kru hiding place archeological find, from which this design was taken and used for this edition.
The coin is made from Galai Tong brazen metal smelted and cast with molten metals of the yantra foils donated from the great Masters; Luang Por Ngern of Wat Don Yai Horm, Pra Ajarn Nam of Wat Don Sala, Por Tan Klai and Wat Suan Khan, Luang Por Mui of Wat Don Rai, Luang Phu To Wat Pradoo Chimplee, Luang Por Pae Wat Pikul Tong,Luang Por Muang of Wat Ta Haen in Lampang, Luang Por Bee of Wat Ta Dan Hoi, Luang Por Wang of Wat ban Dan, Luang Por An, of Wat Prayat, Luang Por Chern of Wat Dyamnak Nuea, Luang Por Tob of Wat Chon Daen, Luang Por Gan of Wat Khao Gaew, Pra Ajarn Bun Some of Wat Hua Chuang, Luang Por Tiang of Wat Khao Roop Chang, and a host of other great Master Monks.
The content of the Sacred yantra foils inscribed and donated for the smelting of these amulets by these Master Monks were of mixed conten; 1. Paritta and Sutta Inscriptions of Dhamma 2. Kata Chants and Prayers, such as the Radtana Mala, and the Kata Chinabanjara, which were composed by the Great Masters of Olden days to encompass and encircle Sacred Yantra with to enforce protection and bring great blessings 3. Yantra and Numerology Spells from Ancient Wicha such as the Yant Maha Pichai Songkram (Victory Yantra), Na Bpathamang 14, the Yant Dtrinisinghae, Yant Jadturo (Four Requisites), Yant Dtrai Saranakom (Triple Refuge), Yant Pra Jao Sip Chadti (Ten Jatakas), and the like.
The Casting Ceremony and first empowerment of the Pra Kring and other amulets of this edition (including this Pra Lila Kampaeng Niw), was held before the shrine of the image of King Pra Naresuan Maharach at Wat Pra Sri Radtana Mahatat (temple of the Chinarat Buddha) in Pitsanuloke, on Thursday the 19th November in 2507 BE .
The presiding Monk was Pra Dech Pra Kun Tan Jao Prakun Somdej Pra Aryawongsakadtayan Somdej Pra Sangkarach of Wat Chetupon Manghalaram.who began the Ceremony at 20:00 hours.
Temple:Wat Pra Sri Radtanamahatat (Pitsanuloke)
Weight:14.2 Grams
Recommended Uses:Klaew Klaad, Metta Maha Niyom, Kong Grapan Chadtri, Maha Lap, Kaa Khaay, Serm Yos, Serm Duang