This list of Buddhist Guru Master monks will auto-update each time we add a new Master. Click each link in the list to view the amulets and read about each Guru Monk

External Pages
---
Rian Run Pised Luang Por Dhamma Chakra 2537 BE - Nuea Tong Daeng Rom Dam - Wat Nong Ga Nam
02931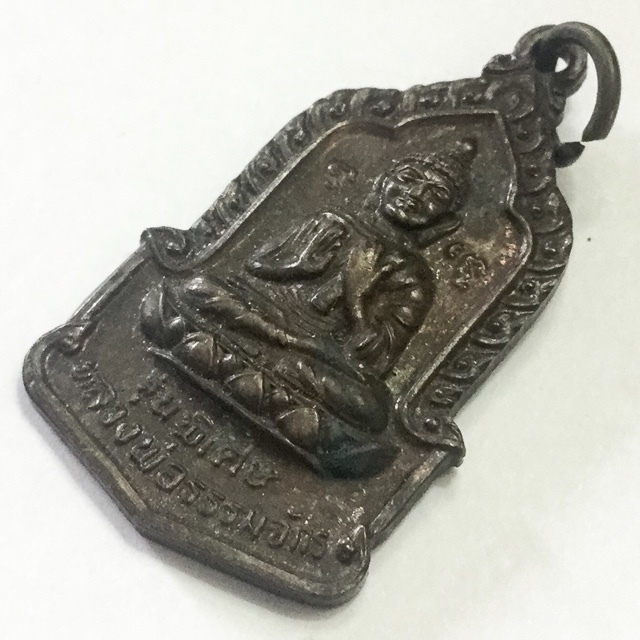 Sacred Image of the Pra Luang Por Dhamma Chakra Buddha (Luang Por Tammajak) embossed on the surface of the black oil finish Sacred copper alchemical alloy coin amulet. Released in the year 2537 BE in Buddha Abhiseka at Wat Nong Ga Nam temple in Chonburi Province.
The rear face of the amulet features Kata Khom Pali Sanskrit Incantations on the upper section, with the Dhamma Chakra Dharma Wheel emblazoned on the central part of the coin.
The front face bears the image of Luang Por Dhamma Chakra Buddha, seated in the posture of the 'Pang Tammajak' Posture, which represents the first sermon, known as 'The Turning of the Wheel of Dhamma'. It is said that once the Buddha gave the first Dhamma sermon (teaching of Truth), he began turning this wheel in motion.
It is said that since that moment of setting the wheel of Dhamma in Motion, that its turning will never stop, until the end of the Universe when all Beings become Enlightened. It is known as the Setting In Motion The Wheel Of Truth, which represents the beginning of the existence of the Buddha-Dhamma on planet earth, and is for Bh once initiated, will never cease to keep turning.
This Buddha coin hence represents a very important moment for all Buddhists to contemplate and remain mindful of, and the teachings contained within are in essence the whole Buddha Dhamma explained as the state of Buddhahood, and the events/attainments which lie on the path to that Enlightened state of Buddhahood.
Luang Por Dhamma Chakra provides Serm Duang (improve fate and destiny), Maha Lap, Kong Grapan Chadtri and Klaew Klaad, as well as Metta Mahaniyom Mercy Charm, to improve your Karma, increase prosperity, protect and save you from all deadly dangers and enemies, and to increase your friends, and decrease your enemies.
Use the Kāthā Ārātanā Pra Krueang to pray to the amulet
This amulet can best serve for meditation to wear or hold, memorise and visualise the image of Luang Por Dhamma Chakra as the Buddha seated before you, giving the first Sermon. A study of the Dhamma Chakra Sermon to understand its meaning, will deepen the experience of listening to (and perhaps chanting along with it and eventually doing it on your own) the Dhamma Chakra Sermon as the Kata Gamgab, and listen to it as you Meditate, and Contemplate the Dhammas (Truths of Nature) which are contained within it.
Buddhism Began Truly with the Buddha's first Declaration of his Enlightenement, and explanation of the chain of events and experiences leading up to the moment of Enlightenment. This declaration is known as the Dhammacakkappavattana Sutta. It is important for all Buddhists to Study and Understand this Sutta. Indeed, the Dharma Chakra indicates three differing levels of Symbolic Meaning
Click here to Learn about the Dhamma Chakra, its Meanings, and how to Chant it in Pali

We recommend the study of the info and translation of the Dhamma Chakra in the above link, and to study the below video 'Dhammacakkappavattana Sutta - Pali Chanting by Abhayagiri Sangha'
SETTING IN MOTION THE WHEEL OF TRUTH
Temple:Wat Nong Ga Nam
Weight:5 Grams
Recommended Uses:Meditation, Buddhanussati, Protection, Prosperity, Good Karma
Size of Amulet:2.5 x 2 Cm
Encasement Options
Waterproof Casing (9) Without Casing (0)