This list of Buddhist Guru Master monks will auto-update each time we add a new Master. Click each link in the list to view the amulets and read about each Guru Monk

External Pages
---
Rian Run Raek Hlang Hanuman Mont Pragan Saton Glab 1st Edition 2543 BE Luang Phu Hmun Wat Ban Jan
03517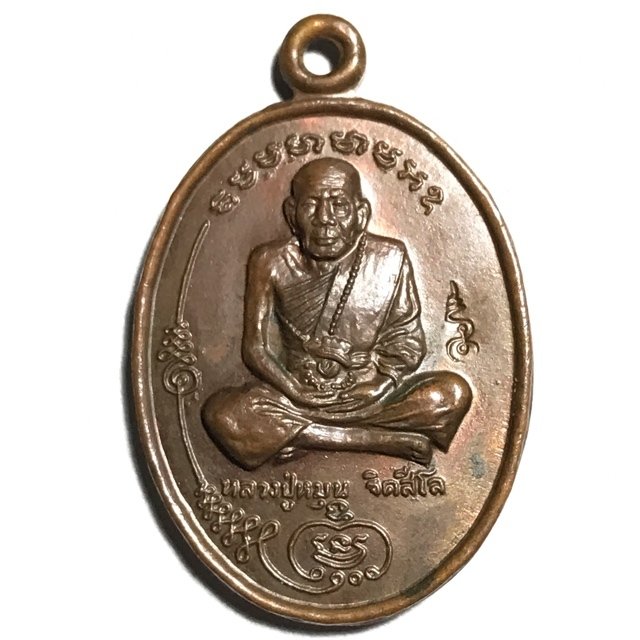 A top Master-Class Pra Niyom Category amulet of the Tamniab Wadthumongkol of the great Luang Phu Hmun (sometimes spelled 'Moon'), the First Batch Rian Roop Muean Dtem Ongk Run Raek Hlang Hanuman Paed Gorn Mont Pragan Saton Glab First Edition Monk Coin (Pim Jamuk Doeng), with full image of Luang Phu on the front face, and the Vanora God Hanuman on rear face, from the year 2542 BE
The edition was made in 2542 BE, and donated by Luang Phu Hmun to Pra Maha Pin, the abbot of Wat Ban Jan, after performing a 3 month 'Traimas' empowerment session to imbue the amulets with his powers. Part of the proceeds went to help build an Uposatha shrineroom at Wat Don Na Rang in Buriram.
He performed a final empowerment in Buddha Abhiseka ceremony (Putta Pisek), on 15th October 2543 BE, to empower the amulets with the Wicha Saton Glab Mont Pragan Reflective magic spell, which says that all who think ill or have ill intentions, or harmful plans against the wearer, will have their plans backfire on them and be reflected back on them. Luang Phu Hmun himself stated this, that all those who have ill intentions to the wearer will be curséd.
The rear face of the coin bears the Yant Hanuman Chern Tong Hanuman waving battle flag Yantra, which represents Victory in one's endeavours. Even the great Luang ta Maha Boowa is known to have said that 'Anyone who seeks amulets with true psychic powers, should seek out Luang Phu Hmun or Luang Por Guay'.
The coins were made in various materials in different numbers of limited edition; Gold (20 amulets made) 2. Silver (2000 amulets made), 3. Nuea Nava Loha (Nine Sacred Metals - 2000 amulets made), 4. Nuea Tong Daeng (20,000 amulets made)
Before he passed away, Luang Phu Hmun told his devotees; "My amulets were made with my own efforts, and anyone who possesses one will have their luck and fortunes revolutionised and increased, and you will never be poor, so long as you conduct an honest and ethical profession - if you keep the precepts, and do good deeds, my amulets will bring you success and favour'.
Luang Phu Hmun was a Maha Thaera Guru Monk of great age and who recieved Great reverence and Respect from the people of Tambon Jan for his Diligence and Purity in practicing the Vinaya as a Buddhist Monk. His predictions and instructions for ceremonial empowerment of amulets after his physical death, have been followed to the letter since his passing, for he gave special instructions to inform as to when and how he would return with his spiritual presence to empower amulets posthumously. His Miracle Powers are Legendary, with so many stories of Miraculous events related to this Monk, who has seen the Reign of Five Kings in his Lifetime. Luang Phu Hmun's amulets are now very hard to come across.

His amulets are becoming very rare, and prices have risen constantly since his passing, snapped up by the inner circle of devotees and collectors, who know about the attainments of this Monk, and that there are severe reasons to believe that he may have been an Arahant. His amulets are eminent members in the annals of the Classics.
Kam Ārātanā Buchā Luang Phu Hmun Tidtasīlō
Namō Dtassa Pakawadtō Arahadtō Sammā Samputtassa Namō Dtassa Pakawadtō Arahadtō Sammā Samputtassa Namō Dtassa Pakawadtō Arahadtō Sammā Samputtassa
Luang Phu Hmun Tidtasīlō Ma A U Luang Phu Hmun Tidtasīlō U A Ma
Below; Yant Hanuman Paed Gorn Chern Tong on Rear face of Amulet
Kata Bucha Luang Phu Hmun
Dtua Gū Lūk Pra Putta Ongk Krū Sit Tudong Ong Āj Mai Bpramāt Krū Pob Roi Gom Dū Jer Krū Grāb Hwai
The word 'Hmun' means to turn and increase (revolve). Luang Phu Hmun always foretold that those who Bucha his amulets, would turn their luck and fortunes around, and increase their Business Success. He also foretold that those who Bucha his amulets will be protected from 'Dtaay Hoeng (premature deadly accidents), and that the Devas will Protect the wearer of his amulets.
Luang Phu Hmun is renowned for having stated some Mysterious things;
Dtua Gū Bpen 1 Bor Bpen 2 Nai Phaen Din Nī (there is only one of me in this land)
Dtua Gū Bpen Hlek (i am made of iron)
Dtab Gū Bpen Tong Daeng (my liver is made of copper)
Phao Dtua Gū Bor Mī Hmai (in cremation, my body will not burn).
Bucha to Luang Phu Hmun should be performed on a Thursday, and should include offerings of; 16 Incense stick, 2 candles (lit), white flowers, or one puang malai garland. Hmak Plū Betel-Areca Nut with chewing paste (5 or 16 portions), a glass of sweet drink such as fizzy drinks, one roasted catfish, some rice or sticky rice, or fermented rice, or even steamed rice pudding.
This amulet is an extreme rarity and is in pristine condition and highly eligible for show in competition. Considered extremely powerful reflective magic for protection against all physical and supernatural dangers. A top class Sacred Amulet from this legendary miracle monk, and one of the most well known amulets of his pantheon. A true Pra Niyom amulet of Master Class, for devotees and aficionados of Luang Phu Hmun Tidtasīlo's amulets, to treasure and wear with confidence of safety and good fortune.
Temple:Wat Ban Jan
Maker of Amulet:Luang Phu Hmun Tidtasilo
Weight:10 Grams
Recommended Uses:Protection, Prosperity, Good Karma, Guru Worship (Gurunussati)
Size of Amulet:3 x 2 Cm
Encasement Options
Solid Gold Custom Casing - We will email you with a price quote according to current Gold Prices, and Invoice You after Agreement (0) Waterproof Casing (0) Stainless Steel Casing (0) None (0)