This list of Buddhist Guru Master monks will auto-update each time we add a new Master. Click each link in the list to view the amulets and read about each Guru Monk

External Pages
---
Rian Sema Hua To Luang Por Thuat - Vihara Wat Sai Khaw Building Edition 2537 Solid Silver with Ya Rachawadee Enamel Glaze
00031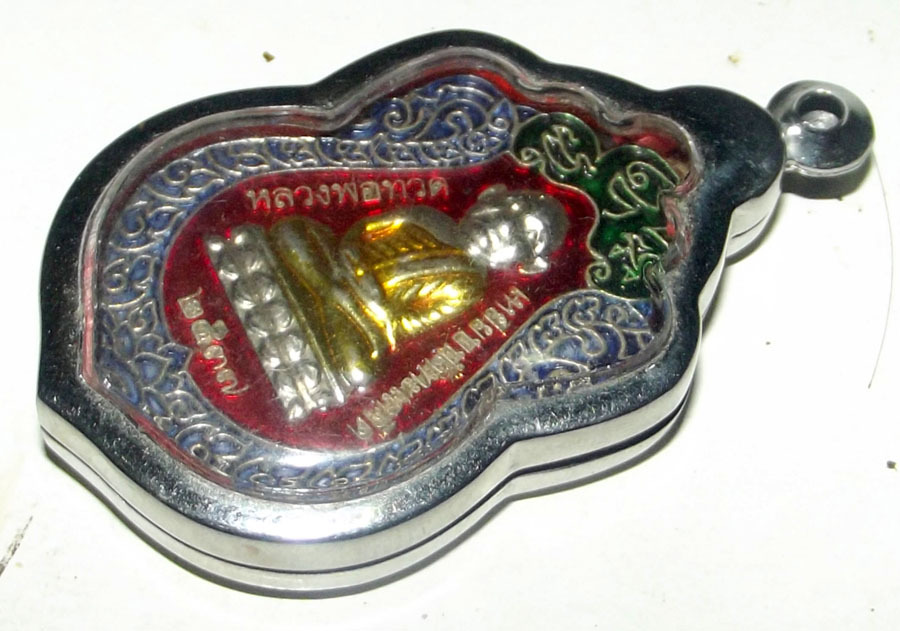 Rian Sema Hua To Luang Por Thuat - Nuea Ngern Long Ya Rachawadee (Solid Silver with Ya Rachawadee Enamel Glaze). Released in the 'Sang Wiharn' Edition, which was to fund the completion of the building of the Vihara Shrine Room at Wat Sai Khaw.
Pra Ajarn Nong and a Host of other Famous gaeji Ajarn of that time gave the Empowerment and Blessings over this famous and highly appraised, sought after and worshipped edition of Sacred Luang Por Thuat amulets.
Being made from solid silver with Ya Rachawadee, this is one of the Pim Niyom class models (highly preferred by the serious collector and devotee).
Pra Ajarn Nong (ex Abbot of Wat Sai Khaw)was born in 2462 BE and was kknown for his great Metta (Loving Kindess and Coimpassion) and for his simplicity of living frugally. He is one of the three Guru Masters responsible for the making of the Pra Luang Por Tuad amulets of Wat Chang Hai. He is World Famous for his role in the History of the Dtamra Pra Luang Phu Tuad.
He is also the only Master who recieved the Wicha of empowering Luang Por Tuad amulets straight from the Great Luang Phu Tim himself. Ajarn Nong was a great practitioner who applied immense effort in his practicew, as well as raising funds to build Buddhist Monuments and assist other temples to fund the building of their needed installations. He has Devotees from all around the World, and from every Province of Thailand. Ajarn Nong passed away in 2542 BE at the age of 80
The Rian Long Ya Pra Luang Por Tuad (Ajarn Nong, Waty Sai Khaw), is made from solid silver with Ya Rachawadee enamel glaze finish. It is known to have 4 codes as authenticity mark.The shape is that of a 'Sema' cpin, which was the preferred model of that Era. This amulet is beginning to become extremely rare and difficult to find in the present day.
Size; 3.6 Cm High x 2.3 Cm Wide
Authenticity Guaranteed or Money Back
Temple:Wat Chang Hai/Wat Sai Khaw
Maker of Amulet:Pra Ajarn Nong
Weight:35 Grams
Recommended Uses:Protection, Invincibility, Evasion, Wealth Increase, Successful Business
Actual Weight of Gold in Casing Frame:35 Grams
Encasement Options
Waterproof Casing (9) Free Original Casing Included (0)