This list of Buddhist Guru Master monks will auto-update each time we add a new Master. Click each link in the list to view the amulets and read about each Guru Monk

External Pages
---
Rian Tao Ruean Lor Boran 2538 BE Ud Kring Riak Sap - Nuea Nava Loha - Luang Por Liw - Wat Rai Dtaeng Tong
02615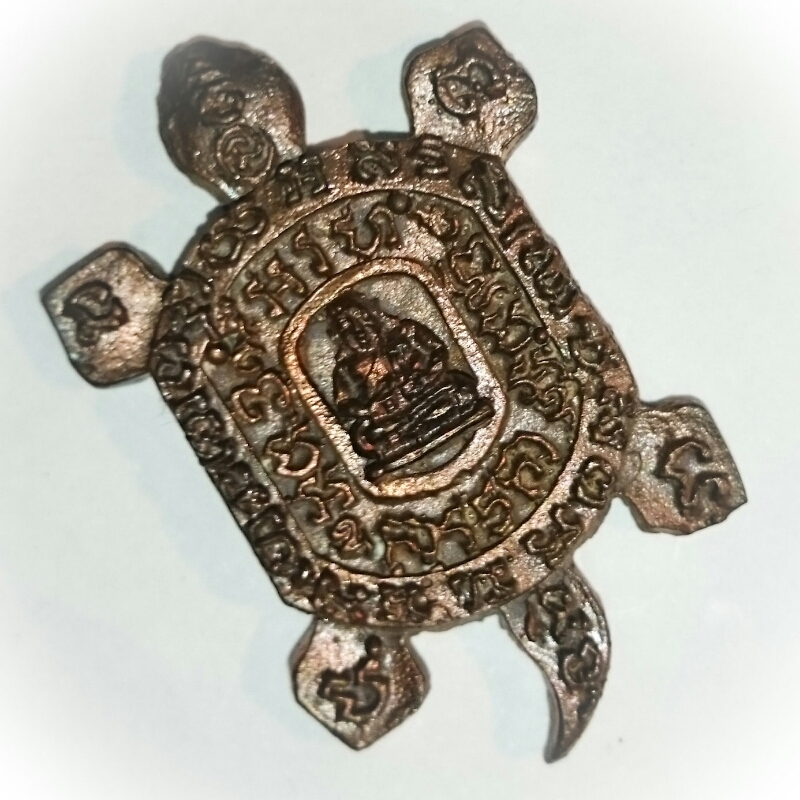 Luang Por Liw of Wa Rai Dtaeng Tong's Famous Rian Lor Boran with Wealth and Treasure Calling Kring Bead Insert, and Sangkajjai Buddha - 'Tong Dtan' (low belly). Released in 2538 BE, made from nine alchemical Sacred metals (Nava Loha).
The coins have a separate heat fused belly late with sacred na design and Khom Agkhara and Numerology Spells embossed, and a series code stamp hidden within the features of the surface design.
Very few indeed were made and this particular Pim (model) is now an extreme rarity to find on the Amulet Markets, if at all. It has a Kring Bead within it which rattles if you shake the amulet. It also has Blessed sand grains with the empowerments and spellcasting of Luang Por Liw inserted within the inner shell of the amulet.
This particular example is in pristine condition, and has not seen wear and tear through usage by devotees.
The nine kinds of metals forming the 'Nava Loha' Sacred Alloy were;
One baht (an imperial weight measure) of Chin (Sacred Lead)
Two baht of Jao Nam Ngern (Sacred Bornite/Peacock Ore)
Three baht of 'Lek Lalaay Dtua' (liquid iron/Lek Lai)
Four baht of 'Borisut' (a Purified sacred metal)
Five baht of Parort (Alchemical Mercury)
Six baht of Sangkasee (Temple roof Tin)
Seven baht of Tong Daeng (Alchemical Copper)
Eight baht of Solid Silver
Nine baht of Solid Gold
Luang Por Liw was born in 2448 BE, Ordained at the age of 27 years old, and remained Ordained until he passed away in 2543 BE, on the 4th of September at 20:35 P.M. Leaving behind him this classic Hgeritage of Famous Tao Ruean Coin Amulets, that are amongst to most well known coin amulets in both Thailand, and on Foreign Shores.
Anybody who knows these amulets, knows that one should grab them while you can, and that one can never regret owning a famous Tao Ruean Coin Amulet. One day, they will become impossible to find anymore, and that day, is definitely coming. The Rian Tao Ruean Turtle Yantra with Sangkajjai Buddha Coin Amulet from Luang Port Liw, is famous for its Maha Lap Kaa Khaay Power to increase Business success and Proficient Salesmanship and its Power to bring Lucky Fortunes upon the wearer. For this reason this amulet has become an all time classic that is Internationally Popular with Devotees around the World.
The Patipata (Purity of Practice) of Luang Por Liw is also a major strongpoint behind the reason for his Tao Ruean amulet becoming such an all time world famous classic amulet of immense esteem and collectibility.
Kata Bucha
Chant the Maha Namasakara 3 times before the Kata for the amulet, to Revere and Invoke the Buddha first. This is necessary to perform before chanting any Kata to any Buddhist amulets.
Think of the Buddha and all the Enlightened Buddhas of all the Three Times in the Three Worlds, and their Great Attainments, and call upon their merits to Portect and brinbg you Prosperity, Health, Happiness, Wealth and Long Life.
Namo Dtassa Pakawadto Arahadto Sammaa Samputtassa
Namo Dtassa Pakawadto Arahadto Sammaa Samputtassa
Namo Dtassa Pakawadto Arahadto Sammaa Samputtassa
Kata Bucha Paya Tao Ruean
Na Ma Pa Ta Naa Sang Si Mo Sang Si Mo Naa Si Mo Naa Sang Mo Naa Sang Si Na U Ta Ga Mae Ma A U A
Temple:Wat Rai Dtaeng Tong
Maker of Amulet:Luang Por Liw
Weight:16 Grams
Recommended Uses:Prosperity, Good Health, Long Life, Auspiciuous Karma.
Number of Amulets Made:Very Few
Encasement Options
Waterproof Casing (9) Solid gold custom casing (we will email you with a price quote according to current gold prices at the time of inquiry) (0) Without Casing (0)