This list of Buddhist Guru Master monks will auto-update each time we add a new Master. Click each link in the list to view the amulets and read about each Guru Monk

External Pages
---
Rian Tao Ruean Turtle Amulet with Sangkajjai Buddha - Sukh Jai Edition - Luang Por Liw 2537 BE
02608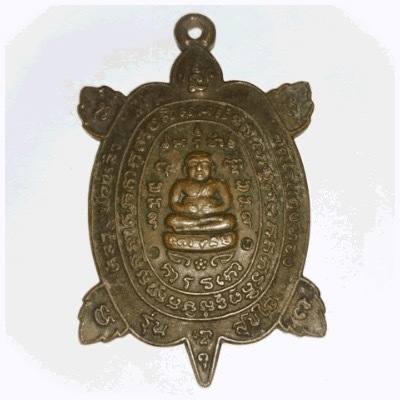 Rian Tao Ruean Nuea Tong Daeng Sukh Jai Edition 2537 BE - Luang Por Liw Wat Rai Dtaeng Tong
The Rian Tao Ruean Turtle Yantra with Sangkajjai Buddha Coin Amulet from Luang Port Liw, is famous for its Maha Lap Kaa Khaay Power to increase Business success and Proficient Salesmanship and its Power to bring Lucky Fortunes upon the wearer. For this reason this amulet has become an all time classic that is Internationally Popular with Devotees around the World.
The Patipata (Purity of Practice) of Luang Por Liw is also a major strongpoint behind the reason for his Tao Ruean amulet becoming such an all time world famous classic amulet of immense esteem and collectibility.
The Suk jai edition benefits from the fact that it has not yet taken on the high price of the 2536 Plod Hnee Edition, but is in effect exactly the same in Magical Power and sacred Value. It is of course a fact that as the more expensive editions become ever more depleted, and raise even higher in their prices, the Sukh jai edition will also then take on a similar price, and hence, it is an immensely recommendable investment to take advantage of the lower price this edition still maintains, before it also enters into the higher price category along with its predecessor editions.
The Sukh Jai edition has already become a popular amulet and recieved various price elevations since its release, and is expected to now experience a steady increase at a faster rate than the Plod Hnee edition, which has hit a peak and should stay within its current price region until the Sukh jai edition is depleted and become as rare.
The 'Sian Pra' Expert and High End collectors have already begun to focus on this edition and gather them into their collections in preparation for the inevitable price elevation.
To leave this issue and return to what we consider to be a much more important factor now; Its sacred power and Value. The Tao Ruean is an Immensely Sacred Buddhist Yantra Spell with deep symbolism and represents a previous Life of the Buddha, who was born once as the Paya Tao Ruean King Turtle.
The Turtle and the Tortoise represent a very Long Life, and this is one of the Blessings said to be attributed to the Rian Tao Ruean.
The Sukh Jai Edition is Second behind the Plod Hnee first editions, and now extremely sought after along with the Plod Hnee second edition (which was released in 2540 BE. The second edition of Plod Hnee turtle Yantra coin amulets was released to counter the massive amount of forgeries which had appeared copying the first Plod Hnee edition, but only few amulets were made and released, resulting in the edition also becoming a highly sought after edition despite its later release.
After Luang Por Liw blessed the yet another edition, the 2543 Sao ha edition of amulets, he became ill from old age and became weaker, and said he wished to step down as Abbot and keep is promise that he wold return to die in his Birthplace. He hence stepped down from the position of Abbot of Wat Rai Dtaeng Tong, to return to his earlier temple and birth place at Wat Nong Or, and continue as a simple monk, but who still managed to build a new Kuti Building at Wat Nong Or in less than 5 months.
Luang Por Liw was born in 2448 BE, Ordained at the age of 27 years old, and remained Ordained until he passed away in 2543 BE, on the 4th of September at 20:35 P.M. Leaving behind him this classic Hgeritage of Famous Tao Ruean Coin Amulets, that are amongst to most well known coin amulets in both Thailand, and on Foreign Shores.
Anybody who knows these amulets, knows that one should grab them while you can, and that one can never regret owning a famous Tao Ruean Coin Amulet. One day, they will become impossible to find anymore, and that day, is definitely coming.
Kata Bucha Paya Tao Ruean
Na Ma Pa Ta Naa Sang Si Mo Sang Si Mo Naa Si Mo Naa Sang Mo Naa Sang Si Na U Ta Ga Mae Ma A U A
Temple:Wat Rai Dtaeng Tong
Maker of Amulet:Luang Por Liw
Encasement Options
Waterproof Casing (9) Solid gold custom casing (we will email you with a price quote according to current gold prices at the time of inquiry) (0) Without Casing (0)