This list of Buddhist Guru Master monks will auto-update each time we add a new Master. Click each link in the list to view the amulets and read about each Guru Monk

External Pages
---
Rian Tong Daeng 2516 BE Takrut Sangwal Wicha Lanna Boran 108 + 8 + 2 Yantra Scroll Spells on Red Cord - Kroo Ba Kam Saen
03166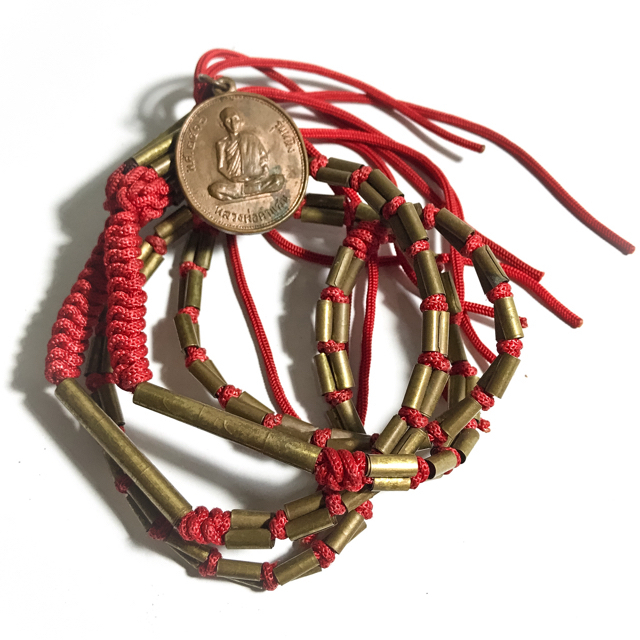 Presenting an extremely rare and beautiful Sacred Necklace, with 1st Edition Rian Kroo Ba Kam Saen 2516 BE Guru Monk Coin, Takrut Sangwal 108 Takrut Scrolls, with Takrut Sariga Paed Dork (8 scrolls bound in one spell), and 2 Takrut Sariga Koo Wicha Boran Lanna.
The Sangwal necklace forms a total of 118 Takrut Yantra Scroll Spells on Red Spellbound Cord to be worn as a rosay-necklace, from Olden Days Chiang Mai Guru Master Monk; Kroo Ba Kam Saen, of Wat Pha Don Moon. The Wicha of attaching multiple takrut with a monk coin is a classic Lanna tradition, which probably cam from the Mahayana Influence which can be detected in some aspects of Lanna Northern Thai Buddhism, despite it being in principle a Theravada Tradition. This type of Takrut necklaces are seen to be made by various great Lanna Masters, such as Kroo Ba Wang, Kroo Ba Chum, Kroo Ba Phad and Kroo Ba Kam Saen.
This Sangwal is a very special and rare exhibit to come across with four different Wicha bound into one necklace; the 108 Yantra scrolls of the rosary, the 8 Takrut Sariga Paed Gum, the 2 Takrut Sariga Koo, and the Rian Kroo Ba Kam Saen Monk Coin. Such a compendium of course contains all imaginable blessings and forms of magical spells, to cover every angle in life and bring auspicious advancements in all areas and walks of life, ranging from protection to prosperity, health and happiness.
The Sangwal itself has 108 individual incantations within them containing Buddhist Prayers. The two Takrut Sariga Koo attached below provide Powerful Kaa Khaay and Maha Lap Maha Sanaeh. The Takrut Paed Dork which forms the junction section of the Sangwal necklace uses a very ancient Wicha of the Lanna Sorcery Grimoires,which incorporates four pairs of Takrut spells into one all encompassing Wicha as a compendium. The Wicha takrut Sariga Paed Dork will both Protect and Enhance Immense Mercy Charm, Improve Salesmanship Abilities and Seductive Influence, Induce Compassion and Attraction in the hearts of Others, and convince the Devas to assist you and protect you. The Rian Kroo ba Kam Saen monk coiun provides powerful Kong Grapan Chadtri and Klaew Klaad with Metta Maha Niyom and Serm Duang.
The Takrut is said to be incredibly useful in assisting to increase sales and improve business, and can be hung above the entrance to your shop, or placed in your cashtill, or be worn by you the sales person. It will both protect and nurture your success and popularity, attracting wealth and helpful aquaintances.
The Takrut can be prayed to simply by using the Kata Ārātanā Pra Krueang, and can add any of the general Kata for Metta, maha Sanaeh, Maha Lap, or Protection you may wish to Invoke. The Takrut is eight directional, and covers all major blessings needed for a happy healthy wealthy life.
Kata Ārātanā Pra Krueang
Puttang Ārātanānang, Tammang Ārātanānang, Sangkang Ārātanānang
Make your wish or prayers and continue with;
Puttang Bprasittimē, Tammang Bprasittimē, Sangkang Bprasittimē
Kroo Ba Kam Saen of Wat Don Moon, was a top Gaeji Ajarn Guru Monk of the Lanna Tradition, famed for his Wicha Wua Tanu Sacred Arrow Bull. He was a direct student of the Great Arahant Monk Luang Phu Mun Puratto, and cose friend and colleague of Luang Phu Hwaen Succino, of Wat Doi Mae Bpang.
Luang Phu was born in 2436, and passed away in 2522 BE, and is considered an Arya Sangha Guru Monk of highest reverence in the Lanna Tradition. His powerful Wua Tanu, Takrut, See Hoo Ha Ta, and Monk Coin amulets.
His amulets are eminent members of the Dtamra Krueang Rang Lanna (Legendary Pantheon of Historically famous Lanna Occult Charms), joining the ranks of his Peers, the Great Kroo Ba Wang, Kroo Ba Chum, Kroo Ba Nanta, Kroo Ba Srivichai, and the other Great Lanna Masters

Kata for Metta Maha Sanaeh
There are many different ancient Kata in existence for the invocation of Metta / Maha Sanaeh in the Practice of Thai Buddha Magic. Incantation is one of the base elements of Magical Empowerment, and serves many purposes from calling upon Devas and Spirits to assist, up to invoking the strengths or qualities of a particular animal or element to assist in achieving ones desired results.
Of the Metta Mahaniyom and Maha Sanaeh category of Magical incantation, the qualities available for application are those of Inducing Compassion, Popularity, Attractiveness, Charm, Attract generosity from others, Increase Popularity, Enchantment (Love Charms), Promotion (Popularity), and Good Business sales.
Kata Maha Sanaeh
Janto Apagandtaro Bpidti Bpiyo Taewa Manussaanang Idthiyo Bpuriso Ma A U U Ma A Iswaasu Igawidti
Chant 3 times before going out to meet other people, and it will make those we are about to meet feel Metta and be attracted to us. You can also make the incantation and blow it into the palm of your hand for safe traveling.
Kata Rak Tae (True Love Enchantment Spell)
Om Namoputtaaya Puttang Saradti Tammang Saradti Sangkang Saradti Jidtang Samaaraema Ma Aehi Aehi Chayya Aehi Sappae Chanaa Pahuu Chanaa Aehi
You can make this Incantation and cast it by blowing into a bonbon or lozenge, and then suck on the lozenge when speaking with the person we wish to Enchant. They will become Enamored in You the more you speak.
Kata Mad Jai (Fetters of the Heart Spell)
Na Phuug Mo Mat Put Rat Taa Reung Ya Greung Kare Om Swaaha Puttang Radtanang Tammang Radtanang Sangkang Radtanang
Chant before going to sleep to make Your partner think about and Miss You (fall in Love)
Kata Jai Awn (Heart Softener Kata for Mercy)
Bpanjamang Sirasang Khaadtang Na Ot Jai Na Gaaro Hodti Sampawo Dtiiwaana Na Gaarang Bpanja Sampawang.
Use this when needing to Plead with your Debtors, or other similar situations where you need Mercy.
Kata Jao Nai Metta (mercy from your Boss)
Bpanjamang Sirasankhaadtang Naahaaya Na Gaaro Hodti Sampawo Iswaasu
You can chant this into face powder or perfume and use it before meeting with your Employer or Superiors, to make then feel favorably towards You.
Kata Metta Mahaniyom
Na Maedtaa Mo Garunaa Put Bpranii Taa Yin dee Ya Aen Duu Sappa Sittimang Biyang Ma Ma
Chant into your perfume, face powders and apply to your skin. Chant and blow into Takrut, Yantra cloths or other amulets.
Kata Samak Ngaan (Applying for getting a Job Spell)
Puttassaahang Niyaataemi Sariran Chiwidtan Jidtang Namo Midtaa Manussaa Ja Na Maedtaa Mo Garunaa
Temple:Wat Pha Don Moon
Maker of Amulet:Kroo Ba Kam Saen
Weight:43 Grams
Recommended Uses:Protection, Lucky Fortunes, Increase Sales and Professional Success, Mercy Charm, Seductive Influence, Prosperity, Good Karma
Size of Amulet:27 Inch necklace circumference + 7 Inch long Takrut Paed Dork + Coin + Tassels Making a total length of 34 Inches