This list of Buddhist Guru Master monks will auto-update each time we add a new Master. Click each link in the list to view the amulets and read about each Guru Monk

External Pages
---
Rian Tong Daeng Tee Raleuk 80 Pi 2528 BE Eightieth Birthday Edition Guru Monk Coin - Luang Por Pae Wat Pikul Tong
02871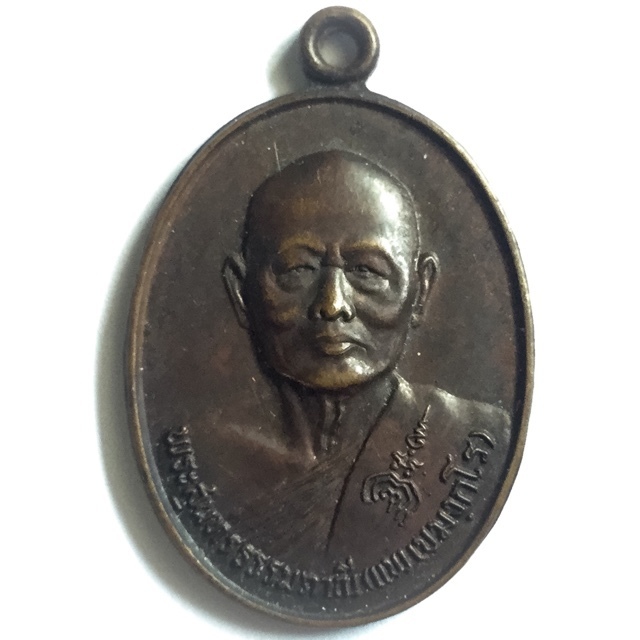 Rian Tee Raleuk 80 Pi 2528 BE Guru Monk Coin made from Nuea Tong Daeng celebrating the eightieth birthday of the great Luang Por Pae of Wat Pikul Tong, in Singhburi.
This 'Rian Kanajarn' coin amulet is a very rare and highly preferred amulet of the grand pantheon of amulets of Luang Por Pae. The coin is medium in size measuring 3 x 2 Cm and wighin in at 5.6 Grams, and is hence of an apt size to be wearable by both men and women.
The front face features a head and shoulders cameo image of the Great Master Monk of Wat Pikul Tong, Luang Por Pae. The Yant Pu Soorn of Luang Por Pae (Pra Suntoratammapani Pae Khemangaro) is emblazoned on the Sangkati (sash) of Luang Por Pae's Civara robe.
The rear face has the Kata for Maha Ud 'Uttang Attō Uttō Attang U - Ussa Assō Na Mō Puttāya Sa Pa Ba Pu' inscribed on the central face of the coin, with the edition name and date and name of temple around the rim 'Tee Raleuk 80 Pi 1 Mograkom 2528' (Memorial of 80th Birthday 1st january 2528 BE) 'Wat Pikul Tong'.
A highly esteemed classic, and an essential rarity for devotees and collectors of the pantheon of amulets of this great Master Monk. The coin is in pristine condition, making it an even more attractive acquisition for Bucha.
Luang Por Pae, or, better known as Somdej Sangkarach Pae, is one of the last half century's most reverent and long-standing respected monks of the royal procession of state esteemed monks.
Luang Por Pae was present in some of the most important Blessing Ceremonies in the History of Thai Buddhism, have almost always been invited to lend his empowerments along with the other Great Masters of History, and is considered to be one of the Greatest monks of the last Century, whose amulets are held in the highest esteem by Buddhists all around the world.
He is certainly one of the five most famous masters in the International Amulet appreciation circles, and his name is known by devotees around the world. His famous rainbow powder Pra Somdej amulets are amongst the most famous amulets of all.
Luang Por Pae excelled in both his behavioural practice as well as his academic studies and adepts applied practice of Vipassana Kammathana in the Thai Tudong Forest tradition. The amulets of this great master, have been seen to dwindle from the public amulet markets, which is due to the fact that not only Thai people have been revering and wearing his Amulets over the last decade or so up, rather that all around Southeast Asia.
Even as far as western world, people have been snapping up and hiding and stashing away his Amulets like treasure that may never be found again, which is indeed going to be true pretty soon.
This has resulted in an accelerated depletion of his Amulets, despite the fact that classic Amulets made according to the official formulas such as the Pra Somdej amulet, are making numbers of up to 84,000 per edition they have still managed to rapidly disappear from the public view, and are amongst the most highly sought after amulets by devotees around the whole world.
Luang Por Pae's amulets are now not only all-time classics, but have also grown to become extreme rarities, and the and are now becoming ever more difficult to find, as the remaining exhibits are gathered and collected by the ever increasing world population.
Humanity's numbers are increasing rapidly, but the amulets of the Great Deceased Masters, can only decrease ever more, as time passes. We can hence assume, that the amulets of Luang Por Pae can already be seen as immensely Sacred treasures of immense rarity.
Temple:Wat Pikul Tong
Maker of Amulet:Luang Por Pae
Weight:5.6 Grams
Recommended Uses:Maha Ud, Kong Grapan Chadtri, Klaew Klaad, Maha Lap, Serm Duang, Metta Maha Niyom
Size of Amulet:3 x 2 Cm
Encasement Options
Solid Gold Custom Casing (Waterproo​​​​​​​f) - We will email you with a price quote according to current Gold Prices, and Invoice You after Agreement (0) Waterproof Casing (9) Without Casing (0)