This list of Buddhist Guru Master monks will auto-update each time we add a new Master. Click each link in the list to view the amulets and read about each Guru Monk

External Pages
---
Roop Lor Luang Por Koon Nang Yong Mee Sum Wat Ban Rai - Nuea Samrit - 5th Lunar Saturday Edition 2536 BE
02621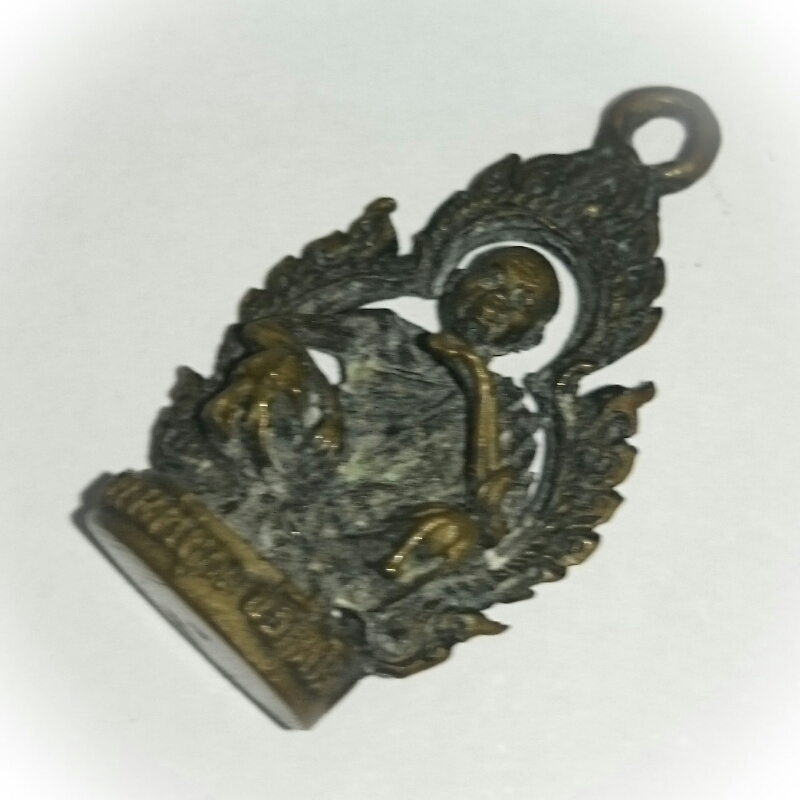 Roop Lor Loi Ongk Statuette of Luang Por Koon Bparisutto, of Wat Ban Rai - made from Nuea Samrit (Bronze Alchemical Alloy) - Sao Ha Fifth Lunar Saturday Edition 2536 BE
This statuette is known as 'Roop Lor Nang Yon Mee Sum Soop Buhri', which means 'squatting under an Arch Smoking a Cigar', and is evern rarer and more exclusively valued than the 'Pat Sima' Monastic Border memorial edition, which was released the same year of 2536 BE. It was blessed on the extremely Sacred Astrological Fifth Lunar Saturday, which is a rare and Auspicious alignment according to the Buddhist Astrological Calendar
This now extremely rare and very beautiful miniature Roop Lor Amulet, in Loi Ongk Statuette form, in the likeness of Luang Por Koon, is made sitting in his famous crouching posture, whith arm resting on knee, smoking his famous cigar.
The amulet is extremely detailed, and attractive, for the presence of sacred 'Khee Bpao' powdery residue on its surface. Khee Bpao is a residue which comes from the traditional casting process, and is a mark of distinction in the eyes of true high class Thai Buddhist Amulet collectors and devotees.
The statuette is made from Nuea Samrit, a Brazen Alchemical Allow based in Bronze and Iron, with yantra Foils smelted in, and is a perfect likeness of the Great Luang Por Koon. Its small size makes it a perfect amulet for ladies or children to wear, or as a lateral placement amulet for the higher areas of the sides of a neckchain, to embellish the central pieces.
During the period up to 2536 Luang Por Koon Bparisutto was in his highest Era of Fame and so were his amulets. Because devotees were avidly seeking his amulets up to this time, they became very quickly depleted from the temple and most editions rose to the Hall of Fame and Rarity at a very rapid rate.
This has served only to increase the collectibility and rarity of these pre 2537 BE Editions, and has separated them from most if not all post-2537 BE editions of Luang Por Koon amulets, with all but a few exceptional editions which were highly documented, and blessed by Luang Por Koon in Person.
Luang Por Koon is one of Thailand's Most Famous and Beloved Monks of all Thai History, and is highly respected and revered by all members of the Royal Family.
It is a fact that his rarest and most highly valued amulets mostly come from the years before 2537 BE, which was when, due to his great fame, many committees and external non profit associations comissioned permission to create and release amulets bearing his name and image, and the amulet scene suffered a period of massive overproduction of amulets bearing his name and image, some of them were officially blessed by the eminent presence of Luang Por Koon himself, and others just received his signature of permission.
For the editions later than 2537 BE, it is hence extremely important to study and know which editions are valued by collectors and devotees (and why), and also which ones were actually blessed by this great master monk of International Immortal Fame.
This particular Pim (model) of Loi Ongk statuette is an extremely sought after and rare to find model from the Sao Ha 5th Lunar Saturday edition, which is highly preferred, above and beyond other models of similar vintage.
This most exquisite and Sacred Monk Statuette of the Monk believed by many to be an Arahant, Luang Por Koon, is most recommendable and spiritually valuable amulet for Devotees and Collectors of the amulets of Luang Por Koon, and a perfect family Heirloom amulet, to pass down through generations in your family lineage.
The amulet comes with original box from Wat Ban Rai
Temple:Wat Ban Rai
Maker of Amulet:Luang Por Koon Bparisutto
Weight:3 Grams
Recommended Uses:Protection, Buddhist Blessings, Improve Karma, Buddhanussati, Evade Deadly Accidents
Size of Amulet:2.8 x 1 Cm
Encasement Options
Waterproof Casing (8) Solid gold custom casing (we will email you with a price quote according to current gold prices at the time of inquiry (0) Without Casing (0)