This list of Buddhist Guru Master monks will auto-update each time we add a new Master. Click each link in the list to view the amulets and read about each Guru Monk

External Pages
---
Roop Lor Run Burana Ubosot Nuea Loha - Wat Kongkaram Shrineroom Restoration Edition 2536 BE - Luang Por Phern - Wat Bang Pra
02920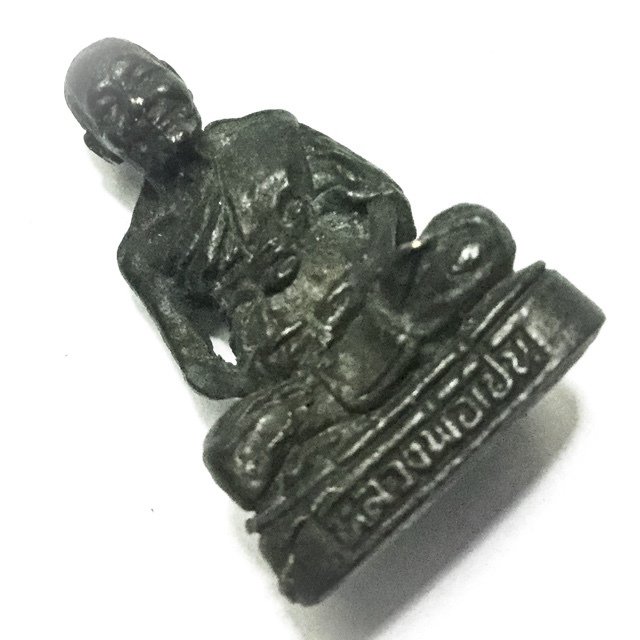 Roop Lor Run Burana Ubosot 2536 BE Luang Por Phern Tidakuno (Wat Bang Pra) - Nuea Loha Rom Dam
A rare tiny but exquisitely detailed Loi Ongk Guru Monk Statuette in the image of Luang Por Phern Tidakuno (Wat Bang Pra) - made from 'Nuea Loha' Sacred Brazen Metal Alloy, the Loi Ongk statuette is a highly detailed piece of miniature Buddhist Arts, and a powerful amulet for Kong Grapan Chadtri Klaew Klaad, Maha Lap, Maha Amnaj and Serm Duang.
This amulet was released in the year 2536 BE, by Luang Por Phern Tidakuno, of Wat Bang Pra to raise funds and pay for the restoration of the old Uposatha Shrine Room at Wat Kongkaram.
Luang Por Phern Tidakuno (Wat Bang Pra) was the greatest Sak Yant Master in living memory, and abbot of Wat Bang Pra Temple in Nakorn Pathom.
Luang Por Phern. Is one of the most internationally famous monks all of this century mainly for his grand role in the promotion of Sak Yant Sacred Tattoos, And of course his powerful amulets which are now becoming ever more favored and ever rarer, and of course,ever more valued.
Those who rever the Great Luang Por Phern will be at best served with this purely Buddhist Amulet of Auspicious Blessings, for the faith of the Devotee and the Metta of the Guru Master, is the connection that causes the Miracle Events which are so often attributed to amulets to occur. Attributed Powers; Kong Grapan Chadtri, Maha Pokasap, Metta Mahaniyom, Serm Duang Klaew Klaad, Maha Amnaj.
Use the Traditional Thai Buddhist Method for Bucha;
1. Chant Maha Namasakara (3 Times)
2. Chant the Trai Soranakom (3 Times)
3. Chant Kata Aaraatanaa Pra Krueang (3 Times)
Kata Maha Namasakara
Namo Dtat-Sa Pakawa-Dto Araha-Dto Sam-Maa Sam-Put-Dtat-Sa
Namo Dtat-Sa Pakawa-Dto Araha-Dto Sam-Maa Sam-Put-Dtat-Sa
Namo Dtat-Sa Pakawa-Dto Araha-Dto Sam-Maa Sam-Put-Dtat-Sa
Trai Soranakom
Puttang Cheewidtang Yaawa Nipaanang Saranang Kajchaami

Tammang Cheewidtang Yaawa Nipaanang Saranang Kajchaami
Sangkang Cheewidtang Yaawa Nipaanang Saranang Kajchaami
Tudtiyambpi Puttang Cheewidtang Yaawa Nipaanang Saranang Kajchaami
Tudtiyambpi Tammang Cheewidtang Yaawa Nipaanang Saranang Kajchaami
Tudtiyambpi Sangkang Cheewidtang Yaawa Nipaanang Saranang Kajchaami
Dtadtiyambpi Puttang Cheewidtang Yaawa Nipaanang Saranang Kajchaami
Dtadtiyambpi Tammang Cheewidtang Yaawa Nipaanang Saranang Kajchaami
Dtadtiyambpi Sangkang Cheewidtang Yaawa Nipaanang Saranang Kajchaami
Kata Aaraatana Pra Krueang
Puttang Aaraatanaanang
Tammang Aaraatanaanang
Sangkang Aaraatanaanang
Puttang Prasittimae
Tammang Prasittimae
Sangkang Prasittimae
Temple:Wat Bang Pra
Maker of Amulet:Luang Por Phern Tidtakuno
Weight:3 Grams
Recommended Uses:Protection, Commanding Power, Guru Monk Worship, Invincibility against Competitors, Improve Wealth and Professional Success,
Size of Amulet:2 x 1 Cm
Encasement Options
Solid Gold Custom Casing (Waterproo​​​​​​​f) - We will email you with a price quote according to current Gold Prices, and Invoice You after Agreement. (0) Waterproof Casing (9) Without Casing (0)