This list of Buddhist Guru Master monks will auto-update each time we add a new Master. Click each link in the list to view the amulets and read about each Guru Monk

External Pages
---
Roop Lor Tai Hong Kong 2493 BE Chinese Mahayana Guru Monk Amulet 1st Edition Pim Hua Gleung Niyom
03605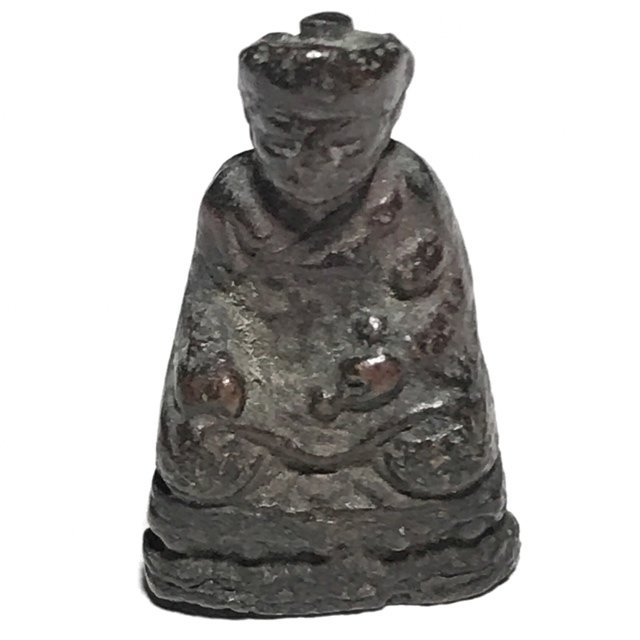 A Pra Niyom Classic, the First Edition Roop Lor Tai Hong Kong Chinese Mahayana Monk Amulet from 2493 BE. The Roop Lor Tai Hong Kong (Tai Hong Chow Sue) Loi Ongk Statuette Chinese Mahayana Guru Monk amulet is extremely favoured for its sacred power, and was made in the year 2493 by the Bor Dtek Dteng Foundation and has been an extremely popular amulet for many decades with Chinese, Taiwanese, Malaysians, Indonesian and Singaporean Chinese Buddhists for many many years.
It is said by devotees of Tai Hong Kong that to Bucha this Monk and wear his amulets, brings great prosperity, protection, and wards off illnesses, and will have a long and happy life.
This of course caused the amulet to become very rare over time, as only 100,000 amulets were made, which is hardly enough for Thailand alone, never mind the whole of South East Asia and the West. This Pim is a Pim Hua Gleung (pointed hat) version, and is the most preferred model above the Pim Hua Glom rounded head version. Of the 100,000 statuettes made, 50,000 were made with Kring Beads inside, and the other 50,000 without Kring Beads.
The beauty of the amulet also has also caused avid collectors to seek the amulet for its rapid rate of increase in status and rarity, and it has become an eternal classic seen gracing the pages of aficionado catalogs and competition showcases for decades. This beautiful amulet is most definitely a very fine acquisition, as a Sacred Votive Tablet of Pra Niyom Preferred Classic Category,
The amulet is a historically famous amulet in Thailand, and is extremely revered by Thai Chinese folk who revere the Mahayana Monk Tai Hong Kong, and by those who seek the Blessings of Wealthy Fortunes.
Tai Hong Kong Chinese Monk;
In the In the times of the Royal Song Dynasty (960–1279), a young boy was born by the name of Sae Lim, in the Hokkien Region. The boy was very intellectually astute, and able to pass all of his academic studies with honorable status. After coming of age, he recieved the title of 'Jin Ser', and worked as a civil servant as the local Mayor of his Township of Jia Jiang.
Jin Ser was very loyal and true to his duties and to the local folk of the township, and was honest, and incorruptible. He made the township a peaceful happy place free of crime, unemployment or poverty.
But after some years, Jin Ser became bored with the senseless ways of the world, and he gave up his high position of state, and his belongings, and ordained into the Buddhist Sangha as a Mahayana Buddhist Monk.
He was ordaiined at a temple in the Hokkien Province, and was given the ordained name of 'Tai Hong'. The newly ordained Tai Hong began immediately to study the Tripitaka and the Buddha Dhamma, and practice Kammathana methods of self transformation and purification, until he reached a very high level of realisation.
Tai Hong Kong remained practicing diligently at the temple for many many years, until one day, he decided to travel on solitary Tudong wandering. Wherever Tai Hong Kong traveled, he would assist the folk he encountered.
Whichever township he passed through which was in dire need, he would stay for a while and help the folk to lessen their sufferings. He helped many towns and villages to build bridges and roads to ease the way of the farmer folk and market traders, and auspicious projects around the region.
He would distribute medicine and needed requisites to the folk in need, and one extra special activity of Tai Hong Kong, was to go and collect wood to make coffins for the dead who had no relatives or poor families, who could not afford to pay for coffins and funerals as is required for an honorable funeral.
Tai Hong Kong travelled for many years continuously, until he reached the Cantonese city of Dtae Jiw. It was here, that the devotees of Dtae Jiw beseeched Tai Hong Kong to stay at an ancient temple on the Bak Sua mountain, in Dian Hia area.
Tai Hong Kong accepted, and remained at the temple for many years practicing very diligently, and gained great fame with devotees of Dtae Jiw, and slowly but surely, around China.
He attracted many other people who were filled with faith and asked to ordain, and Tai Hong Kong ordained many new monks into the temple, which grew and grew under his administration, to become a large and important temple.
Towards the end of his life, Tai Hong Kong went once more on Tudong, and left the mountain temple at Bak Sua. He wandered to the temple of Miang Ang, in Hua Peng municipality, in Dian Hia.
When he arrived to stay, he began to observe the local folk crossing the fork in the river which passed either side of the temple, and saw that many boats would sink, and some people even lost their lives trying to cross the river every day to go to and fro on their business.
Tai Hong Kong felt compassion for the folk once more, and so he built a bridge by raising funds as, a mendicant monk. The materials for the bridge were donated by a wealthy bridge builder who heard of Tai Hong Kong's merits, and that he was trying to build a bridge.
On the day of the opening of the bridge, the river ran dry for the first time in living memory, which the folk saw to be a sign of Luang Por Tai Hong Kong's blessings and his power. The devotees bowed and kneeled in mass as he came to inaugurate the opening of the bridge, which was very well built and beautiful. The bridge is a very long bridge, with very impressive features, and was given the name 'Hua Peng Bridge'
Once Luang Por Tai Hong Kong had completed this bridge, he became ill and weak from old age, and passed away peacefully in the year 1670 BE at the age of 85 Years old (some say 88). The devotees of Tai Hong Kong then took his mortal remains, and placed them in his Mausoleum which they built for him on the mountain of Hua Peng. A shrine was built with a large statue of Tai Hong Kong. The shrine was inaugurated and named as the 'Bor Dtek Dteung' shrine.
In the year 2453 BE, many Chinese immigrants came over the ocean to enter Thailand and take refuge. As faithful Buddhists, these Chinese people created a Foundation to Volunteer to Help people in Disasters and Accidents in Thailand. They did this as devotees of Tai Hong Kong, to continue his example of practice, and his teachings of compassionate generosity.
This foundation is now famous around the world and is seen arriving at the scenes of disasters and traffic accidents to help, and donating coffins and funeral costs to those with no funds, and free ambulance and paramedic services.
This Charitable Foundations carries the same name as the shrine of Tai Hong Kong, namely 'Bor Dtek Dteung Foundation'. In the year 2493 in the month of May, to celebrate 40 years of the inauguration of the Bor Dtek Dteung Foundation, some small statuettes of the Roop Lor Tai Hong Kong were made to distribute to devotees and sponsors of the foundation, with a very special Buddha Abhiseka ceremony, with 108 of the greatest Master Monks of that Era including the Sangkaracha of Wat Saket, were invited to perform chanting, blessings and empowerment on the amulets, which were given both Theravada and also Mahayana Monk Blessings.
Temple:Bor Dtek Dteung Tai Hong Kong Shrine for the Bor Dtek Dteung Foundation
Maker of Amulet:Bor Dtek Dteung Foundation
Weight:3 Grams
Recommended Uses:Prosperity, Health, Protection, Good Karma, Guru Worship, Buddhanussati (Remembrance of the Buddhist Practice)
Size of Amulet:2 x 1 Cm
Encasement Options
Solid Gold Custom Casing (Waterproo​​​​​​​f) - We will email you with a price quote according to current Gold Prices, and Invoice You after Agreement (0) Solid Silver Casing - We will Email you with a price quote, and Invoice You after Agreement (0) Waterproof Casing (9) Without Casing (0)