This list of Buddhist Guru Master monks will auto-update each time we add a new Master. Click each link in the list to view the amulets and read about each Guru Monk

External Pages
---
Roop Muean Luang Por Te 1st Edition 2519 BE (Niyom) - Nuea Pong Wan Hlang Yant Maha Ud - Luang Por Te - Wat Sam Ngam
02688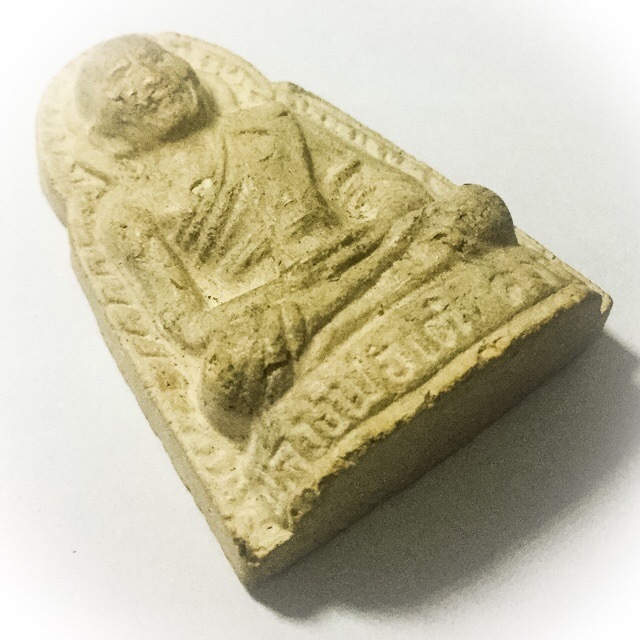 Early Era 1st Edition Roop Muean Sacred Powder Guru Monk Image of Luang Por Te, of Wat Sam Ngam. This now very rare Classic Ancient Amulet, is an exemplary Pim (Model) that has every detail of the image well defined, and has not suffered any damage over the decades, making this a Pristine Shpwpiece for Collectors of amulets of the Great Luang Por Te.
This is a Masterpiece Collectors preferred ancient amulet from Top Guru master Monk Luang Por Te Kong Ton of Wat Sam Ngam (Nakorn Pathom). LP Te was born in 2434 BE and passed away in 2524 BE, leaving his Apprentice, Luang Por Yaem, to continue as Abbot, and indeed it is Luang Por Yaem who is now in this present Era, the current Master and Holder of the Wicha Kumarn Tong of his deceased Mentor, Luang Por Te.
The amulet is made from Pong Puttakun with Nuea Wan powders, and is in Pristine condition.
Luang Por Te Kong Ton, was the creator of the famous Kumarn Tong effigies which his apprentice now continues the lineage of at Wat Sam Ngam. LP Dte was an Immensely famous and able Gaeji Master Guru Monk whose equanimity and magic power is legendary around the world.
His Kumarn Tong statues and other amulets are worshipped by devotees from all continents on the planet, and the large number of people who claim to have had overturning success after making Bucha to his amulets is a further proof of the effectivity of his amulets and of his ability to empower them properly.
LP Te would make amulets in various manners using different methods, mostly during the Second World War. Every single edition or type of amulet he made was the cause of miraculous events which have become legends that are still told of to this day.
He never really focused much on finding artists or developing any kind of fine Buddhist art out of the amulet design, rather focused entirely on the empowerment and gave little importance, or at least second place, to the elegance of design or features of his amulets.
He was intensely aiming for the highest concentration of Puttakun Power for people to have some portable form of protection to carry with them. Most of his amulets were made from 'Nuea Din Aathan' (magical earths and powders), which he had collected and mixed, namely earths from;
7 Salt Licks or Marshes, 7 cemeteries, crab earth balls, and other powerful pieces of the Earth goddess that have witnessed ir are inhabited by magical forces. On the rear face of all his amulets, his name is always embossed 'Luang Por Te'
The surface of the amulet when viewed under the eye loupe or Macro lens, reveals the true beauty and aging characteristics of this Classic Sacred Powder Amulet. The features of Luang Por Te and his Civara Robes are a Masterwork of Thai Miniature Buddhist Art in themself, for their subtle contours and details, such as the collarbone of Luang Por Te, and his eyelids.
The rear face of the amulet bears the Sacred Yant Ongk Pra, which is also a version of Yant Maha Ud, with spells inscribed from the Wicha of Luang Por Te in Khom Agkhara
Luang Por Te's most famous creation of course is the Dtugadtaa Tong effigy (Kumarn Tong). He received the Wicha of making them from Luang Lung Daeng. He would sculpt them and bake them from clay made with magical earths, and distribute them to local devotees.
So many people told stories of amazing improvements in income and household well-being after using his Dtagadtaa Tong that his story has become a Worldwide Phenomenon.
Luang Por Te passed away on the 25th December 2524 at the age of 80 years old, 6 months, 10 days. It was his 59th year of Ordination as a Bhikkhu. His remains are currently held on display for his Devotees to worship at the temple of Wat Sam Ngam.
He is considered to be the Greatest Master Monk of all time for his Kumarn Tong statues and amulets, and his legend is preserved and continues through the current Abbot of Wat sam Ngam, Luang Phu Yaem, who has followed in the footsteps of Luang Por Te, to become the next Living Lineage Master of the Wicha Kumarn Tong Luang Por Te Wat Sam Ngam.
Temple:Wat Sam Ngam
Maker of Amulet:Luang Por Te Kong Ton (2434 2524 BE)
Weight:20 Grams
Recommended Uses:Klaew Klaad, Maha Lap, Serm Duang, Siang Choke, Metta Mahaniyom.
Size of Amulet:3.5 x 3 Cm
Encasement Otions
Waterproof Casing (9) Solid Gold Custom Casing (we will email you with a price quote according to current gold prices at the time of inquiry) (0) Without Casing (0)