This list of Buddhist Guru Master monks will auto-update each time we add a new Master. Click each link in the list to view the amulets and read about each Guru Monk

External Pages
---
Roop Muean Nuea Wan Hlang Yant Puttsoorn Bai Po 2504 BE First Edition - Luang Por Iad Dam
02867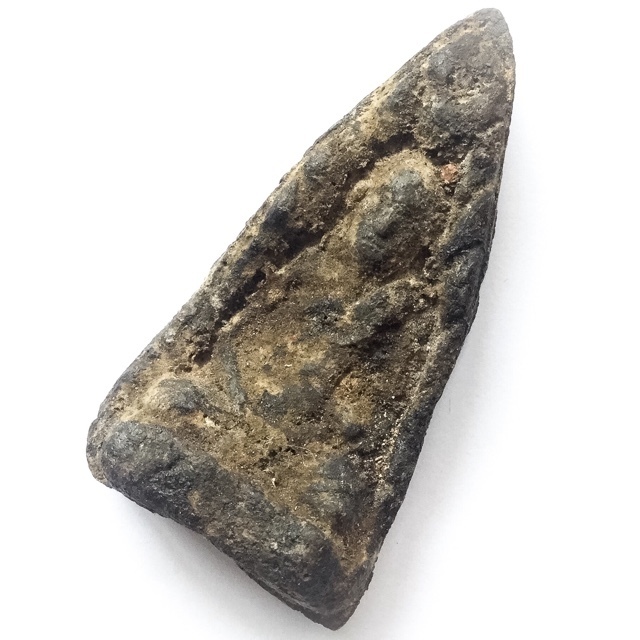 Roop Muean Pra Ajarn Luang Por Iad Dam Nuea Wan Hlang Yant Puttsoorn Bai Po 2504 BE Extremely Rare First Edition Amulet - Luang Por Iad Dam Wat Hla Fai (Sala Fai/Wat Nai Khiaw)
This extremely rare first edition Sacred Powder amulet from Khao Or Master Pra Ajarn Iad Dam of Wat Sala Fai in Nakorn Sri Tammarat is a classic essential rarity for devotees of the Khao Or Sorcery Lineage. 'Hlang Yant Putsoorn Bai Po (Bodhi Leaf Yantra on rear face).
The Bodhi Leaf Yantra uses the same design as was used by another Khao or Master for his Pra Yord Khun Pol amulets, the Great Pra Ajarn Por Tan Nam, of Wat Don Sala (Pattalung).
This amulet is an extremely difficult amulet to find, from a master who belongs to what is known as the 5 Benjapakee Masters of Nakorn Sri Tammarat (Top five all-time Khao or Masters of the Province). The amulet is famous for both its Buddhakhun and 'Hnang Hniaw' Kong Grapan Chadtri Klaew Klaad Protective Magic.
Luang Por Iad dam was Ordained as a Samanera Novice Monk at the age of 12 years Old at Wat Yuan Lae, and later when he came of age was ordained up to the full fledged Bhikkhu status at Wat Wan Dtawan Dtok, in Nakorn Sri Tammarat. His Upachaya was Pra Kroo Ga Chart,. His 'Chāyā', was Ariyawangso. Some time after Ajarn Iad Dam's full ordination as a fully fledged Bhikkhu, Pra Ajarn Iad Dam set off to the forest to practice Tudong solitary wilderness wandering in the deep jungles of the south.
He remained in this practice of solitude in the forests for many many years. He would 'Pak Glod' (set up the mosquito net and umbrella) to sit under and mediated wherever he found himself at sunset, and would wander onwards each day at sunrise. He encountered many dangers of the jungle animals and spirits of the forests, and overcame his fears as they approached. He developed his skills in concentration and mastered his own heart and mind (which is indeed the hardest thing to master of all).
During his Tudong wanderings, he met with many Kroo Ba Ajarn and Master Monks of other Samnak and exchanged and learned various Wicha Akom and Magic Sorcery Spells with the masters he met throughout his years of wandering.
Pra Ajarn Iad Dam wandered right up to the border area of jungles of Burma, then turned around and wandered back all the way to Nakorn Sri Tammarat, and came to stay at the temple of Wat Sala Fai
He used his knowledge and mastery of Wicha Akom Saiyawaet Sorcery, to help the local devotees of the area, for so long that he became highly beloved and famous around the province.
In the year 2482, the devotees beseeched Pra Ajarn Iad Dam to create a series of amulets for them to Bucha, and so Pra Ajarn Iad Dam created some Takrut, and some Suea Yant (Yantra Shirts), and various Talismanic amulets, as well as commissioning the Artisan Khai Changa to produce some metallic coins in his image (Rian Roop Muean Roop Khai Run Raek).
Only very few of these first edition Roop Khai Guru Monk coins were made, which are now extreme rarities and very highly valued indeed with those who collect and Bucha the first edition coins. Once all the amulets of this edition were made, Pra Ajarn Iad Dam performed the Piti Pluk Sek to empower them in solo empowerment session, with only the Great Ajarn Police Colonel Khun Pantagij Rachadej (creator of the famous Jatukam Ramataep amulet) in attendance to assist.
Once this edition was empowered, Pra Ajarn Iad Dam distributed them to the devotees, and in no time, the devotees began to report immense success and various miraculous experiences through possessing the amulets of Pra Ajarn Iad Dam. So his amulets came to be extremely favoured and famous within a very short period of time. Pra Ajarn Iad's Mastery of Wicha and Kata Akom became so famous that even the Great Luang Por Tan Khiaw of Wat Hrong Bon, who was so famous in his own right in those days, came to learn Wicha and beseech Magical secrets from Pra Ajarn Iad Dam.
In that year of 2484 BE, the great War of Asia Burapha commenced asn the Japanese Military approached to land at Ban Ta Pae, in Nakorn Sri Tammarat. The Thai Military rose up to defend the country against the Japanese, and at this time the temple of Wat Sala Fai was jam packed with Thai Soldiers coming to beseech Pra Ajarn Iad Dam for protective Kong Grapan Chadtri Klaew Klaad amulets to keep them safe from harm.
Pra Ajarn Iad Dam would hand out Pha Yant and Suea Yant for them to wear for invincibility, and Takrut scroll spells to wear around their waists. a Number of the soldiers were actually shot by the guns of the Japanese and were knocked over, but those who wore the amulets of Pra Ajarn Iad Dam merely stood up again unharmed, and fought on, because the bullets which hit them did not pierce their skin at all, merely knocking them over with the force of the bullet, but were otherwise unharmed.
The news of these miracles caused the amulets of Pra Ajarn Iad Dam to become the talk of the province, and everybody wanted to have one, causing them to deplete and become immense rarities and highly sought after Kong Grapan Chadtri Klaew Klaad protective amulets.
Pra Ajarn Iad Dam is also highly revered because he was such a Powerful Master, that he was the Kroo Ba Ajarn of the Great Por Tan Khiaw of Wat Hrong Bon, and of Ajarn Khun Pan Rachadej, and many other famous Khao Or masters of historical fame.
This amulet is an immense rarity and a powerful Kong Grapan Chadtri Klaew Klaad protective talisman highly recommended for those whose professions or lifestyles have to face dangerous situations and high risk activities, as well as being a highly sacred Guru Monk amulet for Buddhanussati and reverence to the Khao or Lineage Masters of the Dtamnak Dtak Sila Khao Or Southern Academy of Sorcery southern Sorcery Lineage of Khao Or Masters.
Temple:Wat Hla Fai (Otherwised known as Wat Sala Fai/Wat Nai Khiaw)
Maker of Amulet:Pra Ajarn Iad Dam
Weight:11 Grams
Recommended Uses:Klaew Klaad, Kong Grapan Chadtri, Buddhanussadti
Number of Amulets Made:Unknown
Size of Amulet:5 x 2.5 Cm
Encasement Options
Solid Gold Custom Casing (Waterproo​​​​​​​f) - We will email you with a price quote according to current Gold Prices, and Invoice You after Agreement (0) Waterproof Casing (9) Without Casing (0)