This list of Buddhist Guru Master monks will auto-update each time we add a new Master. Click each link in the list to view the amulets and read about each Guru Monk

External Pages
---
Roop Tai Gradat Hnang Gai Hlang Yant Paed Tidt 2505 BE Blesséd Photograph - Por Tan Klai Wajasit
03380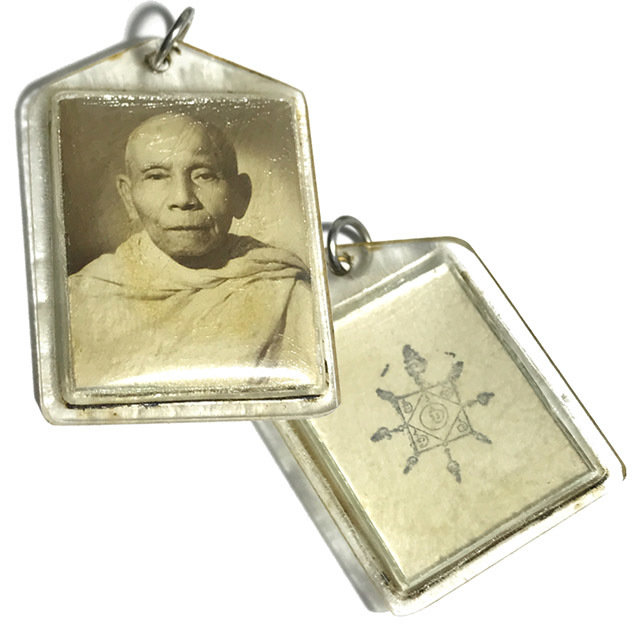 Roop Tai Gradat Hnang Gai Portrait Image of the Great Luang Por Tan Klai Wajasit of Wat Suan Khan on Old Photographic Paper - This Sacred Portrait Image of the Great Khao Or Master of Nakorn Sri Tammarat, Master of Wat San Khan and Wat Pratat Noi, is a very rare amulet from Por Tan Klai's 2505 BE Blessing Ceremony Edition
The 2505 BE edition of amulets of Por Tan Klai, is a highly preferred edition, which saw his famous 'Rian Glom' round Monk coin amulet with Chakra released. The Roop Tai Por Tan Klai Guru Monk Blesséd Photograph is a rare and highly prized amulet for the devotees of Por Tan Klai to associate with his image and pray to him with a blessed photograph if the Guru, which has passed through the hands of the Guru and been blessed by him. The image is on old photographic paper and in sepia, and bears the upper torso and cameo image of Por Tan Klai.
Por Tan Klai was one of the Top Guru Master Monks of the Last Century, and is considered one of the Four Great Masters of the Previous Generation of Lineage Masters of the Khao Or Southern Sorcery Lineage.
His Great Attainments, Humble and Diligent Practice, and Powerful Wicha Akom Magick have brought him to Legendary Status in the Annals of History of Thai Buddhism, and of Buddhist Amulets. Por Tan Klai Wajasit, was the Abbot of Wat Suan Khan in Nakorn Sri Tammarat, was the Abbot of Wat Suan Khan in Nakorn Sri Tammarat. Por Tan Klai was one of South Thailands most revered monks
The rear face of the photograph has a Sacred Yantra stamped onto it with the temple ink stamp.
Por Tan Klai is one of the most important Khao Or Sorcery lineage masters of the Southern Khao Or Tradition, along with the great Luang Phu Tim (Wat Chang Hai), Ajarn Iad and Ajarn Tong Tao (Wat Khao Or) Luang Por Kong (Wat Ban Suan) and of course, the Greatest Master of all, Luang Por Tuad of Wat Chang Hai. Amulets by Por Tan Klai are very rare, and jealously guarded by devotees of this Legendary Master monk, and are, extremely rare to come by, and only seen in circulation on very rare occasions. This is due to the massive worldwide following of Devotees, who Revere this great monk, and the fact that most of his amulets already found their rightful owners decades ago.
Kata Bucha Por Tan Klai Wajasit
Puttang Arahang Putto
Tammang Arahang Putto
Sangkang Arahang Putto
Pisit Athagaaro Namo Puttaaya
Temple:Wat Suan Khan
Maker of Amulet:Luang Por Tan Klai Wajasit (2419 BE - 2513 BE)
Weight:10 Grams
Recommended Uses:Gurunussadti, Klaew Klaad, Metta Maha Niyom, Serm Duang, Kong Grapan Chadtri
Number of Amulets Made:Unknown
Size of Amulet:3 x 4 Cm