This list of Buddhist Guru Master monks will auto-update each time we add a new Master. Click each link in the list to view the amulets and read about each Guru Monk

External Pages
---
Roop Tai Guru Monk Photo-Yantra 2499 BE - Luang Por Jong Wat Na Tang Nork
03059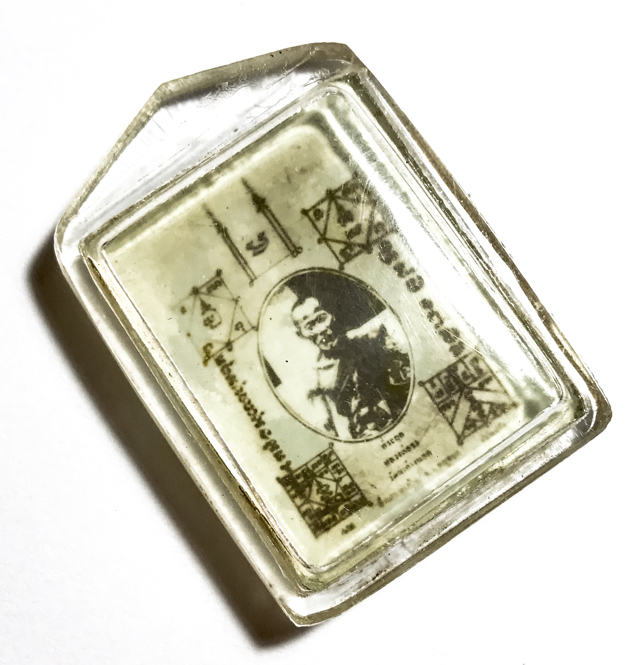 Presenting an Immensely Rare Sacred Roop Tai Old Blessed Photo of the Great Luang Por Jong, of Wat Na Tang Nork with Yantra Spells. from 2499 BE, for worship to the Guru, and Kong Grapan Chadtri Klaew Klaad Protection, Maha Lap Lucky Fortunes, and Metta Mahaniyom Mercy Charm. The amulet is encased without pendant hole for carrying in the pocket or placing within an outer frame. W have added the option of drilling a hole and adding a steel pendant hoop if you wish to attach it to a neck chain.
The roop tai amulet of Luang Por Jong is an immensely rare acquisition for the true Devotee of Luang Por Jong, and an irresistible exhibit for any truly avid collector of this Master, and for those who love Krueang Rang (Talismans and Occult Charms).
Luang Por Jong made amulets between the years 2483, to 2507 BE, after which Luang Por passed away in the year 2508 BE. Luang Por Jong, was one of the previous generation of attained Masters, of National and International Fame. This Roop Tai was released in the year 2500 BE. Some of them were affixed to mirror glass, and others were released as photo paper.
Known for his Kong Grapan Chadtri Klaew Klaad protective amulets handed out to soldiers during the Indochina Wars. His Pla Tapian Maha Lap Kaa Khaay amulets are also renowned for their ability to instigate good commerce and prolific sales quotas with sales persons.
Luang Por Jong was one of the Great Guru Masters of the Ayuttaya Province, whose powers of Kong Grapan Chadtri, Klaew Klaad, and Maha Amnaj Serm Yos Magic was highly favored with high ranking officers and successful leaders of Adminstrative Professions. He was famous for many different amulets, and released many, including the Takrut Hnaa Phaag Suea (Tiger Forehead Skin Yantra Scroll), the Pla Tapian Koo, and his Many Sacred Powder Amulets, such as this Pra Somdej Bailan from the Indo-China War Era.
His Guru Monk Coin amulets are highly sought after and revered, and have a well documented 'Dtamra' (Catalogue of the Pantheon), allowing for collectors to easily authenticate and research the origins of these amulets. His Magic Ring Amulets, Pra Somdej and other Sacred Powder Votive Tablets, and Powerful Takrut are famous as they are rare to find.
Luang Por Jong's Pla Tapian Maha Pokasap Lap Kaa Khaay Gold-Silver Fish amulets, are also renowned worldwide, for their ability to instigate good commerce and prolific sales quotas with sales persons.
Temple:Wat Na Tang Nork
Maker of Amulet:Luang Por Jong
Weight:6.25 Grams
Recommended Uses:Metta Maha Niyom, Serm Duang, Serm Yos, Kong Grapan Chadtri, Klaew Klaad, Maha Amnaj, Kaa Khaay, Maha Sanaeh, Jerajaa, Gae Aathan
Size of Amulet:3.5 x 2.5 Cm with Casing
Casing Options
Solid Gold Custom Casing (Waterproof) - We will email you with a price quote according to current Gold Prices, and Invoice You after Agreement (0) Drill a Hole in original casing with pendant hoop (0) Original Casing as Is (0)