This list of Buddhist Guru Master monks will auto-update each time we add a new Master. Click each link in the list to view the amulets and read about each Guru Monk

External Pages
---
Somdej Pong Roop Muean Han Khang 2516 BE - Nuea Gae Nam Man - Run Anusorn Sang Rong Rian School Construction Edition - Luang Phu To Wat Pradoo Chimplee
02935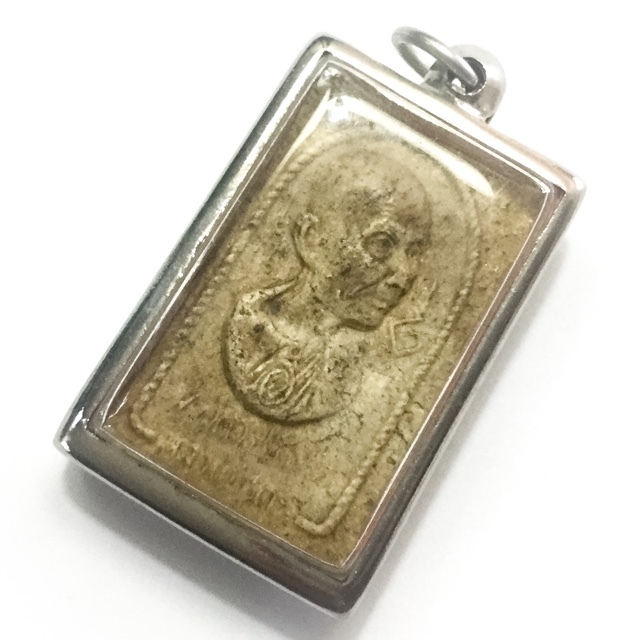 Pra Pong Roop Muean Han Khang Luang Phu To Wat Pradoo Chimplee 2517 BE - Nuea Gesorn Gae Nam Man (oily pollens powders).
Here we find ourselves, gazing at very Sacred and Powerful amulet, with ample history of miraculous event stories under its belt from Devotees over the decades that have passed since the release of this amulet from one of Thailands greatest Gaeji Ajarn Guru Monks of all time. We speak of course of the famous well known classic Pong Roop Muean 2516-2517 BE Pra Niyom Master-Class amulet, from the great Luang Phu To of Wat Pradoo Chimplee.
This edition was released to Commemorate the building of a school which was sponsored by a powerful Army General Pon Ek Bunchai, who made official request to the Sankaracha Royal palace monk, to use the Royal name of the Sangkaracha Somdej Prayan Sangworn, to use for the Name of the Somdej Prayan Sangworn school to be built in Yasotorn Province.
Permission was given to name the school after the Royal Head Monk of the Wat Bovornives, and the building costs were sponsored and funded by Luang Phu To and the Gammagarn Comittee. who made this edition to rent out to devotees in order to raise the funds to build the school.
In all, three different models were created for the purposes of this edition;
1. Pra Somdej Thaan Singh Pang Samati (20,000 amulets made)
2. Pra Pong Roop Muean Luang Phu To Han Khang (20,000 amulets made)
3. Rian Roop Muean Luang Phu To - the coin versions were made in two materials, Tong Daeng Rom Dam (Blackened Copper) and Nuea Nava Loha (9 Sacred Metals). 20,000 coins were made of both materials together.
The Pra Somdej Thaan Singh has the same Yant Dto and Yant Na embossed on rear face, identical to those found on the Pra Pong Roop Muean Luang Phu To Han Khang, in difference to the Rian Roop Muean coin. The word 'To' is stamped with indent onto the surface of the coin.
The top portion of rear face has the Khom Agkhara letters 'Na Ma Pa Ta, which invokes the 4 Elements, and various magical powers;
Apo Water Element is for Metta Mahaniyom Mercy Charm
Bpathawi Earth Element is for Kong Grapan Chadtri Invincibility and Maha Amnaj (Commanding Power & Dominion)
Dtecho Fire Element is for Anti Black Magick and to Banish Ghosts and Demons
Vayo Air Element is for Enchantment, Mind Control, and Invisibility (Klaew Klaad)
An elephant head with weighing scales is embossed on the rear face, which is a symbol corresponding to the Astrological Birth Data of Somdej Prayan Sangworn Samgkaracha Monk, whose name was given to the School.
Luang Phu To performed a three day and night solo empowerment ceremony over the amulets from the 27-29th of January 2517 BE.
The amulets were then taken to be blessed again with a series of the Rian Sor Wor Sangkaracha Coins at Wat Borvornives in a very large Buddha Abhiseka blessing ceremony, with a large number of the greatest Guru Monks of that era present including Luang Phu To, Luang Por Yer, and Luang Por Tong Yoo of Wat Mai Nong Pa-Ong.
What is considered especially notable about this edition is the powerful formula of Muan Sarn Sacred Powders used for the making of the amulets. The Sacred Muan Sarn Powders and Materials were gathered over a lengthy time period and gathered from a number of some of the most powerful Masters of the time; Pong Ittijae Powders were used from Luang Por Ngern (Wat Don Yai Horm) Luang Por Chaem (Wat Don Yai Horm), Luang Phu iad of Wat Ban Dan, and Luang Phu To (Wat Pradoo Chimplee).
The famous Pong Jao Khun Nor was given by Jao Khun Nor of Wat Taep Sirin, Chan Hmak betel and chewed areca nut was given by Luang Phu Khaw of Wat Tham Glong Plae, and Luang Por Daeng of Wat Khao Bandai It.
Gesa monks hairs were used from Luang Phu To, Luang Phu Waen (Wat Doi Mae Pang), Pra Ajarn Fan Ajaro, and Luang Phu Nak (Wat Rakang Kositaram). In addition, the Muan Sarn Sacred Powders were also enriched with ground up broken pieces of ancient Pra Somdej Wat Rakang Kositaram Pra Somdej Wat Bang Khun Prohm, Pra Somdej Wat Gaes Chaiyo, and amulets from Wat Plab. Bucha Flowers and Incense sticks from the praying sessions made by Luang Por Kasem Khemago (Sussaan Dtrailaks) were also ground up into the powders.
In all, Sacred ingredients from 108 different Guru Masters were gathered and added to the powders, and some ground rooftiles of the old Uposatha Shrine Room at Wat Bovornives were also mixed into the powders. As far as the metallic coins are concerned, their Chanuan Muan Sarn ingredients included smelted Pra Kring Boromanichit edition Buddha statuettes and Pra Kring Pra Sangkarach Pae edition Buddha statuettes, and a large number of Sacred metal artifacts and yantra foils.
Luang Phu To Wat Pradoo Chimplee
Above; Luang Phu To of Wat Pradoo Chimplee with His Majesty the King
Luang Phu To of Wat Pradoo Chimplee was one of the greatest Masters of the Last Century, and a Highly revered Monk around the whole Kingdom of Thailand. he was Respected and revered by His Majesty Our great King, who was a close friend and companion. This Great Monk achieved his status through his Great deeds and his great Diligence in his Patipatā (Practice of Purity and Renunciation), and in his Great Attainments in Dhamma Pariyatti and Dhamma Patipatā.
Luang Phu To was born on the 27th March 2429 BE in Ban Klong Bang Noi in Samut Prakarn and passed away on 5th March 2524 BE. His many honourable awards of status reflect his great practice and diligence. This is noticeable since beginning to study the Dhamma Vinaya at Wat Pradoo as a Samanera Novice monk, through to become the Bishop of the Ta Pra Municipality (2463 BE), to becoming awarded the charge of being the Pra Kroo Sangka Wichit for the Abbot of Wat Maha Tat in 2457 BE. In 2463 BE, Luang Phu To became ascended to the status of Pra Kroo Sanya Badtr Chan Dtri (Third Level, tantamount to Batchelor of Arts in Dhamma).
In 2497 BE, Luang Phu then became promoted to Pra Kroo Sana Badtr Chan Toe (Second Level, tantamount to a Doctorate in Dhamma), of Royal Category. In the year 2500 BE, Luang Phu was then given the additional status of Upachaya Ordaining Officer. In the year 2506 BE, Luang Phu attained the status of Pra Kroo Sanya Badtr Chan Ek (tantamount to a Masters Degree in Dhamma).
In 2516 Luang Phu became Pra Racha Kana (Royal Appointment Sangha Comittee) and head officer of the General Affairs of Vipassana Practice. In 2521, Luang Phu To received the status of Pra Racha Kana Chan Rach (tantamount to being an Archbishop of the Royal Decree).
His Blessings are believed to possess the most powerful protective power, and to increase success and prosperity. His amulets are both highly revered for their sacred Power of Protection and Prosperity, but also as a connection and Buddhanissati reminder of the Great Guru master, to beseech his blessings through the amulet.
Along with almost all amulets of LP To, the Pra Pong Roop Muean han Khang 2516 BE amulet is one of the most highly sought after Pra Niyom Category Amulets, renowned for its rich concentrated powerful Muan Sarn powders. It is a Classic amulet, which is seen to grace the pages of any and every important amulet encyclopedia, and the highly prized and jealously guarded talisman of the high end collector and devotee
Temple:Wat Pradoo Chimplee
Year of Issue:
Made in 2516 and released in 2517 BE
Maker of Amulet:Luang Phu To
Weight:30 Grams with casing
Recommended Uses:Maha Lap Lucky Fortunes, Klaew Klaad and Kong Grapan Chadtri Protection, Serm Yos Status Increase, Guru Worship
Number of Amulets Made:20,000 Amulets Made
Size of Amulet:3.5 x 2.5 Cm
Encasement Options
Solid Gold Custom Casing (Waterproo​​​​​​​​f) - We will email you with a price quote according to current Gold Prices, and Invoice You after Agreement (0) Waterproof Casing (Free Offer with this Amulet) (0) Without Casing (0) With Original Stainless Steel Case (Included) (0)