This list of Buddhist Guru Master monks will auto-update each time we add a new Master. Click each link in the list to view the amulets and read about each Guru Monk

External Pages
---
Somdej Pra Pong Kammathan 2521 BE - Nuea Khaw - Luang Phu To Wat Pradoo Chimplee
02930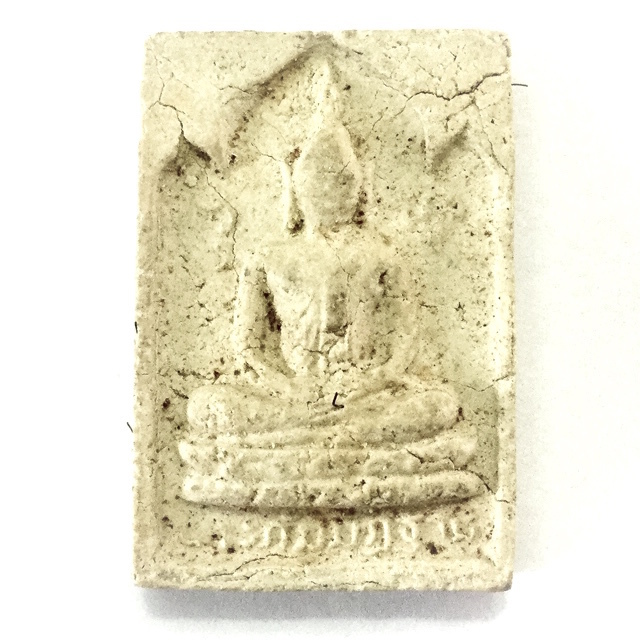 The Pra Pong Kammathan is from the Classic Era of amulets of the Great Luang Phu To, but are despite their great eminence and sacred value, are amongst the more affordable of the Pra Niyom preferred category of Master-Class amulets from this Great Guru master Monk of Historical Importance and World Fame.
Pure Buddhanussati remembrance of the Enlightenment of the Buddha, with the image of a Buddha seated upon a double Lotus Throne, with hands clasped in meditation, practicing the Kammathana methods of Insight Development, as is the path of all Buddhas, in the past, present, and also in the future.
The features of the front face of the amulet are clear cut, as is to be expected with an authentic exhibit of this model, with the triple domed arch above the Buddha very clearly defined with deep relief.
The Civara robe and Sangkati sash are also very clear to recognise in this exhibit, which reveals immense detail. A long future is expected from this amulet that is approaching its fourth decade, and is ever more a preferred Classic for Devotees and Collectors of the Luang Phu To Pantheon of amulets.
Experience made by devotees over the more than three decades since its release, has elevated this amulet to even higher status with the great success that has been obtained by so many people who prayed to the amulet.
Its smaller size allows the amulet to be worn easily and fitting for men, women and children alike. It is purely Buddhist and absent of Black Magick, and so is recommendable Buddhist Amulet for those who do not wish to use Black Magick, and also is fine for Children to wear as an Auspicious Buddhist Blessing.
Luang Phu To Wat Pradoo Chimplee
Luang Phu To of Wat Pradoo Chimplee was one of the greatest Masters of the Last Century, and a Highly revered Monk around the whole Kingdom of Thailand. he was Respected and revered by His Majesty Our great King, who was a close friend and companion.
This Great Monk achieved his status through his Great deeds and his great Diligence in his Patipatā (Practice of Purity and Renunciation), and in his Great Attainments in Dhamma Pariyatti and Dhamma Patipatā. Luang Phu To was born on the 27th March 2429 BE in Ban Klong Bang Noi in Samut Prakarn and passed away on 5th March 2524 BE.
His many honourable awards of status reflect his great practice and diligence, since beginning to studdy the Dhamma Vinaya at Wat Pradoo as a Samanera Novice monk, through to become the Bishop of the Ta Pra Municipality (2463 BE), to becoming awarded the charge of being the Pra Kroo Sangka Wichit for the Abbot of Wat Maha Tat in 2457 BE.
In 2463 BE, Luang Phu To became ascended to the status of Pra Kroo Sanya Badtr Chan Dtri (Third Level, tantamount to Batchelor of Arts in Dhamma).
In 2497 BE, Luang Phu then became promoted to Pra Kroo Sana Badtr Chan Toe (Second Level, tantamount to a Doctorate in Dhamma), of Royal Category. In the year 2500 BE, Luang Phu was then given the additional status of Upachaya Ordaining Officer. In the year 2506 BE, Luang Phu attained the status of Pra Kroo Sanya Badtr Chan Ek (tantamount to a Masters Degree in Dhamma).
In 2516 Luang Phu became Pra Racha Kana (Royal Appointment Sangha Comittee) and head officer of the General Affairs of Vipassana Practice. In 2521, Luang Phu To received the status of Pra Racha Kana Chan Rach (tantamount to being an Archbishop of the Royal Decree).
His Blessings are believed to possess the most powerful protective power, and to increase success and prosperity. His amulets are both highly revered for their sacred Power of Protection and Prosperity, but also as a connection and Buddhanissati reminder of the Great Guru master, tto beseech his blessings through the amulet.
One of the most highly sought after Pra Niyom Category Amulets, which is seen to grace the pages of any and every important amulet encyclopedia, and the highly prized and jealously guarded talisman of the high end collector and devotee.
Temple:Wat Pradoo Chimplee
Maker of Amulet:Luang Phu To
Weight:5 Grams
Recommended Uses:Protection, Prosperity, Mercy Charm, Buddhanussati, Meditation, Guru Worship
Size of Amulet:2.5 x 2 Cm
Encasement Options
Solid Gold Custom Casing (Waterproo​​​​​​​f) - We will email you with a price quote according to current Gold Prices, and Invoice You after Agreement (0) Waterproof Casing (9) Without Casing (0)