This list of Buddhist Guru Master monks will auto-update each time we add a new Master. Click each link in the list to view the amulets and read about each Guru Monk

External Pages
---
Suea Krua - Tiger of the Kitchen Magic Pestle - Luang Phu Nai - Wat Ban Jaeng
02789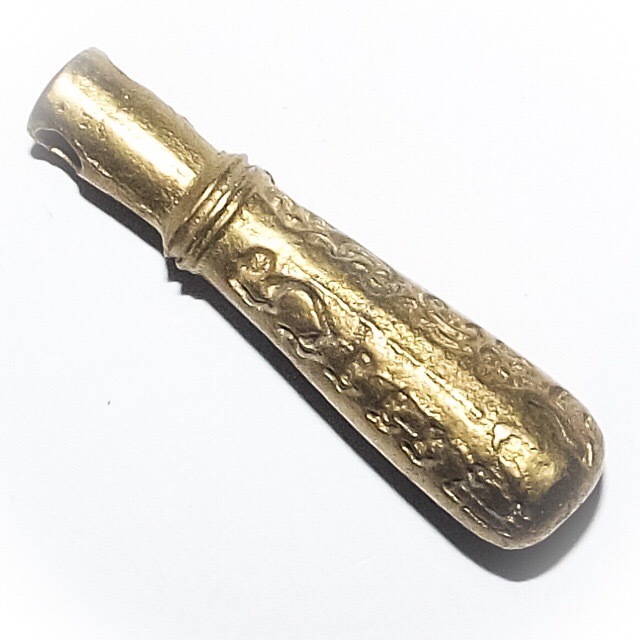 Rare and Inimitable Wicha Suea Krua, in Nuea Chanuan Sacred Alchemical Brass Alloy, with Khom Agkhara Spell Inscriptions, from the Great Olden Days Master of Talismanic Charms, Luang Phu Nai of Wat Ban Jaeng. Luang Phu Nai was extremely popular for his 'Krueang Rang' (Talismans and Charms) Category of High End Masterpieces.
Luang Phu Nai was extremely famous for his Talismanic Charms, whose most popular of all Talismans was of course the Jing Jok Sorcerous Gecko Charm.
The Suea Krua is cast in the form of a sacred Pestle , and has four different spell inscriptions embossed on the surface around the perimeter of the Pestle. The handle of the pestle has a hole drilled for attachment to a pendant chain or a cord belt for wearing around the waist. The metallic Chanuan Muan Sarn has been forged using Ancient Alchemical methods with Incantations The Pestle provides immense Metta Maha Niyom and Maha Sanaeh Power to its owner, and powerful Kaa Khaay Jerajaa Magic.
The Suea Krua is a powerful Talismanic Charm for prolific Sales and Good Business, increasing the charm and enchantment power to convince customers to buy your wares and hire your services. The Suea Krua is a Wicha dominated by the great Luang Por Phern of Wat Bang Pra, who transmitted the Wicha to Luang Phu Nai during his time of apprenticeship in the olden days while Luang Phu Pern was still in his Prime, and Luang Phu Nai was visiting to receive Wicha.
Luang Phu made Jing Jok Gecko charms and other Talismans in many different substances including Galabangha Dam (black coral), Mai Saksit (Sacred Tree woods), Nga Chang (Ivory), Khao Kwai (Horn) and Graduk Gae (bone).
Thus Suea Krua is one of his rarer and lesser known Talismanic Wicha, which is made from Nuea Tong Pasom Chanuan Aathan. Luang Phu Nai was an apprentice Sorceror to many of the Great Sorceror Monks of Ancient Times, including Luang Phu Sukh of Wat Pak Klong Makham Ta receiving Wicha from Ajarn Yam Daeng (a Lay master who inherited the Wicha of Luang Phu Sukh, and an Accomplice in Magial Arts with Luang Phu Si and Luang Phu Doo.
Luang Phu Nai was a famed Sak Yant Thai Temple Tattoo Master, who preferred to tattoo with sacred nam Man Nga (enchanted sesame oil). Luang Phu Nai received Wicha from the Great Luang Por Phern Tidakuno (Wat Bang Pra) and became one of the great Sak Yant Masters of his time.
His Sak Yant Thai Temple Tattoos were and still are legendary, for their authentic Maha Ud, Kong Grapan Chadtri, and Klaew Klaad power.

Luang Phu Nai's first edition coin is a most highly revered and rare coin with highly elevated price, but is other editions of coins are still very accessible to those with a lower budget. It can be said that Luang Phu Nai was the Kroo Ba Ajarn of many currently famous Sak Yant Masters, including Ajarn Kob of Ayuttaya, and Ajarn Prawaes Kong Iad.
Luang Phu Nai was highly renowned by devotees of many provinces who travelled for Sak Yant Thai Temple Tattoos at Wat Ban Jaeng, and is a previous generation olden days master of Sak Yant Thai Temple Tattoos, and a master amulet maker, especially renowned for his carved sacred gecko charms, as well as many other Amulets. His life as a Buddhist Monk is highly documented with many different authorships of his Biography and life's works. Luang Phu Nai was born in the year 2446 BE, and Ordained early in his childhood as a Samanera novice Monk, at the age of 12 years old, and hence never lost his purity. Then later, at the age of 22, he was ordained to the highest status of a fully ordained 'Bhikkhu' (that is to say, a fully fledged Buddhist monk). He remained Ordained and Pure from the age of 12 within the Buddhist Sangha, until the day he passed away in the year 2553 BE

He was able to travel to Wat Pak Klong Makham Tao temple to study Sorcery and Buddha Magic with the great Luang Phu Sukh, and even met Grom Luang Chumporn the Royal Admiral Princely Lord, who taught him the missing parts of Wicha which had been left unstudied when Luang Phu Suk passed away.
Apart from the4 famously powerful Gecko Charms from this Great Master Guru Monk, Luang Phu Nai has also great fame for his Takrut Tone and Takrut Maha Ud amulets, and his Pra Buddha Kotama (Pra Putta Kodom) and Pra Mokkhallā (Maugdalyana Arahant) amulets (both models in small and large versions) and his Metallic Monk Coin amulets, all enjoy a highly revered and top rankiing position in the Amulet Appreciation Societies.
Kata Suea Krua
Na Ma Pa Ta Na Mo Put Taa Ya Ja Pa Ga Sa - Na Ma A U - Na Ma Na A Nor Gor Na Ga, Gor Or Nor A, Na A Ga Ang
Temple:Wat Ban Jaeng
Year of Issue:
Circa 2500 BE
Maker of Amulet:Luang Phu Nai
Weight:10.5 Grams
Recommended Uses:Metta Maha Niyom, Kaa Khaay, Maha Lap, Jerajaa
Size of Amulet:3 Cm
Encasement Options
Waterproof Casing (9) Without Casing (0) Solid Gold Custom Casing (Waterproo​​​​​​​f) - We will email you with a price quote according to current Gold Prices, and Invoice You after Agreement. (0)