This list of Buddhist Guru Master monks will auto-update each time we add a new Master. Click each link in the list to view the amulets and read about each Guru Monk

External Pages
---
Suea Yant Khee Suea Luang Por Phern Tidtakuno Wat Bang Pra Sacred Yantra Cloth Shirt
03432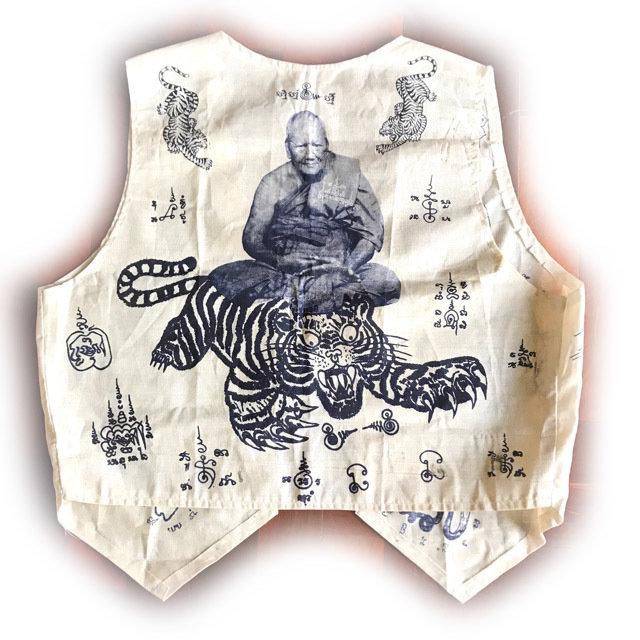 A very rare Sacred Yantra Cloth Shirt (Suea Yant), of the Great Sak Yant Thai Temple Tattoo Master Monk, Luang Por Phern Tidtakuno of Wat Bang Pra in Nakorn Pathom. The amulets of Luang Por Phern Tidakuno (Wat Bang Pra) are highly renowned for their Kong Grapan Chadtri Klaew Klaad, Maha Lap, Maha Amnaj and Serm Duang Powers. This is of course, one of the reasons why the Great Luang Por Phern, has hundreds of thousands of devotees in Thailand around the world, if not millions.
The rear side of the Suea Yant features the image of Luang Por Phern Tidtakuno riding a tiger, with various Sacred Yant emblazoned around his image, including the Suea Koo Maha Amnaj Imperial Pair of Tigers, Two versions of Yant Putsoorn, and a host of Sacred Na Designs.
The front of the Yantra Cloth Shirt has various Sacred Geometry based Buddha-Yantra in round form including Yant Paed Daan, Yant Pra Putta Jao 12 Pra Ongk, Yant Maha Mongkol and Yant Mongkut Pra Putta Jao, for Auspicious Blessings, Karma Improvement, Promotion of Status and Protection, below which are two Jingjok Geckos, for Maha Sanaeh, Victory, Protection and Lucky Fortunes.
Luang Por Phern (Pra Udom Prachanat), is one of this Century's Greatest Master Gaeji Ajarn Guru Monks, and holds World Famous International Status as well as being a revered Monk of the Thai Royal family. Luang Por Phern Is one of the most internationally famous monks all of this century mainly for his grand role in the promotion of Sak Yant Sacred Tattoos, And of course his powerful amulets which are now becoming ever more favored, ever rarer And of course, ever more highly valued.
Those who rever the Great Luang Por Phern will be at best served with this Sacred Magical Sak Yant Shirt, full of Auspicious Blessings, for the faith of the Devotee and the Metta of the Guru Master, is the connection that causes the Miracle Events which are so often attributed to amulets to occur.
Kata Bucha Luang Por Phern Tidtakuno
Temple:Wat Bang Pra
Maker of Amulet:Luang Por Phern Tidtakuno
Weight:50 Grams
Recommended Uses:Protection, Impose Status, Auspicious Blessings, Lucky Fortunes, Power of Attraction