This list of Buddhist Guru Master monks will auto-update each time we add a new Master. Click each link in the list to view the amulets and read about each Guru Monk

External Pages
---
Suea Yant Roi Mer Roi Tao Yantra Shirt of Invincibility Wealth & Status Luang Por Kong Wat Wang Sapparot
03481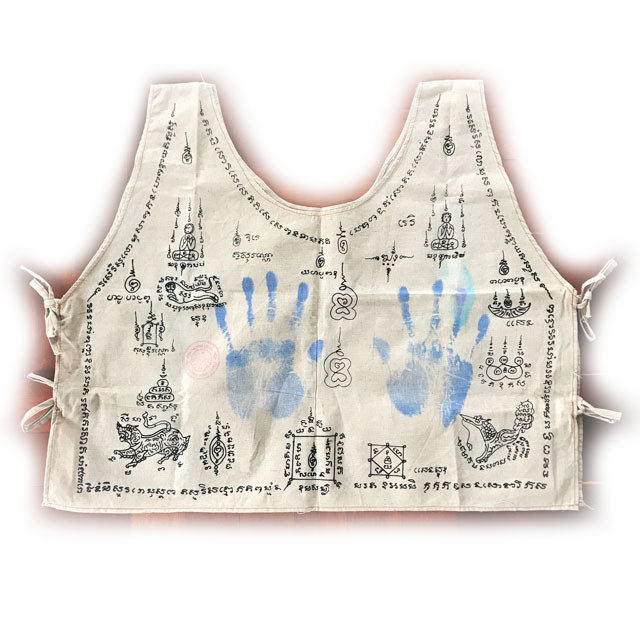 One of the Rarest of all Talismanic items of this Master, the Suea Yant Roi Mer Roi Tao Hands and Footprints Guru Monk Yantra Shirt for Maha Amnaj Kong Grapan Chadtri Klaew Klaad and Metta with temple stamp and limited series number, from the Master of the Tiger Wicha and Wicha Palad Khik Nang Aen Mae Nang Kruan, Luang Por Kong, of Wat Wang Sapparos.
The Suea Yant has a host of Sacred Yant and Khom Inscriptions emblazoned, around blue ink imprints of Luang Por Kong's hands and feet (hands on one side, feet on other side). This exhibit can be considered a truly rare opportunity to obtain such an inimitable and extremely rare Suea Yant warrior shirt from this Great master of Yesteryear, especially in such pristine condition.
The Suea Yant has series number code and rubber ink stamp of the temple embossed upon the cloth.
Luang Por Kong was famous for Palad Khik and Tiger amulets, and other Animist Charms of this variety. His Monk coins are amongst the rarer items as are his Pra Somdej Muan Sarn Sacred Powder amulets.
Below; Yant Gao Yord using the Kata Nava Horakun 9 Syllable Mantra with a double layered dais containing this Mantra forwards and backwards 'A SANG WI SU LŌ BU SA PU PA - PA PU SA BU LŌ SU WI SANG A'
His Takrut and talismanic charms are extremely hard to find and highly revered for their power of Kong Grapan Chadtri Klaew Klaad Maha Amnaj, and Metta Maha Lap. The Guru Monk coins of Luang Por Kong are manyfold, and some of them can fetch extremely high prices, whereas others are more affordable (and hence recommendable for Bucha).
Below; Yant Rachasri Phone leaping Himapant Lion Yantra for Maha Amnaj Kong Grapan Chadtri Klaew Klaad and Serm Yos
Kata Chanting for Paya Rachasri (Singha) Lion - Maha Amnaj, Klaew Klaad, Kong Grapan Chadtri. Increase Power and Commanding Dominion, Induce Respect and Awe in others, and Conquer Your Foes.
Putta Saetho Mahaa Naathang Wan Nago Singha Naa Tagang Putta Sirasaa Dtaechaena Maara Saenaa Bparaa Cheuyyang Chayya Pakawandtu Mae
Use this Kata before entering for job interviews or to meet with powerful people or superiors at work, as well as when you will meet with enemies or opponents.
Below; Six Pointed Star shaped Sacred geometry Yantra with Ongk Pra Buddha image within its Pyramidic Structure, reminiscent of Merkabah (Ezekiel's Wheel)
Luang Por Kong of Wat Wang Sapparot was an Internationally revered and highly proficient sorcerer monk whose amulets have graced the annals of Officially documented Masterpiece encyclopedias and magazines, and have since many years become legendary classics. The Wicha Paya Suea Maha Amnaj is an ancient Wicha that was used by warriors, and by those in high positions of command and office, to instill respect and admiration, fearfulness and obedience in the hearts of those who approach.
Below; Yant Paya Hongs Tong Golden Celestial Swan Yantra
The Maha Amnaj Dominion Magic is complimented by the Immense Maha Sanaeh power of the Palad Khik Lingam Phallic, and imbues Virility and sensual Attraction power to the wearer.
Below;Yant Nam Dtao Gourd Yantra with the 5 Dhyani Buddha Incantation 'Na Mō Put Tā Ya'
His tiger amulets are seen in many forms, ranging from Palad Khik tigers, to tigers carved in various natural matertials such as horn, tooth, ivory, wood, and even smelted into metallic statuettes. His Monk coins, and Sacred Powder amulets, Takrut and Palad Khik have graced the pages and covers of Top Thai Buddhist Amulet magazines for decades. Luang Por Kong began to become both Nationally and Internationally famous during the 2nd World War, as he began to make Yant Shirts and Yantra Flags, and his now famous Palad Khik amulets.
Below; Sacred Na of Lanna Origins for Metta Maha Sanaeh Jerajaa
He would issue them continuously as he made them. Many high ranking members of the police force, and military force, as well as members of the Royal Court have been said to have worn his amulets, and experienced their miraculous powers. Indeed there are many officially recorded tales of such events. His amulets are famed for his immense power of Maha Lap, Metta Maha Saneh and Klaew Klaad Kong Grapan Chadtri Power.
His Patipata (Purity and Diligence of Practice as a Buddhist Monk) were Legendary. His great generosity was unequaled and he would never refuse anybody his help. He was famed for always taking in and helping people who were ill and suffered sicknesses, and to offer them his full assistance

Below; Two Yant Putsoorn either side of a Sacred Na, over the Yant Suea Koo Imperial Tigers Yantra. The temple ink stamp and series code is embossed in red ink.
Temple:Wat Wang Sapparos
Year of Issue:
Circa 2516 BE
Maker of Amulet:Luang Por Kong (2445 BE - 2532 BE)
Weight:50 Grams
Recommended Uses:Protection, Power and Status, Commanding Influence, Invincibility, Virility, Seductive Influence
Number of Amulets Made:No. 13 of Unknown Number Made