This list of Buddhist Guru Master monks will auto-update each time we add a new Master. Click each link in the list to view the amulets and read about each Guru Monk

External Pages
---
Takrut Bailan Pitsamorn Long Rak Circa 2480 BE Ajarn Mun Puritatto Wat None Jaroen
03773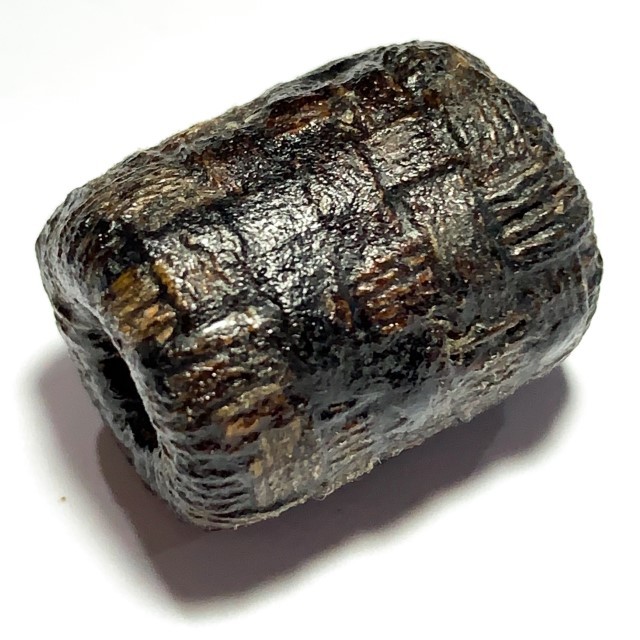 An immensely rare item to find in any of its forms, the Takrut of the great co-founder of the Thai Tudong Forest Monk Tradition Luang Phu Mun (Pronounced 'Man'), of Wat None Jaroen (2413 - 2492 BE), who along with Luang Phu Sao became the forefathers of what we know today as the Thai Kammathana Forest Monk Tudong Tradition of Practice, considered to be the closest to that which was practiced by monks in the time of the Lord Buddha himself.
The Takrut is in small size and measures 2 Cm, and is made from Bailan with sinjana cords, and lacquered surface. Ajarn Mun did not make many amulets, for the forest tradition monks are not prone to this practice, but those which he did make are extremely rare and highly revered for his Abhinya Powers. His remains are said to have turned into crystalline relics, which is seen as proof of Arahantship in Thai Buddhist Belief.
The Takrut wards off all evil and protects from dangers, and allows one to practice and further one's life without obstacles, as well as protecting against poisons and poisonous beasts.

Ajarrn Luang Phu Mun (Venerable Ācariya Mun Bhuridatta Thera), was born in Baan Kham Bong, a farming village in Ubon Ratchathani Province, Isan.
Ordained as a monk in 1893, he spent the remainder of his life wandering through Thailand, Burma, and Laos, dwelling for the most part in the forest, engaged in the practice of meditation. He attracted an enormous following of students and, together with his teacher, Sao Kantasīlo (1861–1941) established the Thai Forest Tradition (the Kammaṭṭhāna tradition) that subsequently spread throughout Thailand and to several countries abroad.
He died at Wat Suddhavasa, Sakon Nakhon Province. Mun's mode of practice was solitary and strict. He followed the vinaya (monastic discipline) faithfully, and also observed many of what are known as the 13 classic dhutanga (ascetic) practices, such as living off alms food, wearing robes made of cast-off rags, dwelling in the forest and eating only one meal a day. Monks following this tradition are known as thudong, the Thai pronunciation of this Pali word.
Searching out secluded places in the wilds of Thailand and Laos, he avoided the responsibilities of settled monastic life and spent long hours of the day and night in meditation. In spite of his reclusive nature, he attracted a large following of students willing to put up with the hardships of forest life in order to study with him. (Wikipedia)
Ajarn Mun was an extremely influential Monk. He had very effective methods for alleviating the mental stress and feelings of anxiety experienced by his followers. Many people have recounted instances when they were determined to commit evil, or their minds were very hot and agitated, or they felt vengeful enough to kill someone, and the mere thought of Ajarn Mun then, was enough to cause these emotions and ideas to subside immediately.
It was as though he had doused their flaming hearts with cool water, allowing them to realize their misunderstandings. Their harmful thoughts had simply vanished. The sense of relief they felt made them want to prostrate before him then and there. Many lay followers have testified to this, and surely there are many more unreported cases of devotees using the power of remembering Ācariya Mun to successfully counter their wrongful intentions. Many monks, as well, have used the power of their faith in him to restrain themselves in accordance with their spiritual calling.
Temple:Wat None Jaroen
Year of Issue:
Circa 2480 BE
Maker of Amulet:Luang Phu Ajarn Mun Puritatto (2413 - 2492 BE)
Weight:3 Grams
Recommended Uses:Protection, Advancement in Life
Number of Amulets Made:Unknown
Size of Amulet:2 Cm
Material:Bailan Parchment Scroll Sinjana Cord Wrapped with Lacquer
Additional Info:An extremely rare opportunity for devotees of Luang Phu Mun to possess a sacred Amulet from this Great Guru, who made so very few.
Encasement Options
Solid Gold Custom Casing - we will send a price quote per email and send invoice after agreement (0) Waterproof Casing (9) None (0)