This list of Buddhist Guru Master monks will auto-update each time we add a new Master. Click each link in the list to view the amulets and read about each Guru Monk

External Pages
---
Takrut Graduk Haan (Goose Bone Takrut) - Luang Por Hrun -Wat Ampawan
02530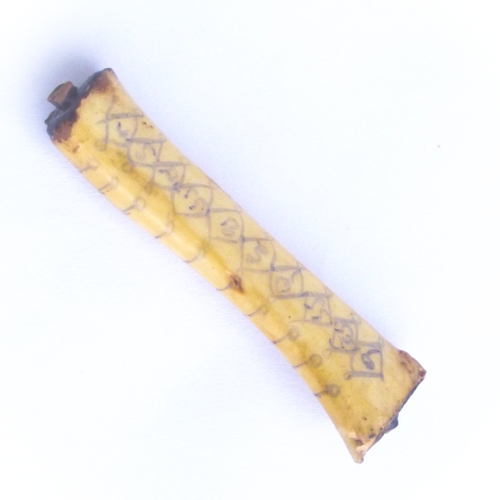 The 'Takrut Graduk Haan' Goose Bone Takrut is something that is very celebrated by the 'Look Sit' disciples of Luang Por Hrun in the particular 'Wicha' of 'Kong Grapang' Invulnerablility. Disciples of LP Hrun that may live an alternative or dangerous lifestyle in areas such as gambling dens, massage parlors, police, military and even modern day gangsters would benefit from being the bearer of this protective charm. Released smetome after Luang Por's first editon release in 2460, probably sometime around 2469 BE onwards, which came shortly after the arrival of the ink pen in 1888 A.D., and allowed second edition Takrut to be pre inscribed..
Because this Takrut does hold the protective blessings of 'Kong Grapang' Invincibility and is released under Buddhist precepts, it is important to note that this Takrut, although intended for alternative lifestyles, does not permit one to break said precepts.
The Thai saying "Tam Dee Dai Dee, Tam Chua Dai Chua", (Do good, reap good fruit, do bad, reap bad fruit) i.e. "You reap what you sow" is in full effect when utilizing this Takrut. It should be said to that although this Takrut allows for protection even in the case of those who may try and use it for protection during a bad act, it in no way excuses or white washes the sin but will offer a universal protection for faithful devotee.
Luang Por Hrun is particularly famous for being the proprietor of what has come to be known as the 'Yant Gao Yod' Nine Spires Yant. This Yant is generally the first Yant any 'Look Sit' disciple receives as 'Sak Yant' magic tattoo. It initiates him/her into the world of Thai Occult Wicha Aakom, identifies them as a disciple of a particular Ajarn and is a great protective Yant.
Luang Por Hrun, because his parents were not financially able to care for him, since childhood has practiced under the tutelage of many Ajarn in order to learn Kata Aakom. He would switch between many different Ajarn as they came and went, learning many different form of 'Wicha' drawing his repertoire from the most powerful according to his own discernment.
The Takrut Han in its first years of existence, as Luang POr would make them individually, and hand out, was popularly always brought back to Luang Por by the Looksit, and asked him to hand inscribe them. So it came to pass that the second edition was directly inscribed from the start, in order to avoid the problem. The amulet is extremely valued for its Kong Grapan Chadtri protection, and Klaew Klaad evasion power.
A famous rumor has been circulated that because of his immense 'Wicha Aakom Graeng Glaa' Strength and Bravery in Magic, he was able to run amok throughout Ayutthaya unperturbed, robbing and mugging with no one able to subdue him and his antics. It was when the local Police post a declaration to give the then 'Seua Hrun' the chance to come alone and unarmed, to admit his wrong doings, repent and no action would be taken against him.
Seua Hrun, because he was tired of his evil ways decided it would be best to try and turn over a new leaf by turning himself in. The police however, had no intention of releasing him once they had caught him by means of their fraudulent promises. When Seua Hrun went to turn himself in, many officers with the intent to imprison or kill him encircled him.
Once Seua Hrun realized this, he immediately created a 'Hun' puppet replica of himself, thereby tricking all the officers and escaping back into the ether. Because of this betrayal by the court officials, Seau Hrun upped his pillaging far exceeding the former. This caught the attention of the governor of Ayuthaya who realized it was far out of hand and the only way to gain control would be to involve well respected 'Kamnan' village elders. The elders in their wisdom knew that the young Seua Hrun was well adept in the 'Wicha' skills and suggested that the only way to dissolve the problem would be to genuinely offer reconciliation to Seua Hrun.
After a few more attempts at capture, it was finally offered that Seua Hrun be offered the chance to work as a civil servant in Bangkok and eventually became the 'Sit Ayk' main Student of Ajarn Poo. Collaborating with Seua Hrun, he write down on parchment and gave to him (and only him) the sacred Yant of the Nine Spires, 'Yant Gao Yod' which is a very symbolic and essentially holy way of "turning over a new leaf". Seua Hrun eventually ordained as a Samenera (Thai 'Nen') novice monk and then received full ordination, never to leave to Sangha or pillage again. Lung Por Hrun passed away in 2471 BE at the age of 81 years old.
Temple:Wat Ampawan
Year of Issue:
After 2469 BE
Maker of Amulet:Luang Por Hrun
Weight:10 Grams
Recommended Uses:Riches, Protection and Evasion of Danger
Number of Amulets Made:Unknown
Size of Amulet:5 Cm x 1.5 Cm
Encasement options
Waterproof Casing (9) Without Casing (0)