This list of Buddhist Guru Master monks will auto-update each time we add a new Master. Click each link in the list to view the amulets and read about each Guru Monk

External Pages
---
Takrut Jet Dork 7 Yantra Scroll Spells on Cord Belt - Por Tan Gaen - Wat Tung Lor
03046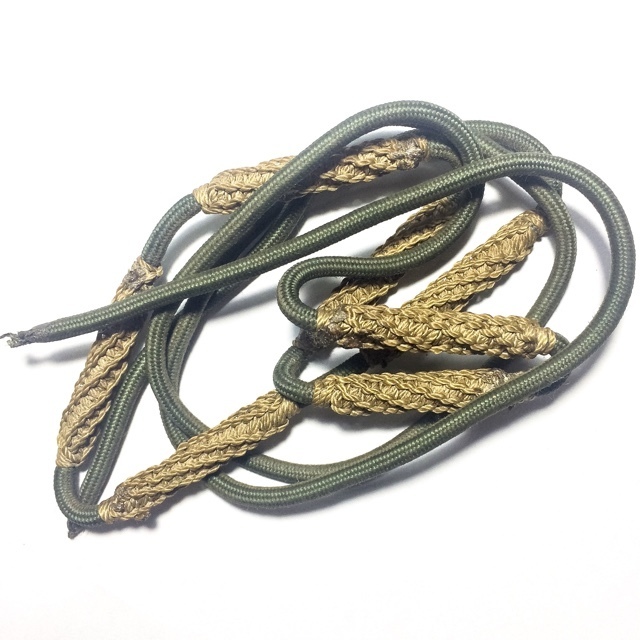 Hand inscribed and bound by the Master himself,. Por Tan Gaen's famous takrut Jet Dork 7 Yantra scroll spell waistcord Talismanic charm, so highly renowned for its compendium of powerful Magic imbued with the power of Kong Grapan, Klaew Klaad, and Maha Ud.
Por Tan Gaen always inscribed and bound each Takrut with his own hands, empowering them throughout the process with Incantations. Many masters would often use their apprentices to assist in the making of amulets, but Por Tan Gaen did not. This is one of the reasons his Takrut are considered to be so powerful, and are so highly sought after and revered by his devotees.
He made the Takrut in various forms, ranging from his single Takrut Tone, to cord belts with 3, 5, 7 or 9 Takrut attached. This exhibit carries all the classic traits of Por Tan Gaen's classic style of Takrut Cord Binding, and is an exemplary item for its ease of recognition, and undoubtable authenticity.
Por Tan Gaen, of Wat Tung Lor, in Nakorn Sri Tammarach was a Gaeji Ajarn of this Southern Province of Olden Days. he was born in 2449 BE, and ordained at the age of 20, becoming the Abbot of Wat Tung Lor in the year 2500 BE. His most sought after amulets are his first edition 2516 BE, and second edition 2518 BE coins, the Rian Song Nam 2520 BE coin, the 2524 BE - 2525 BE Pra Pid Ta (in 3 sizes, originally cast in 2500 BE but re-released in 2524 BE).
The Rian Traimas coin amulet, and his Takrut Tone amulets. Especially preferred and revered, are also the Say Kart Aew Yantra Scrolls on cord belts, which he made in variables of 3, 5, 7, and 9 Takrut. Por Tan Gaen also made some Pha Yant (Yantra Cloths), which are very rare, and highly prized, especially his Pha Yant Nang Kwak.
Por Tan Gaen is one of the Great Olden Days Masters of the Southern Khao or Sorcery Lineages, and his small but highly preferred pantheon of amulets can be considered a Genre in themself, with their own niche of highly fervent devotees, who swear by their power. In the amulet appreciation societies his Monk coins are very highly regarded and sought after, and considered to be extremely powerful Kong Grapan Chadtri Protective Magic.
Temple:Wat Tung Lor (Nakorn Sr Tammarat)
Maker of Amulet:Por Tan Gaen
Weight:20 Grams
Recommended Uses:Protection and Invincibility, Evade Dangers and Enemies, Gunstopper