This list of Buddhist Guru Master monks will auto-update each time we add a new Master. Click each link in the list to view the amulets and read about each Guru Monk

External Pages
---
Takrut Nai Badtr Maha Ud 2548 BE Nuea Takua Dtok Code - Luang Por Dtat Wat Chai Na
03400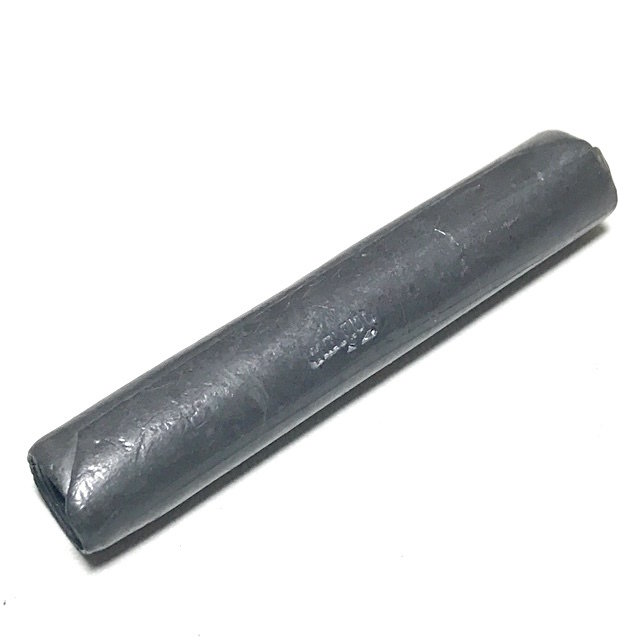 Takrut Nai Badtr Maha Ud Leaden Yantra Scroll spell, for Invincibility, Evasion of Deadly Events, and Good Fortunes, by Por Dtad (Pra Putta Wiriyaagorn), of Wat Chai Nai, in Petchburi province. Luang Por Dtat, of Wat Chai Na was a highly revered Gaeji Ajarn Guru Monk of the Paetch Buri Province, whose Takrut amulets became Legendary within his own lifetime. Luang Por Dtat, was one of Thailands great Gaeji Ajarn.
Luang Por Dtat was a great specialist in Takrut amulets, and Phalad Khik, he was the creator of a vast range of different Takrut, as well as other amulets, including Pra Somdej, Pra Khun Phaen, and other Buddhist Votive Tablets. Luang Por Dtat passed away in 2552 BE, leaving his Devotees devastated. His amulets depleted at the temple within a few months of his passing, and have now become an extreme rarity to find any at all. His leaden Takrut amulets are as legendary as his world famously powerful Palad Khik charms, Some of his tiger skin amulets would also contain leaden Takrut concealed within the tiger skin.
Amongst the many editions of Takrut he made, his most famous were the various editions of Takrut Maha Ud, Takrut Sao Ha of 2536 and 2539 BE, the Takrut Dtao, the Takrut Hanuman Chern Tong, Takrut Nai Badtr, Takrut Trinisnghae, Takrut Na Hnaa Tong, and his rare silver scroll amulets. His Palad Khik, Takrut and Pra Somdej Amulets are famous around the country and indeed the worldover, and are in this day and age an extremely rare aquisition. One of his rarest Takrut is the Takrut Mai Phai Dtan solid bamboo anomaly, from the very early era.
Of sacred Powder amulets, the Pra Somdej Yia Chanee, and his 1st and 2nd Edition Pra Khun Phaen series are of course another extremely highly sought after item with Devotees of Luang Por Dtat. His Pra Pid Ta amulets, many with his own hand inscriptions are renowned for their Maha Lap Maha Ud Pokasap power.
Luang Por Dtat was renowned for his great humility, and modesty, always making claims that 'Goo Mai Mee Rit Hrok' (I dont possess any special powers). Despite his denial of magical powers, his amulets produced so many miraculous life-saving tales from devotees who had worn them and survived death miraculously, that his devotees knew he was just being modest. He never presented stories of himself or made claims about his powers, or amulets.
He would often play down his powers claiming to not possess any kind of ability, yet he was always seen to perform extremely diligent empowerments with high levels of concentration, in contradiction to his modest claims. In addition, the many stories of Klaew Klaad Lifesaving Miracles occurring with Devotees who wore, and still wear his amulets, have also served to substantiate the widespread belief in the powers of his amulets.
His ability to enchant and empower physical objects (amulets), was legendary amongst his Peers, and was impossible to go unnoticed. His Aura of Magical Prowess emanated around him despite his Humility and Great Metta, and his Psychic Powers were highly noticeable when in is presence.Known for his Kong Grapan Chadtri Klaew Klaad protective amulets, Khun Phaen, Monk Coin, Takrut, and Tiger Skin Amulets, Pra Somdej Yiaw Chanee (Gibbons Piss Amulet), are Immensely renowned with Devotees, for their ability to Protect from Dangerous Accidents.
Kata Maha Ud Luang Por Dtat
Na Ud Mō Ad Na Mō Put Tā Yad Dtan Eu U Sa Ha Sa Bpa Sa U
A Ni Tas Sa Na Ab Bpa Dti Kā
A Ni Tas Sa Na Ab Bpa Dti Kā Dtā
A Ni Tas Sa Na Ab Bpa Dti Kā Dtā Ya
Na Mō Put Tā Ya Na Ma Pa Ta
Then Pray to the Takrut with the Following;
Puttang Ārātanānang Tammang Ārātanānang Sangkang Ārātanānang Agkhara Yandtang Ārātanānang Pra Put Ta Kun Nang, Pra Tam Ma Kun Nang, Pra Sang Ka Kun Nang Bpidtā Kun Nang Mādtā Kun Nang Krū Ājariyākunnang
Putta Būchā Bpādti Hārō Agkhara Yandtang I Dti Wi Sē Sa Bpa Dti Rūbpang Imang Gāya Pan Ta Nang A Ti Thā M
Temple:Wat Chai Na
Maker of Amulet:Luang Por Dtat
Weight:13 Grams
Recommended Uses:Protection, Evasion, Improve Profession.
Size of Amulet:4.2 Cm
Encasement Options
Solid Gold Capped Tubular Casing - We will email you with a price quote according to current Gold Prices, and Invoice You after Agreement (0) Waterproof Casing (9) Stainless Steel Cap Tubular Casing (9) None (0)