This list of Buddhist Guru Master monks will auto-update each time we add a new Master. Click each link in the list to view the amulets and read about each Guru Monk

External Pages
---
Takrut Narai Plaeng Roop Dtok Code Na Code Jantr Nor 80th Anniversary Edition 2542 BE - Pra Ajarn Nong Wat Sai Khaw
03360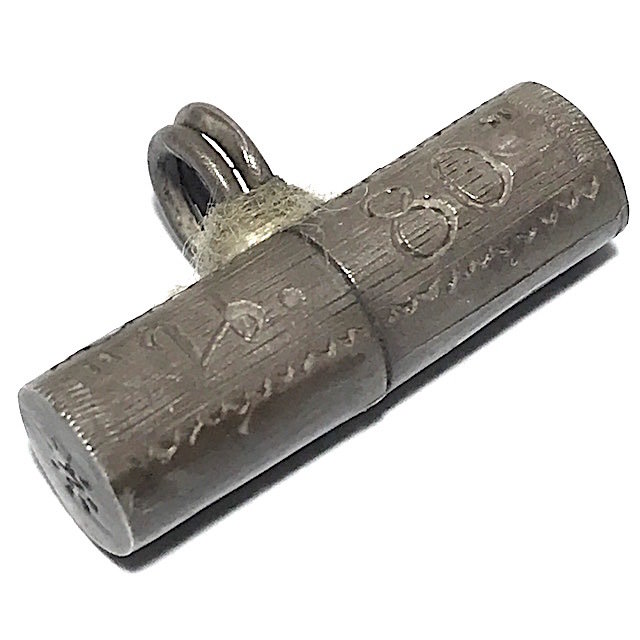 80th Birthday Last Ever Edition 'Dork Kroo' - Pra Ajarn Nong's World Famous Kong Grapan Chadtri amulet, the Takrut Narai Plaeng Roop, released in 2542 BE with Code Na, and Code Dork Jantr Nor stamps. This special Dork Kroo Version, is engraved with decorative filigrain pattern on outer shell, and is a Master Class Amulet of Great Rarity, and famed for its authentic power of Kong Grapan Chadtri and Klaew Klaad. This was the last ever edition blessed by Pra Ajarn Nong before he passed away a few months later in the very same year.
The Takrut Narai Plaeng Roop in all its various editions is considered a Master Class Amulet of Extreme rarity, and famed for its authentic power of Kong Grapan Chadtri and Klaew Klaad. This Takrut of 80th Birthday Edition bears the preferred code stamp 'Na' Khom Agkhara embossed, with code stamp 'Nor' and 'Dork Jantr' aura stamp. The Takrut shell is made with decorative engravings.
The Takrut Narai Plaeng Roop i the most famous of all Takrut by Ajarn Nong. It is also known as the Takrut Look Pern Narai Plaeng Roop, which was so successful with Devotees, that it became his trademark.
Especially in the Vietnam War, the Soldiers who had received Takruts from Ajarn Nong all came home safely without one single exception, and many returned with tales of miraculous escapes from death, attributed to the magic of Ajarn Nong's Takrut amulets.
The Takrut Narai Plaeng Roop was made both with real bullet shells, and also in a decorative case version made in bullet shell shape, which were made once all bullet shells were depleted, but devotees still called for more Takrut. Both versions ended up becoming equally popular.
There are so many tales of Devotees encountering Miracles and life saving magic, that the legend of his Takrut follow him like his own shadow. It is said that Ajarn Nong began to make and hand out Takrut Tone amulets around 2496 BE, which he would hand out to his close disciples.
The very first Takrut were made from small sheet of Iron, and were small in size. Some time later, some Looksit brought some gun shells to use for Takrut making. These Takrut were varied sizes depending on what kind of bullet shells were available. This edition gained much fame and legendary status for the many life saving tales from those who possessed one.
Ajarn Nong's Takrut are famous also for their Puttakun power to change bad luck back into good luck, and to transform fate. After he began to make bullet shell Takruts, his magic also became known for powerful 'Maha Ud' (Gun Stopper) and 'Klaew Klaad' (Evasion of Danger).
Whenever LP Nong would hand out one of these Takrut, he would say " this is for protection, if someone thinks to harm you, you, they will not be able to find you, and those who try to harm you, will encounter their own demise.
The letter stamped on the end of each individual Takrut varies greatly through the whole alphabet, depending on the source, for indeed, many different sources (devotees) donated a constant flow of bullet shells and metallic tubes for the production of this series.
The Wicha Narai Plaeng Roop used for Ajarn Nongs Takruts is an Ancient Wicha, which is mentioned in the Dtamra Saiyasart as being a Wicha which has immense power, like that of Pra Narai transforming.
It contains a multitude of different blessings. The Wicha of making a Takrut with the image of Pra Narai is a Wicha which not many people know how to perform, which makes this type of Takrut extremely rare to find. To perform the spell properly, it is necessary to Master the 'Wicha Dtang Agarn 32′ and the 'Wicha Riak Roop Riak Nam', as is usual with all spells that use the image of a being, Himapant animal or Deity.
But it is much more difficult to force and contain a magical image of Pra Narai using incantation, than it is to contain and subdue a lower Deity or Himapant animal. This is therefore the reason why there are hardly any Masters at all who can enforce this type of magic spell.
The usual and more common method for applying this Wicha, is to use a Yant design which represents the basic principles of Pra Narai transforming, or to use a Kata instead. The image of Pra Narai is simply too powerful for most people to be able to control and force into the Takrut.
There is a story recorded in the Biography of Somdej Pra Puttajarn (Dto) Prohmrangsri (Wat Rakang Kositaram) written by Maha Amamat Praya Tip Gosaa (Ajarn Sorn Lohanant) and Pra Kroo Plad Maha Thaeranuwatra (Maha Pae). The Biography was published to celebrate 200 years of the Ratanakosin Era. In the story it tells that, as King Rama 4 called upon Somdej Dto to accept a dignified status, Somdej Dto fled to the forest, and hid from the responsibility.
He did not wish to have status, rather wished to be a simple monk. His Majesty sent envoys out around the country to find Somdej Dto, but however hard they searched, he could not be found.
Somdej Dto used a Wicha to change his face so that those who knew him would not recognize him if the saw him, and he was only able to be found, because he presented himself to the Gamnan (Marshal) of Ban Phai, who took him then to Wat Po Chetupon. The wicha Somdej Dto used to change his appearance,is the Wicha Pra Narai Plaeng Roop.
Ajarn Nong would always tell his Looksit who received the Takrut Pra Narai Plaeng Roop, that they would be able to avoid dangers. The story of Somdej Dtos disappearance demonstrates the power of this Wicha, for it is much harder for a Nationally famous Monk whose portrait everyone knows to hide than a normal person, proving how the Wicha Narai Plaeng Roop can make even a well known face able to avoid being noticed.
Legend tells that LP Nong received his special form of the Wicha Pra Narai Plaeng Roop one evening, as a tree spirit, who appeared to him, dressed as in ancient times in a red 'Pha Sabai' robe. She appeared in front of the pillars of the Kuti hut of Ajarn Nong, and showed him the Wicha for making Takrut Tone, how to make the Agkhara inscriptions and Kata incantations for empowering the Takrut with the Pra Narai Plaeng Roop spell. She then told him her name, which was 'Mae Nang Jantr'.
He was told by the Mae Nang Jantr that she is a Deva who lives on the peak of Mount Kalakiree, and is related to Luang Por Sitti Chai, the ex Abbot of Wat Sai Khaw. He said that the Mae Nang Jantr Deva wanted to collaborate and join in to make Merit, by helping Ajarn Nong complete the building of his Kuti, and also to enable Ajarn Nong to become Abbot of Wat Sai Khaw. So she showed him how to master the Wicha Takrut When Ajarn Nong awoke from the Nimitta, he felt as if he had been speaking with a real person, and could remember every detail of the dream perfectly.
Ajarn Nong Thus believed everything that had occurred during his Nimitta Vision, including the fact that this Wicha for Takrut is authentic.The versions of Takrut Narai Plaeng Roop which were made with bullet shells, were ususally also filled with sacred items. The main sacred item Ajarn Nong would insert into the Takrut, is a kind of wood called 'Mai Luang Por Thuad', which the Deva Mae Nang Jantr told Ajarn Nong how to find, and take from Mount Kalakiree. No one really knows what kind of wood it is, nor what it looks like, because Ajarn Nong would lay out a rule that it is forbidden to break the seal of a bullet Takrut and open it. If such a thing were to happen, the Takrut would be immediately ineffective and never again usable.
Kata Bucha Takrut Narai Plaeng Roop
Idtibpiso Wi-Sae-Sae-I
I-Sae-Sae Put-Ta-Naa-Mae-I
I-Mae-Naa Putta-Dtang-So-I
I-So-Dtang-Putta-Bpi-Dti-I
Method for giving offerings and chanting in worship to Pra Narai (Vishnu)
Making Offerings to Pra Narai (Vishnu)
Offerings to Vishnu, and Vishnu Riding on Garuda Deity, should include the following Gratong (a kind of crown ornamental offering made from banana leaf), with puffed rice and spicy foods (2 or 3 kinds), sweetmeats and puddings (5 kinds), 3 kinds of fruits (banana, coconut and sugar cane is traditional), milk, butter (ghee), Kaprao leaf (Thai holy basil, known as Tolasee in India), white and green seeds, red beans in coconut milk, perfumed offerings, 7 small green flags (pennant), 3 pieces of cloth (green red and yellow), a clay doll (stone, cement or carved wood), and some figurines of cows, horses, elephants and buffalows.
Incense, candles and flowers are of course indispensible. In addition, you could add water to drink in a glass, and perfumed pure water inside a conch shell for bathing.
Kata Pra Narai Song Krut – Vishnu Kata (For all forms of Vishnu Deva including Vishnu on Garuda)
Om Pra Naaraayana Raacha Haradti Tisathidtaaya Ubpaatawadtaaya Jadt-Dtu Krudhaa Pahananaaya Haradti Tisatidtaaya Aakajchandtu Punchadtu Khibp-bpaya Dtu Wibp-bpaya Dtu Sawaaha Sawaahaaya Sappa Ubpaatawa Winaasaaya Sappa Ubpaatawa Winaasaaya Sappa Andtaraaya Sukh-khawattago Ho-odtu Aayu Wanna Sukha Palang Amhaagang Ragkhandtu Sawaaha Sawaahaa Sawaahaaya
Chant the Kata then blow it into the offerings or into the amulet if raising over your head to wear for the day. In that case, raise the amulet between the palms of your hands in praying posture at your forehead and chant 3 times if making Bucha offerings and blow into the offerings. After the first time you perform the 'Piti Buang Suang' (offerings To Narai – place the amulet on the altar in the house), you must only chant once per day when putting the amulet on – chant the Kata, then blow your breath into the amulet. Do this once a day for however many years you have been living, plus one day extra. this will increase your lifespan and healthy lifetime, and in addition will make the power of Pra Narai make even more powerful blessings come to you.
Visnu Kayatri
Om Naaraayan Witamhae Waasutaewaaya Timhi Dtanno Sutas Bparijotyaadta
Narai Kayatri
Om Narai Witamhae Saesasaayinae Timhi Dtanno Sutas Bparijotyaadta
Kata Khor Porn (Ask for Blessings)
Om Haradti Tisa Naaraayana Taewadtaa Sa Ha Ka Na Bpari Waaraaya Aakajchandtu Bparigunchadtu Sawaaha Sawaahaaya
Om Sappa Ubpatawa Sappa Tud-t Sappasoga Sappa Roka Sappa Paya Sappa Ubpattawa Sappa Sadtruu Winaasaaya Bpamujjandti Om Naaraayana Taewadtaa Sataa Ragkadtu Sawaaha
Temple:Wat Sai Khaw
Maker of Amulet:Pra Ajarn Nong
Weight:2.5 Grams
Recommended Uses:Protection, Invincibility, Commanding Power and Status, Promotion
Size of Amulet:2.5 Cm
Encasement Options
Solid Gold Custom Casing - We will email you with a price quote according to current Gold Prices, and Invoice You after Agreement (0) Waterproof Casing (Free Offer) (0) Without Casing (0)