This list of Buddhist Guru Master monks will auto-update each time we add a new Master. Click each link in the list to view the amulets and read about each Guru Monk

External Pages
---
Takrut Sariga Nuea Tong Daeng Mad Sai Sin Celestial Magpie Spell Spellbound Sincana Cord - Por Tan Klai Wajasit
03233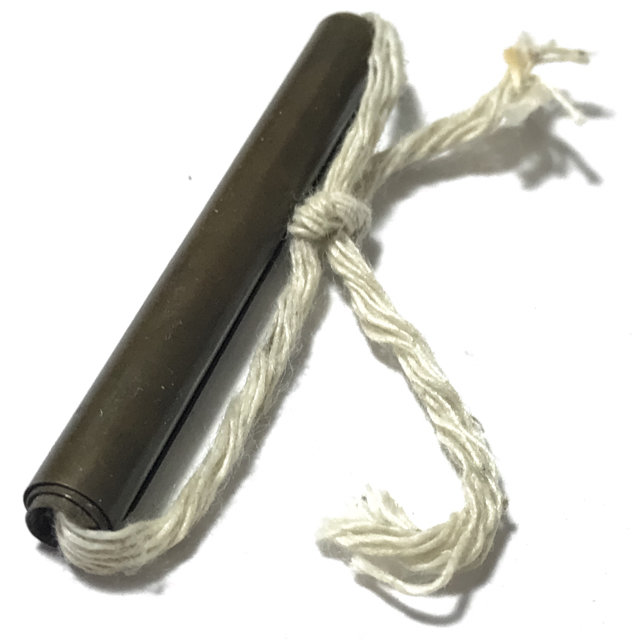 A top class Pra Niyom preferred amulet of the Pantheon of this Master, and an extremely seldom-seen amulet indeed, the Takrut Sariga Celestial Magpie Wicha spell for Mercy Charm and Convincing Speech, Seductive Attraction, and Lucky Fortunes, from the Great Khao Or Master of Nakorn Sri Tammarat, Master of Wat Suan Khan and Wat Pratat Noi. The Takrut Sariga of Por Tan Klai is also powerful Klaew Klaad Protection
It is a highly sought after item from the Upper Pantheon of amulets of Por Tan Klai, and is only rarely, if ever, possible to encounter, and is highly renowned for its power of Metta Maha Niyom Mercy Charm. Because this Takrut is Officially Documented, and considered a Master-Class amulet of the 'Krueang Rang' Talismanic Charm Category, it possesses an elevated price of a Master Class amulet.
The Takrut is a very clear and easily authenticated exhibit, with all the classic features and aspects required to fulfil Por Tan Klai was one of the Top Guru Master Monks of the Last Century, and is considered one of the Four Great Masters of the Previous Generation of Khao Or Lineage Masters.
He was and remains in Legend one of the Most Iconic Guru Masters of Khao Or Southern Sorcery Lineage, whose great Attainments, Humble and Diligent Practice, and Powerful Wicha Akom Magick have brought him to Legendary Status in the Annals of History of Thai Buddhism, and of Buddhist Amulets.
Por Tan Klai Wajasit, was the Abbot of Wat Suan Khan in Nakorn Sri Tammarat, was the Abbot of Wat Suan Khan in Nakorn Sri Tammarat. Por Tan Klai was one of South Thailands most revered monks
Por Tan Klai is one of the most important Khao Or Sorcery lineage masters of the Southern Khao Or Tradition, along with the great Luang Phu Tim (Wat Chang Hai), Ajarn Iad and Ajarn Tong Tao (Wat Khao Or) Luang Por Kong (Wat Ban Suan) and of course, the Greatest Master of all, Luang Por Tuad of Wat Chang Hai.
Amulets by Por Tan Klai are very rare, and jealously guarded by devotees of this Legendary Master monk, and are, extremely rare to come by, and only seen in circulation on very rare occasions. This is due to the massive worldwide following of Devotees, who Revere this great monk, and the fact that most of his amulets already found their rightful owners decades ago.
Kata Bucha Por Tan Klai Wajasit
Puttang Arahang Putto
Tammang Arahang Putto
Sangkang Arahang Putto
Pisit Athagaaro Namo Puttaaya
The Nok Sariga (or, 'Salika') is a Golden Tongued Heavenly Bird which is attributed with immense Metta Mahaniyom and Maha Sanaeh qualities, and is along with the Hongsa, one of the Best Devas to seek assistance in 'Jerajaa' Magic (convincing speech). Jerajaa means 'Discussion'.
The Golden Tongued Sariga bird enchants and charms the listeners of he who possesses the Wicha, bringing a hypnotic and charming effect, to influence and convince, making people see things your way. Good Business is to be expected with the Takrut Sariga.
Magpies are known for their tendency to pick up shiny glittering objects, such as jewelry, and whisk them away to their nests, ad hoard them. This is no different when it comes to the tendencies of the Celestial Magpie, who is indeed just as attracted to treasures as any Magpie.
The attraction and charm which the Takrut Sariga exudes, helps develop your entourage of admirers, and increase your popularity with existing friends and relations. Professional relations will improve, enemies will disappear, and friendly helpful faces appear in their stead.
Compendium of Short Kata for amulets using Wicha Sariga
Temple:Wat Suan Khan
Year of Issue:
Circa 2495 BE
Maker of Amulet:Luang Por Tan Klai Wajasit
Weight:10 Grams
Recommended Uses:Klaew Klaad, Metta Maha Niyom, Serm Duang, Kong Grapan Chadtri
Number of Amulets Made:Unknown
Size of Amulet:3.5 x 2.5
Encasement Options
Steel Caps Tubular Casing (9) Waterproof Casing (9) None (0)