This list of Buddhist Guru Master monks will auto-update each time we add a new Master. Click each link in the list to view the amulets and read about each Guru Monk

External Pages
---
Takrut Tone Mad Chueak Long Rak 5 Inch Lead Yantra Scroll Spellbound Cord, Gold Leaf + Lacquer - Luang Por Chaem Wat Don Yai Horm
03100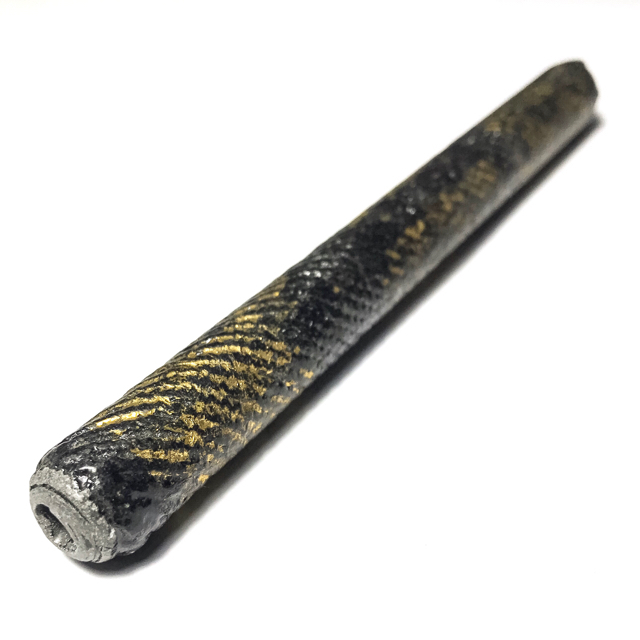 Heavy Leaden Takrut Scroll Yantra Spell 3.5 Inches long spellbound with with magical 'Chueak Akom' cord wrapping, coated in black herbal lacquer with gold leaf from the early era of Luang Por Chaem, of Wat Don Yai Horm. The Takrut Tone of Luang Por Chaem are known as powerful Kong Grapan Chadtri Klaew Klaad amulets with Maha Amnaj (commanding power and influence). This Takrut measures 5 Inches in length, and is heavy duty leaden yantra foil which has been carefully and diligently spellbound with chueak akom cords, and incantations for each winding of the cord. The Takrut were then immersed in black herbal lacquer and further empowered whilst drying out (takes weeks), and given a seal to the spell with gold leaf.
A classic Takrut from the Wat Don Yai Horm Lineage Master Luang Por Chaem, inheritor of the Wicha of Luang Por Ngern (Wat Don Yai Horm). Empowered with Kong Grapan Chadtri Magick of a true Lineage Master of One of Thailand's Most Revered and Respected Temples, who has attained equal fame and popularity as his foregoer and Kroo Ba Ajarn Luang Por Ngern himself, which is a sign of his great Merits as a Guru Monk.
Luang Por Chaem was the Abbot of Wat Don Yai Horm who came after the Great Luang Por Ngern of Wat Don Yai Horm. Luang Por Chaem became abbot in 2520 BE after the passing of Luang Por Ngern. He was born in the year 2449 BE on the 16th March. After becoming Abbot of Wat Don Yai Horm in 2520 BE, he raised funds to perform Merits and Restoration buildings at the temple until the day of his passing on the 9th of December 2536 BE, at the age of 87 years Old.
He was extremely famous for his powerful Takrut and Monk Coin amulets, Pra Pong (Muan Sarn Sacred Powder amulets), and Pha Yant, of which he made a large pantheon over the years to raise funds for the temple.
This Takrut was made during the early Era of Luang Por Chaem's trajectory, estimated around the year 2517-2518 BE. He made many talismans and charms, not all of which are documented in the official temple releases, for of course, he would also make individual amulets for his closest Looksit to Bucha. The Takrut Tone Long Rak Pid Tong is however included in the 'Dtamniap Wadtumongkol' Official listings of his amulets. Because he would make this kind of amulet throughout his trajectory, there is not official date registered in the Dtamniap, as is the case with his limited edition coins, which are more accurately documented.
Amulets of Luang Por Chaem
The amulets of Luang Por Chaem are officially catalogued split into three different Eras, the 'Yuk Dton (early Era), Yuk Klang (Middle Era) and Yuk Play (late Era).
His officially recorded trajectory as an Amulet maker began in the year 2513, before he became Abbot, which is catalogued as the 'Yuk Dton' early Era, which spans the time period between 2513 BE, and 2519 BE. In this period he made the following editions;
Yuk Dton Amulets (2513 BE - 2519 BE)
Pra Somdej Run Raek First Edition which was released on the 12th September 2513, with 5 different models made.
Pra Pid Ta Maha Lap Nuea Pong Sacred Powder Amulet in the year 2514 BE
Rian Roop Khai Run Raek Dtok Code ๖๗ Guru Monk Coin (oval shape) with code 67 Stamp in the year 2515 BE which were blessed for a period of one whole year, in various Sacred metals, namely; Nuea Samrit (21 coins made), Nuea Tong Daeng (1800 coins made) with two different block presses used to make two different 'Pim' (models), the Pim Kor L (L shaped neck), and the Pim Kor Dtrong (straight neck)
Rian Yord Khun Pol amulet 2516 BE
First Edition Rian Roop Khai Sorng Hnaa 2 sided amulet 2516 BE with the Thai number 1 (๑) code stamp on the side which had Luang Por Chaem's face on it
First Edition Rian Sema Lek shield shaped coin amulet 2516 BE with the Thai number 1 (๑) code stamp on the side which had Luang Por Chaem's face on it
Rian Roop Khai Huang Chueam coin amulet with soldered pendant hoop 2517 BE
Rian Roop Muean Cameo Coin 2519 BE
Yuk Klang Amulets (2520 BE - 2527 BE)
The middle era amulets began to take on a large Public Interest, as the Devotees of Wat Don Yai Hormhad gathered a large quantity of Sacred Muan Sarn Sacred Powders and Chanuan Sacred Metallic substances from Great Guru masters around Thailand to donate to Luang Por Chaem for the making of amulets to smelt into Sacred Alchemical Chanuan Muan Sarn Substances for the making of Luang Por Chaem's next editions;
Pra Roop Lor Boran 1st Edition Statuette 2521 BE
Pra Pid Ta Maha Ud Yant Yung Nuea Rae 1st Edition closed eyes Buddha amulet in Sacred Mineral Kayasiddhi substance 2521 BE
Rian Lor Hoo Nai Dtua with one piece pendant ring (not soldered) pendant hoop 1st Edition 2522 BE
Pra Pid Ta Nam Tao Gourd Shaped Buddha amulet 2524 BE
Pra Pid ta Song Serd Chee Bo 1st Edition amulet 2524 BE
Pra Kring Yord Khun Pol amulet 2526 BE
Pra Bua Khem (Upakut) amulet 2526 BE first edition
Pra Pid Ta Nuea Pong Kluk rak lacquer covered powder closed eyes Buddha amulet 2526 BE
Pra Kring Arahang Buddha Statuette amulet 2526 BE
Pra Chayawat 1st Edition amulet 2526 BE
Rian Lor Pra Jao Ha Pra Ongk 5 Dhyani Buddhas amulet 2526 BE
Pra Kring Takataen Buddha Statuette amulet 2527 BE
Rian Lor Han Khang sideways facing Monk Cameo coin amulet with Thai number Code 77 (๗๗) 2527 BE
Pra Mongkol Jakrawal Nuea Samrit bronze amulet 2527 BE
Pra Pid Ta Pong Metta closed eyes Buddha amulet 2527 BE
Yuk Play (2528 BE - 2536 BE)
Pra Roop Lor Gon Dtok Pim Niyom 2529 BE
Pra Roop Muean Bpam statuette 2535 BE
Rian Run Sang Rong Payaban Nakorn Pathom amulet from the Nakorn Pathom Hospital Building Fund Edition 2535 BE
Rian Lor Kor Nam Tao Gourd Neck coin amulet 2536 BE
Rian Lor Hnaa Suea Tiger face amulet 2536 BE
Rian Lor Jao Sua Millionaire amulet 2536 BE
Rian Lor Pim Tawarn Yern amulet 2536 BE
Rian Luang Por Chaem Bucha Kun Luang Ah amulet 2536 BE (reverence to the Upachaya Kong Monk of Wat Bang Gaporm)
Pra Pid Ta Nuea Rae 2nd edition closed eyes Buddha amulet 2536 BE
Temple:Wat Don Yai Horm
Year of Issue:
Circa 2517 BE
Maker of Amulet:Luang Por Chaem
Weight:94 Grams
Recommended Uses:Kong Grapan Chadtri, Klaew Klaad, Serm Duang, Serm Yos, Maha Amnaj
Number of Amulets Made:Extreme Few Numbers
Size of Amulet:5 Inches
Encasement Options
Steel Capped Transparent Tube Casing (9) Waterproof Casing (9) Without Casing (0)