This list of Buddhist Guru Master monks will auto-update each time we add a new Master. Click each link in the list to view the amulets and read about each Guru Monk

External Pages
---
Takrut Tone Mad Chueak Nuea Tong Daeng Klaew Klaad Metta 4 Inches - Pra Ajarn Dter Wat Pha Aranyawiwek
03187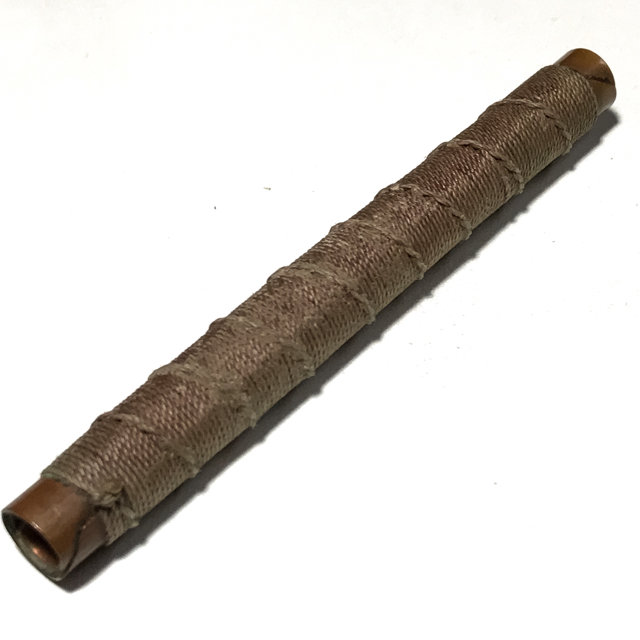 A very rare amulet from one of the Great masters of the Nakorn Panom Region, Luang Phu Pra Ajarn Dter Ajala Tammo, of Wat Pha Aranyawiwek, whose Magic was known for its primary powers of Metta Maha Niyom Mercy Charm, and Klaew Klaad Evasion of Dangers. The Takrut is wrapped in cord binding, and is in excellent condition for an amulet of its age, estimated made around the year 2490 BE
The Takrut is made from Nuea Tong Daeng Copper Yantra Foil, and has been cut using the classic 'Dtat Peek' method of cutting the sharp corners of the Takrut, for efficient seal of the outer scroll. This was done to stop the corners of the Takrut foil from ensnaring itself on objects and catching on the skin or clothing when worn.
What is a Takrut?
The Takrut is a form of Talisman or Amulet, which dates back for Centuries, and was originally popular as a Kong Grapan Chadtri and Klaew Klaad Protection amulet for Warriors. The Takrut, is in essence a Scroll Spell made using the Inscription of Sacred Geometry Design, Numerology, Pictorial Images, and Khom Agkhara Lettering. The materials used for Takrut were and still are manyfold, and could be made of gold, silver, or bronze metallic foil, bamboo, wood, animal skin, or even parchment paper. Some Takrut are not scrolls,and can be made from solid objects, such as a piece of wood, coral, or other sacred substance.
Some were covered with cord wrapping and lacquered (Dtak Chueak Long Rak). These scrolls would then either be worn by threading a cord through them (for in olden times there was no steel capped transparent tube or waterproof casing). Sometimes, Takrut are also inserted within a protective exterior, also made from Sacred or Magical Substances, such as 'Mai Phai' Bamboo, or even a Cast Metal Decorative Tubular shel.
This is also known then as 'Takrut Hlor Boran', which means 'Ancient Cast Metal Takrut'. Because Olden Days were full of Wars and different small Kingdoms battling with each other, it was most common to see Takrut made specificaly for Kong Grapan Chadtri and Klaew Klaad Protection.
Pra Ajarn Dter, of Wat Pha Aranyawiwek, was born in the year 2431, and lived for 86 years until his passing in the year 2517 BE He was a disciple of the Great Luang Phu Mun Puritatto, Founder of the Tudong Forest Tradition Dhammayut Lineage.
His trajectory was full of attainments and miraculous events, and his Patipata (purity of practice) was exemplary, and brought him to be regarded as one of the Great Arya Sangha monks of the Provinces around Nakorn Panom, and indeed, the whole country.
He was ordained into the Maha Nikaya lineage tradition in the year 2454 BE, and then was re-ordained once again in the year 2471, when he changed lineages to become a Dhammayut Forest Monk, with 19 years as ab Maha Nikaya Monk, and 65 years as a Dhammayut Lineage Monk
---
Below; Pra Ajarn Dter (2431 - 2517 BE) - Wat Pha Aranyawiwek
His Wicha Akom was said to be immensely powerful, and manyfold were the magic spells he had mastered, on his many years of Tudong forest wandering, where he traveled the Northern Jungles and entered into Burma, and met many Great Sorcerors and Forest Chee Ba Khaw Hermit Spirits, from whom he learned Wicha from.
---
He was even visited by two Angelic Beings who revealed to him where a stash of gold and silver Buddha statues were hidden and buried. Luang Phu Dter was known for his extremely direct and open, and to give powerful Dhamma teachings, which people find fascinating to listen to, for they are inimitably in his own style. He was one of the great Kroo Ba Ajarn of the Forest tradition lineage of the present Era of Thai Buddhism, who was one of the first generation of direct apprenticed disciples of the great Ajarn Mun.
It is said that once, there were some new monks who had come to the temple who were academics, with high degrees in Dhamma, who were of the younger generation, and were discussing Luang Phu Dter's old fashioned Dhamma Sermons, and how they were 'old stuff' and not up to the present times. Suddenly, Luang Phu Pra Ajarn Dter called out to the monks who were whispering in the background, and said 'Hey you, i invite you to come and give the sermon instead of me, but i only want to hear 'new stuff', no 'old stuff', and invited the monk who had been whispering about his old sermons up to the Tammas throne to give his version of the Dhamma;
The monk was obviously still surprised as he couldnt figure out how on earth Luang Phu Dter had known what he was whispering about from that distance, but was also arrogant and happy to step up to give his 'learned version' of the Buddha-Dhamma. The monk stood up and walked up to the dais, and looked satisfied with himself.
The monk seated himself into the Tammaas proudly, and raised his hands together and began; 'Namo Tassa....' He got no further, for Pra Ajarn Dter shouted out "Stop right there!.... I said i wanted to hear New Stuff.. thats old stuff.. get down from the chair" . The monk looked embarrassed, and silently got down from the Dais, and disappeared into the throng of monks who were in the congregation listening. Luang Phu Dter then continued his 'Old School' Sermon without further event. This was a typical example of Luang Phu's direct method of teaching people to be humble.
Use the Traditional Thai Buddhist Method for Bucha;
1. Chant Maha Namasakara (3 Times)
2. Chant the Trai Soranakom (3 Times)
3. Chant Kata Aaraatanaa Pra Krueang (3 Times)
Kata Maha Namasakara
Namo Dtat-Sa Pakawa-Dto Araha-Dto Sam-Maa Sam-Put-Dtat-Sa
Namo Dtat-Sa Pakawa-Dto Araha-Dto Sam-Maa Sam-Put-Dtat-Sa
Namo Dtat-Sa Pakawa-Dto Araha-Dto Sam-Maa Sam-Put-Dtat-Sa
Trai Soranakom
Puttang Cheewidtang Yaawa Nipaanang Saranang Kajchaami

Tammang Cheewidtang Yaawa Nipaanang Saranang Kajchaami
Sangkang Cheewidtang Yaawa Nipaanang Saranang Kajchaami
Tudtiyambpi Puttang Cheewidtang Yaawa Nipaanang Saranang Kajchaami
Tudtiyambpi Tammang Cheewidtang Yaawa Nipaanang Saranang Kajchaami
Tudtiyambpi Sangkang Cheewidtang Yaawa Nipaanang Saranang Kajchaami
Dtadtiyambpi Puttang Cheewidtang Yaawa Nipaanang Saranang Kajchaami
Dtadtiyambpi Tammang Cheewidtang Yaawa Nipaanang Saranang Kajchaami
Dtadtiyambpi Sangkang Cheewidtang Yaawa Nipaanang Saranang Kajchaami
Kata Aaraatana Pra Krueang
Puttang Aaraatanaanang
Tammang Aaraatanaanang
Sangkang Aaraatanaanang
Puttang Prasittimae
Tammang Prasittimae
Sangkang Prasittimae
Temple:Wat Pha Aranyawiwek
Year of Issue:
Circa 2490 BE
Maker of Amulet:Luang Phu Pra Ajarn Dter Ajalatammo (Achala Dhammo Bhikkhu)
Weight:30 Grams
Recommended Uses:Protection and Mercy Charm (Business)
Size of Amulet:4 Inches
Encasement Options
Waterproof Casing (9) Stainless Steel Caps Tube Casing (9) None (0)