This list of Buddhist Guru Master monks will auto-update each time we add a new Master. Click each link in the list to view the amulets and read about each Guru Monk

External Pages
---
Takrut Yant Serm Duang Chadtaa Rahu Chana Dtamrap Khao Or - Nuea Tong Daeng - Dtamnak Dtak Sila Khao Or
03181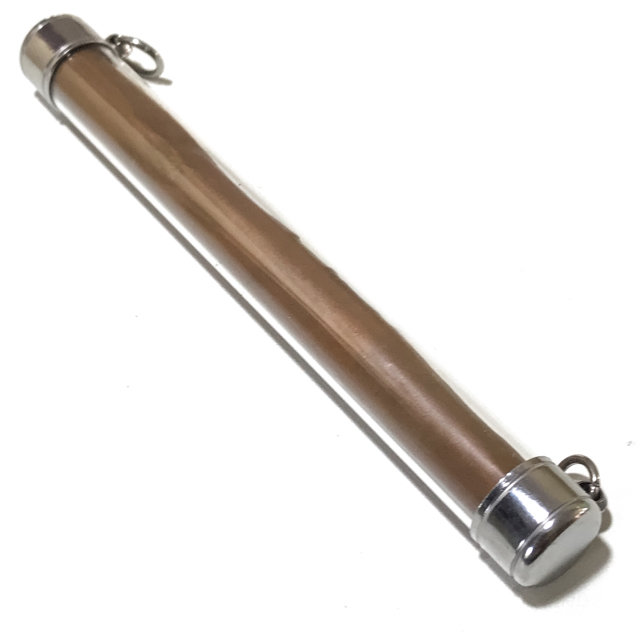 One of a smal number of diligently hand inscribed yantra Foil spells distributed from the Dtamnak Dtak Sila Khao Or Southern Sorcery Temple Lineage of Sprceror Monks. The Takrut is a large size (5 Inches) hand Inscribed Takrut Tone Tong Daeng Karma Improvement spell. the Dtamnak Dtak Sila Khao Or Southern Academy of Sorcery is considered to be the most ancient of all sorcery schools in Thailand, with over 1000 years of historically documented existence.
The inner surface bears a Sacred Yant Serm Duang Chadtaa, inscribed with invocations of Maha Lap, Serm Duang, and a compendium of Karma Improving Invocations containing the magic of Pra Sivali and Pra Rahu, to improve karma, turn bad luck into good luck, dissolve enmity, and improve the line of Fate, bringing Prosperity, Protection, Success and Happiness to the wearer.
The Takrut is inscribed with a very complex formula of Kata Akom spells within a circular Yantra, and rolled up into the ubiquitous scroll, and inserted into tubular casing for attachment to a waistcord belt or other pendant accessory.
Empowered by the Master Monks of the Dtamnak Dtak Sila Khao Or Southern Academy of Sorcery, whose methods include invoking the Lersi Sorceror Hermit Gods and the Kroo Ba Ajarn of the Khao or master Lineage within the holy Khao Or cave.
The Takrut should be prayed to most simply by using the Kata Ārātanā Pra Krueang, to beseech wishes and protection.
Use the Traditional Thai Buddhist Method for Bucha;
1. Chant Maha Namasakara (3 Times)
2. Chant the Trai Soranakom (3 Times)
3. Chant Kata Aaraatanaa Pra Krueang (3 Times)
Kata Maha Namasakara
Namo Dtat-Sa Pakawa-Dto Araha-Dto Sam-Maa Sam-Put-Dtat-Sa
Namo Dtat-Sa Pakawa-Dto Araha-Dto Sam-Maa Sam-Put-Dtat-Sa
Namo Dtat-Sa Pakawa-Dto Araha-Dto Sam-Maa Sam-Put-Dtat-Sa
Trai Soranakom
Puttang Cheewidtang Yaawa Nipaanang Saranang Kajchaami

Tammang Cheewidtang Yaawa Nipaanang Saranang Kajchaami
Sangkang Cheewidtang Yaawa Nipaanang Saranang Kajchaami
Tudtiyambpi Puttang Cheewidtang Yaawa Nipaanang Saranang Kajchaami
Tudtiyambpi Tammang Cheewidtang Yaawa Nipaanang Saranang Kajchaami
Tudtiyambpi Sangkang Cheewidtang Yaawa Nipaanang Saranang Kajchaami
Dtadtiyambpi Puttang Cheewidtang Yaawa Nipaanang Saranang Kajchaami
Dtadtiyambpi Tammang Cheewidtang Yaawa Nipaanang Saranang Kajchaami
Dtadtiyambpi Sangkang Cheewidtang Yaawa Nipaanang Saranang Kajchaami
Kata Ārātanā Pra Krueang
Puttang Ārātanānang Tammang Ārātanānang Sangkang Ārātanānang - Make a Wish/Prayer and continue with; Puttang Bprasittimē Tammang Bprasittimē Sangkang Bprasittimē
Temple:Dtamnak Dtak Sila Khao Or
Year of Issue:
Circa 2448 BE
Maker of Amulet:Khao Or Master Monks
Weight:22 Grams
Recommended Uses:Serm Duang, Klaew Klaad, Serm Yos, Gae Aathan, Choke lap
Size of Amulet:5.5 Inches Long
Chueak Kart Aew Waistcord
With Black Waistcord (5) With Ochre Waistcord (5) None (0)