One of the rarest and most highly revered and sought after Palad Khik of all Time, the Palad Khik Gae Nuea Mai Paya Ngiw Dam Dong Jarn Mer, of Luang Por Fak, of Wat Nikom Prachasan. Hand carved from sacred Deva inhabited black Ngiw treewood. The Palad Khik of Luang Por Fak is considered amongst the top five Palad Khik of all time, and carries Supreme Eminence in the Thai Collector Scene of the Krueang Rang Category, and for all Devotees of Palad Khik amulets.
Little is known of his Biography or Life before ordination, but it is known that he was the apprentice in Wicha to the great Luang Por Soke (also top 5 Palad Khik Master), and was the4 Kroo Ba Ajarn who taught the Wicha Palad Khik to the Great Luang Por Yid, of Wat Nong Jork. This Palad Khik from Luang Por Fak is in Pristine condition and exquisitely carved in the classic uniquitious curved shape which has come to be a trademark with the Palad Khik of Luang Por Fak.
A hole is drilled through the base of the Palad Khick for threading a cord through and attaching to a waistcord belt, or can alternatively be encased in waterproof casing with pendant hoop for wearing on a neckchain or belt as preferred.
The back of the Palad Khik has three holes where special Muan Sarn is inserted. The body of the the Palad Khik is formed in the clasic curved shape which has become known to be ubiquitous with the Palad Khik of this Master. This exhibit is extremely rare for the hand inscription of the Yant Dan Dta (Yant Dto) on the head of the Palad Khik, which is said to be found on only very rarely.
The Palad Khik of Luang Por Fak are highly renowned for Kong Grapan Chadtri (Invincibility), Klaew Klaad (Evasion of Deadly Accidents), Metta Maha Niyom n(Mercy Charm), Kaa Khaay (Selling Power), and Lai Phuudt Phii Pisaj (Chase Demons and Ghosts Away).
The Palad Khik is empowered with the Kata; NA HI HA HU JA CHA DAN DTA
And the Kata Hua Jai Taw Waes Suwan "WAE SA PU SA", and the Kata Hua Jai Ittijae for Metta Maha Sanaeh "I TA KA MA", as well as the Kata Hua Jai Metta Karaniya Sutta "AE DTANG SA DTING", topped off with the Hua Jai Maha Ud "UT TANG AD TO".
11 Kinds of Blessings are included within the Magic of the Palad Khik's Wicha; 1. Sleep peacefully, 2. Awaken with Happiness, 3. Protection against all Deadly Weaponry, 4. Immunity to Poisons, 5. Mercy Charm, 6. Good Business and Wealth Increase, 7. Convincing Speech, 8. Ward off Evil Spirits and Ghosts, 9. Improve Karma, 10. Protect Household and Property, 11. Increase Popularity & Chances of Promotion.
The Palad Khik is an Ancient Wicha, whose development can be traced right back to the Vedic Brahman Occult practices of Thousands of Years ago. Palad Khik amulets must be empowered by the repetition of incantations, which Thais call 'Kata Bucha', derived from the Devanagari 'ghata poojah'. The incantations depend on the creator's lineage in each school of traditional non-Buddhist animist magic.
Kata Bucha Palad Khik
Ganha Neha Na Ma Pa Ta
or
Ja Pa Ga Sa Na Mo Put Taa Ya Gan Ha Nae Ha Na Ma Pa Ta
or
Om Siwaling Sabbha Metta Sabbha Pokaa Sabbha Laapo Sabbha Tanaa, Sabbha Yasa, Sabbha Pranee Sabbha Mangalaani Bhavantume.
or
Om Laluay Mahaa Laluay Samsip Sorng Hee Hae Hom Lorm Dtorm Kuay Khor Hai Guu Ram Ruay Pro Hua Kuay An Nii Da Daa Di Dii Duu Dii Hee Maa Kuay Maa Burut Maa Dii Sadtrii Mii Maa Swaa Home
chant any one, or all of the Kata 3 times holding the Palad Khik before wearing
In Ma Saep Nang Pim Klang Roop Sum Pid Tong Lanna Animist Seduction Charm Early Era Kroo Ba Wang Wat Ban Den
03761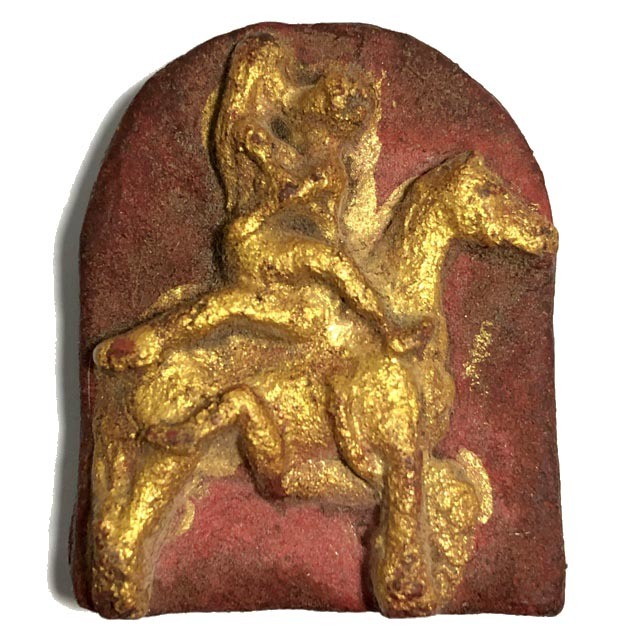 Noticeably early era from Kroo Ba Wang, from the visibly ancient aspects of the Muan Sarn clay, which reveals us to be beholding an Extremely Rare Early Era hand molded arched shaped version of the In Ma Saep Nang of Kroo Ba Wang (Wat Ban Den)
This model is a hand molded arched shape Pim Klang Roop Sum,Lady-Horse Prai Deity,with hand inscribed Agkhara Spells in Nuea Daeng. Empowered with the Ancient Northern Lanna Tradition Wicha, and Magical Incantations inscribed upon the surface. A truly rare and world-famous classic amulet, from Olden Days Master Kroo Ba Wang, of Wat Ban Den.
Free registered air parcel shipping worldwide is offered included with this amulet. The Ma Saep Nang measures 4 x 3 Cm, and is made from Red Sacred Muan Sarn Sacred Powders, with a gold covered surface, and golden painted on the Mae Saep Nang on the front face. Empowered with the invocation of the Prai Ma Saep Nang Deva and is imbued with Lanna Maha Sanaeh magic for Seductive Influence, Metta Maha Niyom Mercy Charm and Maha Lap Wealth Increase (through attracting admirers, good customers, and, promotion from bosses, and helpful friends).
Luang Phu Kroo Ba Wang is Legendary for his Maha Sanaeh Magic, was one of the most famous of the Northern Lanna Guru Masters of the Olden Days. Highly preferred for his In Koo and In Ma Saep Nang amulets, as well as his famous Takrut scroll, Pra Rahu, and Pha Yant Sacred Geometry Yantra Cloth Spells. Of the Pha Yant he was especially renowned for his Pha Yant Ma Saep Nang Lady-Horse images.
Luang Phu was born in 2434 BE, in the country into a family of famers and market traders, In those days, the only way to get any schooling in the countryside was to stay in a temple and learn with the Monks. And so, at the age of nearly 9 years old, his father took him to live at the nearby temple, to learn to read and write. After about 3 years. Luang Phu could read and write fluently enough, and so he was able to ordain into the Sangha as a Samanera Novice Monk.
Luang Phu was born in 2434 BE, in the country into a family of farmers and market traders, In those days, the only way to get any schooling in the countryside was to stay in a temple and learn with the Monks, and so, at the age of nearly 9 years old, his father took him to live at the nearby temple, to learn to read and write. After about 3 years. Luang Phu could read and write fluently enough, and so he was able to ordain into the Sangha as a Samanera Novice Monk in the year 2445 BE. Luang Phu then began to practice Khom Sanskrit Agkhara and Wicha, and within a very short period of time became so adept that he could chant every single line of Agkhara from memory with great aptitude.
Pra Kroo Gantiya was his Upachaya Ordaining Officer, and Pra Ajarn Bpan was his Pra Gammawājājarn (Prompter). Pra Atigarn Bpum was his Pra Anusawanājarn (Witness). Luang Phu was given the Chāyā (official Monks Name) of Prohma Sēno. Luang Phu Kroo Ba Wang then stayed on at Wat Ban Baen in Lampoon for a period of 2 years more.
After this Luang Phu Kroo Ba Wang then moved to stay at Wat Ban Hmueang Jee, which was in his home area where he was born. Luang Phu then continued to study and practice Wicha Akom and Khom Agkhara for a further three years, until he became inspired to take up the practice of Tudong Solitary Forest wandering.
Luang Phu then travelled through the thick forest area of Pha Teub, on is way towards Chiang Saen, and stopped in the forest to practice for 6 months. Once he reached Chiang Saen, he stayed around the area practicing for some years, until he decided to travel towards Prae Province, where he finally arrived and stayed at the temple of Wat Den Chai. He stayed at this temple to master the various Sorcery Methods of the Region, so that he would be able to perform Powerful Incantations enabling him to cast spells and blessings to offer protection, happiness and prosperirty to the fold, and to send metta and merits to the Nature Spirits of the Nether Worlds, with Compassionate Mercy Magic.
Once he had mastered this Wicha, he then set forth once more, and practiced Tudong, until he came to rest at a very peaceful place in the forest called 'Pha Den Gradtay', which was very auspicious in energy. There was a small village nearby which was impoverished, and Luang Phu then decided to build a temple with the help of the locals. But Luang Phu was first called back by locals of the temple at Wat Dton Tong, so he agreed and went backl to assist the with their needs.
After one year helping them, he was able to return to Pha Den Gradtay, and built three Kuti Huts and invited some other monks to come and stay, and assist in developing the temple.
---
Then in the yeat 2508 Luang Phu Kroo Ba Wang began to build the Uposadha Shrine Room and the locals of the surrounding areas began to hear of his merits, and flock to the temple to make donations and assist.
The Uposadha was then finished in the the year 2510 BE. Luang Phu became famous for both is great ability to finish the temple of Wat ban den in Miraclulously short timespan, and also for his many Wicha, including Horasart (Astrology), Amulet making, Maha Sanaeh and Metta Maha Niyom Maha Lap Magic, and his ability to use Candle Magic to eliminate Bad Karma.
In the year 2513, time caught up with Luang Phu and he became ill, and began to weaken with age, and became unable to travel, and stayed for the rest of his life performing meritorious acts for the temple and the devotees, until his final passing at Wat Ban Den, in the year 2516 BE.
About In Ma Saep Nang Deva
There is a Fable that there was once a family who had a very beautiful daughter. This family reared horses for a living, and their horses were famous for their incredible beauty. The daughter took care of the horses every day until one day she felt intense desire for the horse she had become attached to, and consummated her desires with the horse (had sex with it). When the family found out about the event, they were incredibly offended and angry, and they killed the horse which the daughter had been caring for and had sex with. The daughter heard of this, and became so sad, that she died of a broken heart, from sorrow for loss of her horse and lover.
The ancient Kroo Ba Ajarns of Old believed that this particular horse had an incredible power of Maha Sanaeh (charm and attraction). So strong indeed, that even a Human Woman could fall in love with it and allow it to have sexual contact.
For this reason the In Ma Saep Nang is an extremely powerful love charm, and that whoever carries it will certainly have the charming effect on others around him or her.
Kata In Ma Yern Saep Nang
Na Mo Puttaaya Na Ma Pa Ta Ma A U Idtipiso Pakawaa Arahang Samma Samputto Na Mo Puttaaya Na Cha Na Ka (3 times)
Dtae Dtii Dtu Dta Nia Mia Pia Tia
Temple:Wat Ban Den
Year of Issue:
Circa 2500 BE
Maker of Amulet:Kroo Ba Wang
Weight:14 Grams
Recommended Uses:Seduction, Mercy Charm, Business Increase, Promotion and Prosperity
Size of Amulet:4 x 3 Cm
Encasement Options
Solid Gold Custom Casing (Waterproo​​​​​​​f) - We will email you with a price quote according to current Gold Prices, and Invoice You after Agreement (0) Waterproof Casing (9) Without Casing (0)