One of the rarest and most highly revered and sought after Palad Khik of all Time, the Palad Khik Gae Nuea Mai Paya Ngiw Dam Dong Jarn Mer, of Luang Por Fak, of Wat Nikom Prachasan. Hand carved from sacred Deva inhabited black Ngiw treewood. The Palad Khik of Luang Por Fak is considered amongst the top five Palad Khik of all time, and carries Supreme Eminence in the Thai Collector Scene of the Krueang Rang Category, and for all Devotees of Palad Khik amulets.
Little is known of his Biography or Life before ordination, but it is known that he was the apprentice in Wicha to the great Luang Por Soke (also top 5 Palad Khik Master), and was the4 Kroo Ba Ajarn who taught the Wicha Palad Khik to the Great Luang Por Yid, of Wat Nong Jork. This Palad Khik from Luang Por Fak is in Pristine condition and exquisitely carved in the classic uniquitious curved shape which has come to be a trademark with the Palad Khik of Luang Por Fak.
A hole is drilled through the base of the Palad Khick for threading a cord through and attaching to a waistcord belt, or can alternatively be encased in waterproof casing with pendant hoop for wearing on a neckchain or belt as preferred.
The back of the Palad Khik has three holes where special Muan Sarn is inserted. The body of the the Palad Khik is formed in the clasic curved shape which has become known to be ubiquitous with the Palad Khik of this Master. This exhibit is extremely rare for the hand inscription of the Yant Dan Dta (Yant Dto) on the head of the Palad Khik, which is said to be found on only very rarely.
The Palad Khik of Luang Por Fak are highly renowned for Kong Grapan Chadtri (Invincibility), Klaew Klaad (Evasion of Deadly Accidents), Metta Maha Niyom n(Mercy Charm), Kaa Khaay (Selling Power), and Lai Phuudt Phii Pisaj (Chase Demons and Ghosts Away).
The Palad Khik is empowered with the Kata; NA HI HA HU JA CHA DAN DTA
And the Kata Hua Jai Taw Waes Suwan "WAE SA PU SA", and the Kata Hua Jai Ittijae for Metta Maha Sanaeh "I TA KA MA", as well as the Kata Hua Jai Metta Karaniya Sutta "AE DTANG SA DTING", topped off with the Hua Jai Maha Ud "UT TANG AD TO".
11 Kinds of Blessings are included within the Magic of the Palad Khik's Wicha; 1. Sleep peacefully, 2. Awaken with Happiness, 3. Protection against all Deadly Weaponry, 4. Immunity to Poisons, 5. Mercy Charm, 6. Good Business and Wealth Increase, 7. Convincing Speech, 8. Ward off Evil Spirits and Ghosts, 9. Improve Karma, 10. Protect Household and Property, 11. Increase Popularity & Chances of Promotion.
The Palad Khik is an Ancient Wicha, whose development can be traced right back to the Vedic Brahman Occult practices of Thousands of Years ago. Palad Khik amulets must be empowered by the repetition of incantations, which Thais call 'Kata Bucha', derived from the Devanagari 'ghata poojah'. The incantations depend on the creator's lineage in each school of traditional non-Buddhist animist magic.
Kata Bucha Palad Khik
Ganha Neha Na Ma Pa Ta
or
Ja Pa Ga Sa Na Mo Put Taa Ya Gan Ha Nae Ha Na Ma Pa Ta
or
Om Siwaling Sabbha Metta Sabbha Pokaa Sabbha Laapo Sabbha Tanaa, Sabbha Yasa, Sabbha Pranee Sabbha Mangalaani Bhavantume.
or
Om Laluay Mahaa Laluay Samsip Sorng Hee Hae Hom Lorm Dtorm Kuay Khor Hai Guu Ram Ruay Pro Hua Kuay An Nii Da Daa Di Dii Duu Dii Hee Maa Kuay Maa Burut Maa Dii Sadtrii Mii Maa Swaa Home
chant any one, or all of the Kata 3 times holding the Palad Khik before wearing
Palad Khik Mae Nang Kruan Nang Prai Deva Phallic 3 Inches - Hand Carved sacred Wood - Circa 2489 - 2500 BE - Luang Por Kong - Wat Wang Sapparot
02649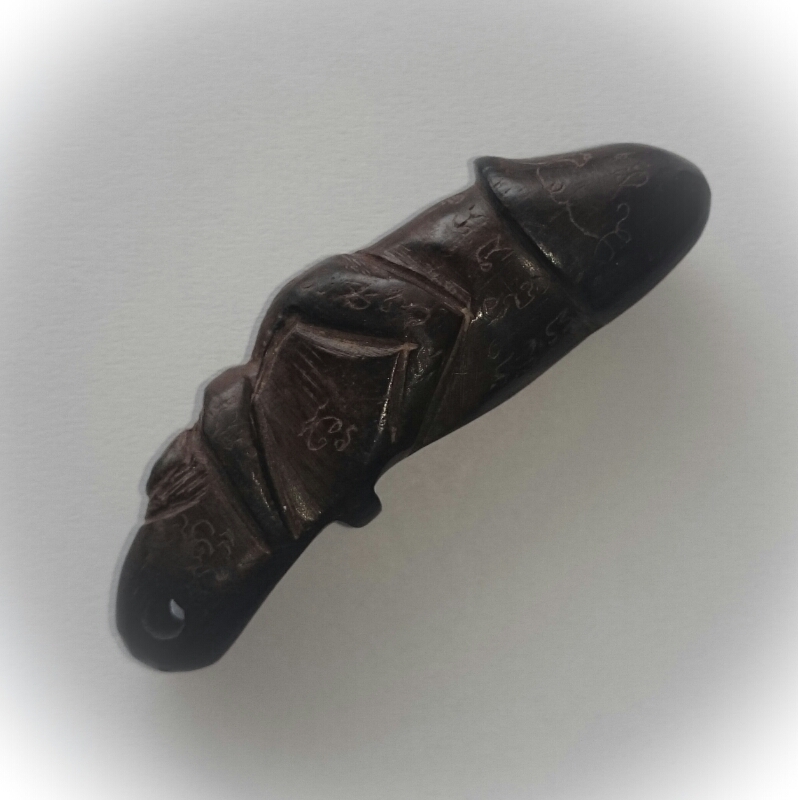 Very Special and Rare Palad Khik Mae Nang Kruan Phallic Lingam amulet with Nang Prai Deva entwined around the Phallic - a Cassic world famous amulet from the great Luang Por Kong, of Wat Wang Sapparot (2445 - 2532 BE).
Luang Por Kong was most famous for Palad Khik, especially the Palad Khik Mae NaNg Kruan above all others, and also other carved wooden Animist Charms of this variety. This can be considered a rare opportunity to obtain such an inimitable occult charm from this Great master of Yesteryear.
Luang Por Kong began to become both Nationally and Internationally famous during the 2nd World War, as he began to make Yant Shirts and Yantra Flags, and his now famous Palad Khik amulets, and issue them continuously as he made them.
The Palad Khik is carved in the classic Phallic shape as a Shiva Lingam from Sacred Tree Woood, and is fashioned with a Nang Prai Mae Kruan Nang Deva entwined around the Phallic. Sacred Khom Agkhara spell inscriptions are written around the surface of the wood, to empower the Palad Khik with Maha Lap, Maha Sanaeh, Metta Mahaniyom and Kong Grapan Power..
The carving is immediately recognisable as coming from the devotee artisans of Luang Por Kong, and carries his distinct personal look and style, making this an Ongk Kroo model for its ease of recognition. The Khom Agkhara inscriptions are also easily recognisable as being authentic.
The Palad Khik has a pendant hole carved into it for which reason, it is not really necessary to encase it in a waterproof pendant casing, but of course can be if preferred. Most people prefer to tie it to a waist cord and wear it around the waist, and let the Sacred Wood come into contact with the skin, for a strong magical connection to its aura of power.
Luang Por Kong of Wat Wang Sapparot was one of the Great Guru Masters of Yesteryear, and is an Internationally and Officially documented Master, whose amulets have graced the pages and covers of Top Thai Buddhist Amulet magazines for decades.
Many high ranking members of the police force, and military forceas well as members of the Royal Court have been said to have worn his amulets and experienced their miraculous powers, and indeed there are many officially recorded tales of such events. His amulets are famed for his immense power of Maha Lap, Kaa Khaay, Metta Maha Saneh and Klaew Klaad Kong Grapan Chadtri Power.
His Patipata (Purity and Diligence of Practice as a Buddhist Monk) were Legendary. His great generosity was unequalled and he would never refuse anybody his help. He was famed for always taking in and helping people who were ill and suffered sicknesses, and to offer them his full assistance.
The carving is a work of excellence, and has the inimitable features which are so easily recognisable as the work of Luang Por Kong. The Palad Khik Mae Nang Kruan is perhaps one of Luang Por Kong's most famous amulets.
The Palad Khik Mae Nang Kruan is extremely well known and popular for its great Kaa Khaay (good business sales) Power, as well s for having very strong Maha Sanaeh Seductive Influence and immense 'Siang Choke' (Gambling Luck) Power. But indeed, what is less known is that the Palad Khik is also a very powerful amulet for Klaew Klaad evasion of dangers and also for Kong Grapan invincibility magic.
Luang Por Kong of Wat Wang Sapparot is an Internationally and Officially documented Master, whose amulets have graced the pages and covers of Top Thai Buddhist Amulet magazines for decades.
Temple:Wat Wang Sapparot
Maker of Amulet:Luang Por Kong
Weight:20 Grams
Recommended Uses:Maha Amnaj, Maha Pokasap, Maha Ud, Metta Mahaniyom, Serm Yos
Number of Amulets Made:Very Few
Size of Amulet:2.5 Inches
Waterproof Casing
With Casing (9) Without Casing (0)