Pra Gleep Bua Amulet with Yant Trinisinghae Luang Phu To Wat Pradoo Chimplee
The Pra Pratan Gleep Bua Hlang Yant Trinisinghae Muan Sarn Sacred Powders amulet, was released after Buddha Abhiseka Blessing Ceremony at Wat Pradoo Chimplee in the year 2521 BE, blessed by the Great Luang Phu To who presided over the Grand Blessing Ceremony. This edition recieved 3 months of immersion in Holy Prayer Water with blessings from Luang Phu To throughout the whole Trimester. This model is rare for being in the much rarer Pong Gesorn Gae ANam Man oily pollens sacred clay.
The amulet was released in two 'Pim' (versions); Pim Yai (large, 22,875 amulets made), and Pim Lek (small, 20,805 amulets made). This amulet is in perfect condition, without any flaws or wear and tear, making it very eligible for show in competition.


This amulet is considered to be one of the more easily reachable (affordable) amulets of the Pantheon of Famous Classics, and is very popular amulet with middle and upper middle-class devotees of Luang Phu To, who seek an authentically blessed amulet of esteem and respectable value from this master, but that won't necessarily cost them the deeds to their house to be able to afford.  The Sacred Yant Trinisinghae is Embossed on the rear face of the Amulet for Metta Mahaniyom and Maha Lap Blessings.
The amulet is a Pim Yai large version measuring 3.5 x 2.5 Cm,, and is in pristine condition. The Muan Sarn Sacred Powders are made from Puttakun Yantra Powders of Luang Phu To, with Gesorn Pollens and Incenses. The powerful magic and spellcasting abilities of Luang Phu To are of course one of the major influential factors as to why his amulets have become such priceless Masterpieces, and his special Muan Sarn Sacred Powders are another highly influential aspect of their popularity and fame. The Yant Trinisinghae was often inscribed on Yantra foils for devotees who would bring a foil with them and Luang Phu would inscribe it. The devotees would then take the foil home for Bucha, or roll it into a Takrut to wear as an amulet.
This Yantra was first used on the rear face of an official amulet edition, with the first edition Rian Run Raek Guru Monk Coins. The Yant Trinisinghae is not only powerful for Maha Lap and Serm Duang (improve fate and destiny), but also for being highly effective against Black Magick, Ghosts and Demons.
Luang Phu To is said to have been able to grab the Sincana cord which monks use to attach to amulets in blessing ceremonies, and sense immediately which monks along the line of the Sincana cords had psychic powers, and which ones didn't. Luang Phu To Wat Pradoo Chimplee performing Nang Prok Meditation for Empowerment of Amulets
Above; Luang Phu To Wat Pradoo Chimplee performing Nang Prok Meditation for Empowerment of Amulets
This resulted in Luang Phu always choosing the best most powerful Masters to invite to attend his empowerment ceremonies to assist in the Blessing of amulets and Buddha Images. Luang Phu To remains to this day one of the top 10 Guru Masters in the recorded History of Thai Buddhist Amulet making, and most certainly one of the top 5 Monks of recent History, on an equal Par with the Great Luang Phu Tim (Wat Laharn Rai).His amulets belong to the Master-Class status category, and carry immense status in the world of the amulet appreciation society, for their Authentic Sacred Power, and the Purity of the Monk who Blessed them.
The amulets of Luang Phu To are famed and revered by devotees around the country and around the whole world, for the proven history of Metta Mahaniyom Maha Lap Klaew Klaad Kaa Khaay power to bless the devotee with lucky fortunes, safety, success and prosperity. Luang Phu To began to make Muan Sarn Sacred Powders amulets first in the year 2470 BE, using the main ingredient of Pong Lob, which is the residue chalks fallen from the inscription of five rounds of 108 Sacred yantra spells, to create five different concentrates of Sacred Powders.


These five powders are of course known as; Pong Bpathamang, Pong Ittijae, Pong Puttakun, Pong Trinisinghae, and Pong Maharach. It is also known that Luang Phu To would use broken up amulets from Wat Plab, and also broken up pieces of Pra Somdej Wat Rakang Kositaram of the great Somdej Pra Puttajarn (Dto) Prohmrangsri, are known to be present within the Muan Sarn Sacred Powders of Luang Phu To's amulets.
Other Muan Sarn used for the amulets include Pong Puttakun from Por Tan Klai (Wat Hongs, Thonburi), and of course Luang Phu To would bless the amulets in Nam Montr Prayer Water, using a Clay Holy Water bowl in his Kuti Hut, with a Dragon design on the bowl.
He would immerse the amulets in the holy water bowl, and When devotees would donate flowers to Luang Phu, he float the flowers in the prayer water bowl and use the offering to empower the amulets further. This in fact, is one of the reasons that some amulets have different holy water stains on their surfaces than others, due to the different flowers Luang Phu would immerse in the holy water bowl where the amulets were soaking.
Luang Phu would empower the amulets for the time of the Rainy season retreat (3 months), and repeatedly empower and bless them throughout this time. Some amulets were also released without immersion in prayer water. Of the 28,875 Pim Yai amulets made, 10,000 of them were donated to Princess Julaporn, to distribute as a gift to the people who made merits donating to build the Sirirat Hospital.


The Pra Pratan Gleep Bua Pim Yai and Pim Lek amulets are very popular with Devotees, for they are made from precisely the same Muan Sarn Sacred Powders as was used for the Pra Pid Ta Jumbo 2 Traimas Masterclass edition, which can cost up to even 40 times the price of a Pra Pratan Gleep Bua. It is hence obvious why this amulet is such a popular amulet with the devotee of Luang Phu This Votive Tablet is an Absolute Rarity and Eternal Classic, and extremely sought after spiritual item.The perfect choice for aesthetic beauty, spiritual value, and magic power, and top choice for the Serious Collector.
This beautiful amulet is most definitely a very fine acquisition, as a Sacred Votive Tablet of Pra Niyom Preferred Classic Category, that has been well looked after and maintained in its original state, and is a very well-kept amulet, that is worthy of competition entry for its clear features.
Luang Phu To of Wat Pradoo Chimplee was one of the greatest Masters of the Last Century, and a Highly revered Monk around the whole Kingdom of Thailand. he was Respected and revered by His Majesty Our great King, who was a close friend and companion.
Luang Phu To Wat Pradoo Chimplee
This Great Monk achieved his status through his Great deeds and his great Diligence in his Patipatā (Practice of Purity and Renunciation), and in his Great Attainments in Dhamma Pariyatti and Dhamma Patipatā.
Luang Phu To was born on the 27th March 2429 BE in Ban Klong Bang Noi in Samut Prakarn and passed away on 5th March 2524 BE. His many honourable awards of status reflect his great practice and diligence.
Pra Pong Pim Chana Marn 2505 BE Buddha with Dharani Goddess Luang Por Noi - Wat Srisa Tong Blessed with Luang Por Ngern Luang Por Te + Luang Phu To
03242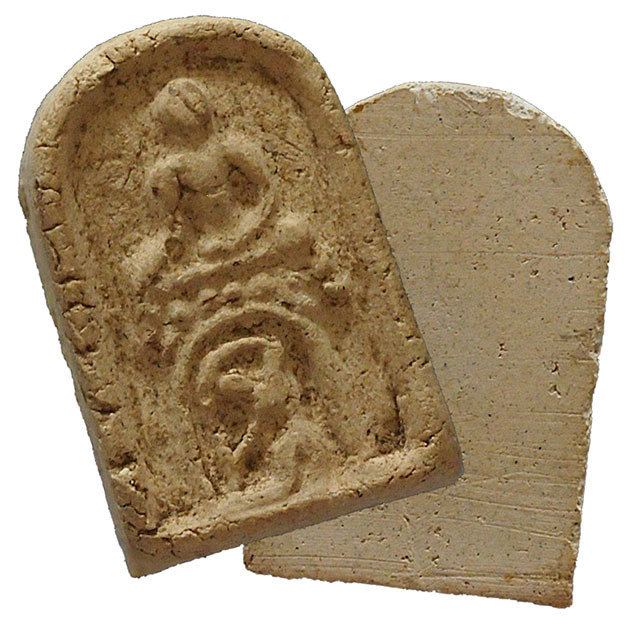 A rare sight to see, and a Famously powerful Amulet for Serm Duang and Anti Black Magick, the Pra Pong Pim Chana Marn Song Mae Toranee Beeb Muay Pom 2505 BE Nuea Jad - Luang Por Noi Kantachodto, of Wat Srisa Tong (Nakorn Chaisri). Blessed by Luang Por Noi, Luang Por Jerd, Luang Por Ngern (Wat Don Yai Horm), Luang Por Te (Wat Sam Ngam), and Luang Phu To, of Wat Pradoo Chimplee.

Released in the Year 2505 BE, the amulet is 'Nuea Jad, compact hardened dense Sacred Clay, with depth of relief and pristinely ingrained features, from a preferred block press. The front face of the amulet features the Buddha sitting with his right hand pointing to the ground, on a raised Dais, with the Dharani Earth Goddess 'Pra Mae Toranee' seated below the Throne, squeezing a Deluge out of her hair to wash away the Mara Demons
The Pra Pong Chana Marn Sacred Powder amulets were released along with the now extremely rare Rian Lor Chana Marn Hlang Pra Rahu amulet, whose price is amongst the Highly priced Master-Class amulets of the Wongarn Sian Pra Niyom World Class Auctioneer Societies. The amulet was comissioned by the Great Luang Por jerd Nimmalo of Suan Badibat Tam Po Sethee (Looksit of the Great Luang Por Noi of Wat Dhamma Sala), to be empowered and blessed at Wat Srisa Tong with Luang Por Noi (Wat Srisa Tong) Presiding over the Empowerment Ceremony.
Luang Por Noi presided also over the mixing of the Muan Sarn Sacred Powders, and introduced the inclusion of Rae Koh Larn Kaya Siddhi Elemental powders into the admixture. He also gave a special solo empowerment to the batch, along with a final Buddha Abhiseka with other Nakorn Pathom Gaeji Ajarn Master Monks present, including the great Luang Por Ngern (Wat Don Yai Horm), Luang Por Te (Wat Sam Ngam), and Luang Phu To (Wat Pradoo Chimplee).
Below; Rian Lor Pim Chana Marn 2505 BE Luang Por Noi Wat Srisa Tong
The rear face bore the image of the Pra Rahu Asura Deva Eclipse God, which was the most famous Wicha of Luang Por Noi
The rear face of the amulet is smooth and reveals the Muan Sarn Sacred contents of the clay, to be rich in Sacred Muan Sarn, which hints at a similar admixture to that used in Pra Somdej Wat Rakang Kositaram of the Dtamra Somdej Pra Puttajarn (Dto) Prohmrangsri. The presence of Pong Puttakun and Pong Ittijae are highly visible in the admixture
The amulet is a pristine exhibit for study of Muan Sarn Sacred Powders and of the ageing characteristics of Muan Sarn for an amulet of this Era, and provides a wealth of study information for the observant student to examine and gather experience under the eye loupe.
Luang Por Noi, of Wat Sri Sa Tong was a Thai-Lao Sorceror Monk of Grand Repute, and the Kroo Ba Ajarn of many subsequent Lineage Masters. He was most famous for his Wicha Pra Rahu Kala Ta Diaw one eyed coconut Eclipse God amulets, and his Classic Buddhist amulets. The Pra Rahu Kala Ta Diaw of Luang Phu Noi, are the most prestigious of all in the eyes of the Pra Niyom Collector Community.
The amulets of Luang Por Noi themselves were usually designed by Artisans who were devoted Looksit of Luang Por Noi, who were mostly immigrants from Vientiane, in Laos, who moved to Thailand during the early Ratanakosin Period of Thai History. His amulets are amongst the rarest to find of all the Nakorn Pathom Masters, along with those of Luang Phu Perm, Luang Phu Bun (Wat Klang Bang Gaew). His Pantheon belongs to the Master Class Category of the Tamniab Wadthumongkol Pra Niyom, and are considered immensely powerful, as well as being rare collector treasures of the Devotee.
The Pra Pong Pim Chana Marn is a highly recommendable alternative to the extremely expensive metal coin version of the same edition, the Rian Lor Pim Chana Marn Hlang Rahu, as an equally powerfully blessed amulet of Luang Por Noi, in Muan Sarn Sacred Powders of the finest admixtures, at a much more affordable price to the Rian Lor.
Biography of Luang Por Noi
Luang Por Noi was born on the 14th of February 2435, is father was called Nai Ma Nawa Radt, his mother was called Nang Mee Nawa Radt. Luang Por Noi was the youngest of five children. HIs father was a doctor of traditional medicine, and was also an adept lay sorceror. The locals called his father 'Por Hmor' which is a colloquial name for a witch doctor or shaman sorceror. Luang Por Noi's father was famed in the area for having had run-ins with dangerous gangsters from other districts, whose guns and weaponry were rendered useless when trying to kill him, because of his Sorcery Wicha.
Luang Por Noi was ordained as a Buddhist Monk (Bhikkhu) at the age of 21 at Wat Kae with Pra Ajarn Yiw (Abbot of Wat Kae) as his Upachaya Ordaining Officer, and Pra Piksu Mun of Wat Klang Koo Wiang as his Anusawanajarn.
Luang Por Noi recieved the Ordained Dhamma name of 'Kantachodto'. Luang Por Noi stayed for a little while at Wat Kae, whereafter he moved to stay at Wat Srisa Tong. At the time, Luang Por Lee was the Abbot of Wat Srisa Tong, and Luang Por Noi got the chance to study Saiyasart (Sorcery) with Luang Por Lee, in particular, the Mastery of the Wicha Pra Rahu Om Jantr, and the Wicha Wua Tanu.
Wat Srisa Tong and the Wicha Kala Ta Diaw
As the earthen foundations of the temple of Wat Srisa Tong were being dug for the building of the temple, a golden Buddha Head was discovered, and because of this, the Temple was first given the name 'Wat Hua Tong' which means 'Temple of the Golden Head'.
The word 'Hua' means 'head' in colloquial Thai, but for referring to a Sacred Image of a Deity or a Buddha (or a Monk), the word 'Srisa', which also means 'Head', in high speech, is preferred. So the name was then changed later to 'Wat Srisa Tong'
The first Abbot of the temple was Luang Por Dto, who was one of the Laoatian people who had immigrated from Vientiane. Luang Por Dtrai developed the temple continually. The Lao people who built the temple had many artisan who knew that Luang Por Dtrai had powerful Wicha Akom and the sectrets of the Laoatian Wicha Pra Rahu Om Jantr, and so they carved Rahu Amulets from one eyed coconut shells using the traditional Lao Artistic style, to give to Luang Por Dtrai for empowerment.
Luang Por would then would distribute them back to the devotees for protection and Serm Duang (improve fate and destiny).As the Lao artisans began to develop their skills and experience repeatedly carving the coconut shells, the design became ever more finely tuned and increasing in beauty, but due to the fact that there were a large number of artisans all making these carvings, the designs would be varied both in appearance of features, and in the quality and amount of detail.
Over the years, Wat Srisa Tong grew constantly throughout the lineage of Abbots, from a small temple into a large impressive temple over the years. After his passing, he was succeeded by the new Abbot, Luang Por Dtan, who was succeeded by Luang Por Lee, who was then succeeded by Luang Por Tong, after which came Luang Por Choi, and then cam the fifth Abbot, Luang Por Noi Kantachodto. It was the second Abbot, Luang Por Lee, who inherited and continued the Wicha Pra Rahu Om Jantr in the Lao tradition from Luang Por Dtrai.
Luang Por Noi was also one of the Lao People of Srisa Tong municipality in Nakorn Chaysri, who during his time as a Buddhist Monk before becoming Abbot, was practicing at Wat Srisa Tong, and learned the Wicha of Luang Por Dtrai from Luang Por Lee, and ascended later to become the next Master Adept, which was supported by a strong foundation in the Wicha Pra Rahu Om Jantr from Luang Por Noi's Father, who was also a Laymaster of Lao Sorcery too, and who made carved Rahu amulets and empowered them. So Luang Por Noi got to learn this Wicha from his Father from a very early age, and this made him the perfect apprentice for Luang Por Lee to pass on his Wicha of the Pra Rahu Om Jantr Kala Ta Diaw.
Luang Por Noi was born with the Laity Name of Navarat, meaning 'nine jewels', and brought the Wicha Pra Rahu Om Jantr Gae Kala Ta Diaw begun by Luang Por Dtrai,passed to him through Luang Por Lee, to World Fame, through his higher development of the artistic features of the artisanry and design of the carved coconut shell images. Luang Por Noi did this by raising a more stringent rule for the magical requirements in allowing only coconuts with one single eye to be used for the carving of the Rahu image.
Luang Por Noi constantly refined his instructions to the Lao Artisans of Srisa Tong to increase the level of fine detail and subtlety of their carved Rahu images, up to the point where the amulet finally possessed a standard recognisable appearance that could be easily recognisable as being from Luang Por Noi of Wat Srisa Tong. However, this took many years, for which the earlier models are much more varied in appearance than the later models, as they were still very varied in early times due to the different handiwork of each artisan, until they were taught to adhere to a rigid formula.
Luang Por Noi continued to develop and improve the temple of Wat Srisa Tong and the township around the temple to a great extent, and became extremely revered for his meritorious attainments. The Pra Rahu Kala Ta Diaw of all Thai temples are derived from the Original Laoatian Wicha, which entered into practice in Thailand through the Lao Immigrants, and which was developed to a much more advanced and higher level of artistic impression through the lineage of Abbots of Wat Srisa Tong more than any other temple in Thailand, most of which derived their Wicha from Wat Srisa Tong. The Thai tradition of Pra Rahu Om Jantr Coconut Shell Amulets has not only inherited just the design and creation methods used by Wat Srisa Tong, but also the Ceremonial Empowerments and Ritual Methods involved with their creation have also been inherited.
The development of the carved artisanry at the beginning in the times of Luang Por Dtrai and Luang Por Lee, and the early time of Luang Por Noi, first developed in multiple directions because some images would be square, triangular, or circular, and even in the shape of a lotus petal were seen in rare occasions.
This depended on each artisan and the piece of coconut shell he had to work with. The Lao artisans would then bring the finished work to Luang Por Noi for empowerment. It was here that Luang Por Noi began to apply the next development in the refinement of his most classic and highly recognisable Pra Rahu amulets, by enforcing his master-stroke. The master-stroke, was to teach the Artisans to use oil absorption to soften the coconut shells, and be able to flatten the piece being worked with.
They would then to cut a standard shape frame. The flatness achieved from the now malleable coconut shell, with the added softness achieved through the oil soaking, allowing the Artisan to engrave the details in a much more refined fashion with a higher level of detail.
It was here that Luang Por Noi introduced a single universal design which has become the classic reference standard of Pra Rahu Amulets by Luang Por Noi; the 'Sema Kwam' shape. The word 'Sema', means the Lotus Petal.Teardrop shaped Temple Monastic Border Monument Image, and the word 'Kwam' means 'upside down'. This is hence similar in shape to the standard 'Pim Sema' shaped coin amulets seen in Thai Amulets, but is reversed to point downwards.
This then became the only model to be carved from then onwards, and despite many other shapes and sizes of authentic Pra Rahu Luang Por Noi amulets being made previously, the Sema Kwam model became the standard accepted model recognised for its inimitable appearance and ease of recognition. And so it came to be, that Luang Por Noi's most collected preferred Pra Rahu amulet is the Pra Rahu Kala Ta Diaw Pim Sema Kwam.
It was only rarely that Luang Por would be able to make and empower Pra Rahu Om Jantr Kala Ta Diaw amulets, because he would only empower them exclusively during the Lunar or Solar Eclipses, depending if the Rahu amulet in question would be empowered for the Yant Suriya Bprapa Solar Eclipse spell, or the Jantra Bprapa Lunar Eclipse spell. Some years there would be no release of Rahu kala Ta diaw if there were no eclipses occurring in the sky.
Temple:Wat Srisa Tong
Maker of Amulet:Luang Por Noi Kantachodto with Luang Por Jerd
Weight:6 Grams
Recommended Uses:Serm Duang (improve fate and destiny), Victory over Obstacles, Maha Lap Lucky Fortunes, Gae Aathan Black Magick Protection
Size of Amulet:3 x 2 Cm
Encasement Options
Solid Gold Custom Casing - We will email you with a price quote according to current Gold Prices, and Invoice You after Agreement (0) Waterproof Casing (9) None (0)