Pra Gleep Bua Amulet with Yant Trinisinghae Luang Phu To Wat Pradoo Chimplee
The Pra Pratan Gleep Bua Hlang Yant Trinisinghae Muan Sarn Sacred Powders amulet, was released after Buddha Abhiseka Blessing Ceremony at Wat Pradoo Chimplee in the year 2521 BE, blessed by the Great Luang Phu To who presided over the Grand Blessing Ceremony. This edition recieved 3 months of immersion in Holy Prayer Water with blessings from Luang Phu To throughout the whole Trimester. This model is rare for being in the much rarer Pong Gesorn Gae ANam Man oily pollens sacred clay.
The amulet was released in two 'Pim' (versions); Pim Yai (large, 22,875 amulets made), and Pim Lek (small, 20,805 amulets made). This amulet is in perfect condition, without any flaws or wear and tear, making it very eligible for show in competition.


This amulet is considered to be one of the more easily reachable (affordable) amulets of the Pantheon of Famous Classics, and is very popular amulet with middle and upper middle-class devotees of Luang Phu To, who seek an authentically blessed amulet of esteem and respectable value from this master, but that won't necessarily cost them the deeds to their house to be able to afford.  The Sacred Yant Trinisinghae is Embossed on the rear face of the Amulet for Metta Mahaniyom and Maha Lap Blessings.
The amulet is a Pim Yai large version measuring 3.5 x 2.5 Cm,, and is in pristine condition. The Muan Sarn Sacred Powders are made from Puttakun Yantra Powders of Luang Phu To, with Gesorn Pollens and Incenses. The powerful magic and spellcasting abilities of Luang Phu To are of course one of the major influential factors as to why his amulets have become such priceless Masterpieces, and his special Muan Sarn Sacred Powders are another highly influential aspect of their popularity and fame. The Yant Trinisinghae was often inscribed on Yantra foils for devotees who would bring a foil with them and Luang Phu would inscribe it. The devotees would then take the foil home for Bucha, or roll it into a Takrut to wear as an amulet.
This Yantra was first used on the rear face of an official amulet edition, with the first edition Rian Run Raek Guru Monk Coins. The Yant Trinisinghae is not only powerful for Maha Lap and Serm Duang (improve fate and destiny), but also for being highly effective against Black Magick, Ghosts and Demons.
Luang Phu To is said to have been able to grab the Sincana cord which monks use to attach to amulets in blessing ceremonies, and sense immediately which monks along the line of the Sincana cords had psychic powers, and which ones didn't. Luang Phu To Wat Pradoo Chimplee performing Nang Prok Meditation for Empowerment of Amulets
Above; Luang Phu To Wat Pradoo Chimplee performing Nang Prok Meditation for Empowerment of Amulets
This resulted in Luang Phu always choosing the best most powerful Masters to invite to attend his empowerment ceremonies to assist in the Blessing of amulets and Buddha Images. Luang Phu To remains to this day one of the top 10 Guru Masters in the recorded History of Thai Buddhist Amulet making, and most certainly one of the top 5 Monks of recent History, on an equal Par with the Great Luang Phu Tim (Wat Laharn Rai).His amulets belong to the Master-Class status category, and carry immense status in the world of the amulet appreciation society, for their Authentic Sacred Power, and the Purity of the Monk who Blessed them.
The amulets of Luang Phu To are famed and revered by devotees around the country and around the whole world, for the proven history of Metta Mahaniyom Maha Lap Klaew Klaad Kaa Khaay power to bless the devotee with lucky fortunes, safety, success and prosperity. Luang Phu To began to make Muan Sarn Sacred Powders amulets first in the year 2470 BE, using the main ingredient of Pong Lob, which is the residue chalks fallen from the inscription of five rounds of 108 Sacred yantra spells, to create five different concentrates of Sacred Powders.


These five powders are of course known as; Pong Bpathamang, Pong Ittijae, Pong Puttakun, Pong Trinisinghae, and Pong Maharach. It is also known that Luang Phu To would use broken up amulets from Wat Plab, and also broken up pieces of Pra Somdej Wat Rakang Kositaram of the great Somdej Pra Puttajarn (Dto) Prohmrangsri, are known to be present within the Muan Sarn Sacred Powders of Luang Phu To's amulets.
Other Muan Sarn used for the amulets include Pong Puttakun from Por Tan Klai (Wat Hongs, Thonburi), and of course Luang Phu To would bless the amulets in Nam Montr Prayer Water, using a Clay Holy Water bowl in his Kuti Hut, with a Dragon design on the bowl.
He would immerse the amulets in the holy water bowl, and When devotees would donate flowers to Luang Phu, he float the flowers in the prayer water bowl and use the offering to empower the amulets further. This in fact, is one of the reasons that some amulets have different holy water stains on their surfaces than others, due to the different flowers Luang Phu would immerse in the holy water bowl where the amulets were soaking.
Luang Phu would empower the amulets for the time of the Rainy season retreat (3 months), and repeatedly empower and bless them throughout this time. Some amulets were also released without immersion in prayer water. Of the 28,875 Pim Yai amulets made, 10,000 of them were donated to Princess Julaporn, to distribute as a gift to the people who made merits donating to build the Sirirat Hospital.


The Pra Pratan Gleep Bua Pim Yai and Pim Lek amulets are very popular with Devotees, for they are made from precisely the same Muan Sarn Sacred Powders as was used for the Pra Pid Ta Jumbo 2 Traimas Masterclass edition, which can cost up to even 40 times the price of a Pra Pratan Gleep Bua. It is hence obvious why this amulet is such a popular amulet with the devotee of Luang Phu This Votive Tablet is an Absolute Rarity and Eternal Classic, and extremely sought after spiritual item.The perfect choice for aesthetic beauty, spiritual value, and magic power, and top choice for the Serious Collector.
This beautiful amulet is most definitely a very fine acquisition, as a Sacred Votive Tablet of Pra Niyom Preferred Classic Category, that has been well looked after and maintained in its original state, and is a very well-kept amulet, that is worthy of competition entry for its clear features.
Luang Phu To of Wat Pradoo Chimplee was one of the greatest Masters of the Last Century, and a Highly revered Monk around the whole Kingdom of Thailand. he was Respected and revered by His Majesty Our great King, who was a close friend and companion.
Luang Phu To Wat Pradoo Chimplee
This Great Monk achieved his status through his Great deeds and his great Diligence in his Patipatā (Practice of Purity and Renunciation), and in his Great Attainments in Dhamma Pariyatti and Dhamma Patipatā.
Luang Phu To was born on the 27th March 2429 BE in Ban Klong Bang Noi in Samut Prakarn and passed away on 5th March 2524 BE. His many honourable awards of status reflect his great practice and diligence.
Pra Sangkajjai Nuea Pong Bailan See Tao 2521 BE Solid Gold Frame - Luang PhuTo Wat Pradoo Chimplee
02755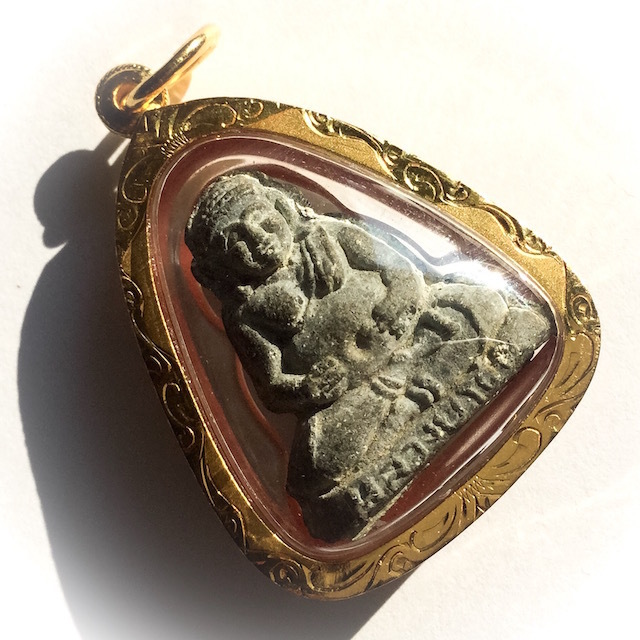 Pra Sangkajjai Nuea Pong Bailan See Tao (Gray Bailan Parchment Powders) with Solid Gold frame, and Waterproof Casing - released in 2521 BE and blessed byLuang Phu To, at Wat Pradoo Chimplee. The Pra Sangkajjai amulet was made in various versions, and in two major design models; one with hands over face (Pra Sangkajjai Pid Ta), and one with hands on lap in Meditation.
6000 amulets were released in this most classic and extremely rare edition, some were made with the insertion of a Takrut spell, and others without Takrut. making the amulet an Essential Rarity for all devotees and Collection holders of the Pantheon of amulets of Luang Phu To.
Luang Phu To of Wat Pradoo Chimplee was one of the greatest Masters of the Last Century, and a Highly revered Monk around the whole Kingdom of Thailand. he was Respected and revered by His Majesty Our great King, who was a close friend and companion.
This Great Monk achieved his status through his Great deeds and his great Diligence in his Patipatā (Practice of Purity and Renunciation), and in his Great Attainments in Dhamma Pariyatti and Dhamma Patipatā.
Luang Phu To was born on the 27th March 2429 BE in Ban Klong Bang Noi in Samut Prakarn and passed away on 5th March 2524 BE.
His many honorable awards of status reflect his great practice and diligence, since beginning to studdy the Dhamma Vinaya at Wat Pradoo as a Samanera Novice monk, through to become the Bishop of the Ta Pra Municipality (2463 BE), to becoming awarded the charge of being the Pra Kroo Sangka Wichit for the Abbot of Wat Maha Tat in 2457 BE. In 2463 BE, Luang Phu To became ascended to the status of Pra Kroo Sanya Badtr Chan Dtri (Third Level, tantamount to Batchelor of Arts in Dhamma).
In 2497 BE, Luang Phu then became promoted to Pra Kroo Sana Badtr Chan Toe (Second Level, tantamount to a Doctorate in Dhamma), of Royal Category. In the year 2500 BE, Luang Phu was then given the additional status of Upachaya Ordaining Officer. In the year 2506 BE, Luang Phu attained the status of Pra Kroo Sanya Badtr Chan Ek (tantamount to a Masters Degree in Dhamma). In 2516 Luang Phu became Pra Racha Kana (Royal Appointment Sangha Comittee) and head officer of the General Affairs of Vipassana Practice. In 2521, Luang Phu To received the status of Pra Racha Kana Chan Rach (tantamount to being an Archbishop of the Royal Decree).
His Blessings are believed to possess the most powerful protective power, and to increase success and prosperity. His amulets are both highly revered for their sacred Power of Protection and Prosperity, but also as a connection and Buddhanissati reminder of the Great Guru master, tto beseech his blessings through the amulet. One of the most highly sought after Pra Niyom Category Amulets, which is seen to grace the pages of any and every important amulet encyclopedia, and the highly prized and jealously guarded talisman of the high end collector and devotee.
Pra Sangkajjai represents one of the Pra Sidtisawok Aedtakka (One of the Buddha's the most admired and praised practitioners). The Buddha praised him for his ability to put long complex teachings into short understandable formulas. He has a golden tinted skin complexion, and was originally so similar in appearance and stature to the Lord Buddha, that sometimes people would mistake him for the Buddha if seen from a distance.
For this reason, he used his mind powers to force his body to grow fatter and not so handsome as before, in order to not confuse others if he was the Buddha or not. The ancient masters would often use the visual symbolism of Pra Sangkajjai's features to create statues in this image, which has served as an important preserver of the Faith over the Centuries, and a very old form of Buddha image dating back to the early times of Buddhism.
Pra Maha Sangkajjai was originally called 'Ganjana', which means 'Gold' in Pali. He was the son of a Brahman called Bpurohidtgajjayana Kodtra in the City of Usenni. He studied and completed the Traiwaet (Tri Veda). After his father passed away, he inherited the title of Bpurohidt (advisor to the King). This happened in the time of the King Jantabajjodti
Pra Sangkajjai had 7 close companions who cam,e with himn to attend the Buddhas teachings at Wat Weluwanaram, and after listening to the Dhamma, becamse Arahants instantly and asked to ordain. In the Turasutra it is mentioned that Pra Sangkajjai lived to the age of 120 years old.
Pra Sangkajjai Amulets. The making of amulets in the image of Pra Sangkajjai have been made since ancient times by many different Temples and Samnak.
The Sangkajjai amulet has always been a very preferred amulet and believed ot have great power, for the insertion of the 'Puttakun' qualities of the Sangkajjai Buddha of Metta Mahaniyom and Maha Sanaeh and forcing these powers to become a Sacred Na spell within the image of the amulet. Sangkajjai amulets are also sometimes made as Pid Ta amulet posture too, as a mix of wealth increase, and protection from harm amulet.
The confusion between images of Pra Sri Arya Maedtrai and Pra Sangkajjai Buddhas
There is sometimes a little confusion between these two Buddhas, because some artistic interpretations of Maitreya (called 'Pra Sri Arya Maedtrai' in Thai) depict this Buddha as a plump sitting buddha with Bald head. This causes people to think it is the Sangkajjai Buddha.
The way to tell the difference is that the Sangkajjai Buddha will have curly balls on his head (representing the curly hairs), and the plump image of Maitreya has a shaved head.
Origins of the name Sangkajjai
Pra Sangkajjai was not called this from the beginning, but came from Thailand, when in the Radtanakosin Era, whilsst digging to place the central pillar of a temple shrineroom that was being built for a temple in Tonburi, and they found a Gajjaiyana Buddha and a Conch shell (Conches are called 'Sangkh' in Thai).
This temple was then called afterwards 'Wat Sangkh Grajay' (temple of scattered conch). It is assumed then, that the namke of this amulet came from the name of the temple, and that a double word play or 'Chinese Whispers' style distortion of the name occured and Gave the Ganjana Buddha the name of the temple it was found in.
Kata Pra Pakawambodee
Tamma Jaggang Bpatang Sudt Dtawaa Puch Chidt Dtawaa Adt Dtang Bpatang
Sandtigae Arahaa Laapo Logaanang Hidtagaranaa Pandtae Pawam
Bpadtinaama Dtisulokae Subpaagadto Prahma Budt Dto Mahaa Thaero
Araho Chaedtago Muni Bpidt Dti Thaero Samo Inta Kantappaa Asuraa Taewaa
Saggo Prahmaa Pi Bpuchidto
Na Mo Put Tas Sa Kawam Bpadtissa
Na Mo Tammassa Kawam Bpadtissa
Na Mo Sangkassa Kawam Bpadtissa
Sukhaa Sukha Warang Tammang Tammajagga Bpawarang Warang
The Kata for Pra Pid Ta are varied, both short and long. One of the best known ones is the Kata Pra Jao Ha Praongk (five Dhyani Buddhas) as well as the fivefold encoding of Namoputtaya of Na Metta;
"Na Metta Mo Karunaa Put Pranee Taa Yin Dee Ya En Doo – Krai Hen Hnaa Goo Rak Goo Khad Goo Midai"
The above Kata is Maha Saneh Choke Laap – luck and fortune, and charming power.
Kata Hua Jai Bucha Pra Sangkajjai
Arahandti Gajjaayana Thaero Mahaa Poko Pawandtumae.
This Kata calls luck and fortune and brings wealth, and other great treasures.
Full Version of Kata Bucha Pra Sangkajjai
Gajjaiyana Ja Mahaa Thaero Putto Puttaanang Puttadtang Puttanja Putta Sapaa Sidtang Puttadtang Samanubpadt-dto Puttachodtang Namaa Mihang Bpiyo Taewa Manussaanang Bpiyo Prahma Namudtamo Bpiyo Naaka Subannaanang Bpiyinsiyang Namaa Mihang Sappae Chanaa Pahuu Chanaa Bpuriso Chanaa Idthii Chanaa Raachaa Paakinii Jidt-dtang Aakajchaahi Bpiyang Ma Ma
Chanting this Kata is Good for increasing popularity, business sales and promoted status. In addition, Sangkajjai amulets have the special abstract magical quality of increasing your common sense, mindfulness and wisdom is also present within this amulet. This particular aspect of the Sangkajjai magic is what is called a 'Prisnatam' (mysterious phenomenon).
Kata Pra Sangkajjai
Actual Weight of Gold in Casing Frame:2.6 Grams Solid 96% Gold Frame