A pristinely kept and extremely rare Rian Mangorn Koo Nuea Nava Loha Pim Pised Dtok Sorng Code Ma Wat Pha Nong Lom Run Sao Ha Maha Sethee 5th Lunar Saturday Blessing Ceremony Edition Guru Monk Coin, released in 2543 BE, to raise funds for the Kuti Songk Monks Huts and improve the facilities at the temple of Wat Pha Nong Lom.
This model of Rian Mangorn Koo twin dragons Monk Coin is a very rare Pim Pised (Niyom preferred) and differs from the majority of Rian Mangorn Koo Wat Pha Nong Lom Edition coins in Nava Loha, because of the double code MA stamp. Most coins of the Nava Loha series made for Wat Pha Nong Lom have only a single code Ma Stamp (on the Sangkati chest sash of the robe of Luang Phu), and only the Pim Pised special models received double code stamps. Only very few (unknown number) were distributed with double code stamp, making this not only a sacred, powerful master class amulet, but also a rare collectors piece.
The Rian Mangorn Koo of Luang Phu Hmun is, as are all of his amulets, known for the power of Jaroen Lap Wealth Increasement, and Lucky Fortunes, as well as for their Miraculous Protective Powers. Those born in the year of the dragon love to Bucha this amulet especially, for the obvious reason of the double dragon guardians.
For those with lower budgets, who seek power above collectability and rarity, we recommend to seek the Rian Mangorn Nuea Tong Daeng or Nava Loha single Code Ma, of the same edition, which carries a lower price than this special Nava Loha Pim Pised Gammagarn double code collectors edition model.
Hanuman Chompoo Nuch Pong Puttakun Pasom Wan 108 Tat Tong Gammagarn Blessed at Wat Sutat 5 Ceremonies - Luang Phu Hmun
03578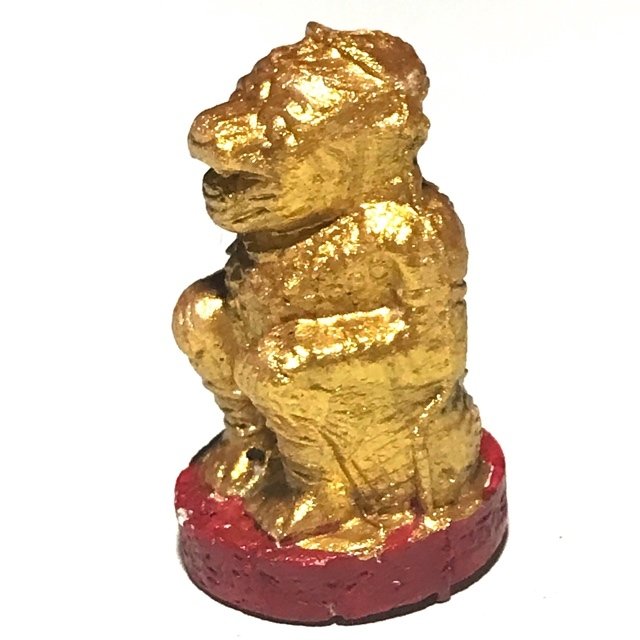 A highly revered and well known amulet of the pantheon of Luang Phu Hmun Tidtasilo of Wat Ban Jan, the Hanuman Chompoo Nuch Vanora Deity in Sacred Puttakun Powders with 108 Magical herbs and pollens, and Takrut in base. This is a gold painted Gammagarn version, of which various were made, some with one Takrut, some with 2 Takrut and some very few special Gammagarn Pised with 3 solid gold Takrut were made. Known as the 'Sao Ha Maha Sethee' Edition (5th Lunar Saturday Blessing Millionaire Edition)
the amulet comes in original condition still in the box it was issued in in 2544 BE, after being passed through 5 major empowerment and blessing Ceremonies, before its final release at Wat Sutat Taep Woraram in Bangkok, and is classed within the pantheon of amulets of Luang Phu Hmun, but is of course also a preferred amulet of all devotees of Wat Sutat temple too.
We think the Hanuman of Luang Phu Hmun is one of the most popular of the last 3 decades as fare as sacred powder Hanuman are concerned, and it is rare enough to find one in used condition, and extremely lucky to find a Hanuman Chompoo Nuch that has never been used and has been kept in its original box since its release.
Free Shipping is offered Worldwide Included in the Price for this Amulet. The weight of this amulet will not be calculated even with multiple item orders. If you order this item separately or with other items, shipping is always free. The only items we charge shipping costs for are the physical A4 books we sell, which are too heavy and low priced to send with free shipping, but since january 2018, all other items, no matter how many you add to cart or how heavy it gets, will receive FREE shipping included in the price. More expensive items such as the Khun Phaen 15 of Luang Phu Tim, come with free EMS express shipping. This item comes with free Thailand Post Registered Air Parcel
A Perfect condition amulet of great esteem. We were lucky to obtain some from a devotee who had kept them in his collection and finally decided to let them go, and who has preserved them perfectly in their original condition.
A Highly attractive amulet for worshippers of Luang Phu Hmun, Hanuman, and for all Muay Thai warriors, and those in positions of office, or those who need to enter into combat or competition, need power of command, loyalty, and who seek fast wittedness and charm. A true Pra Niyom amulet of Master Class, for devotees and aficionados of Luang Phu Hmun Tidtasīlo's amulets, to treasure and wear with confidence of safety and good fortune.
Luang Phu Hmun is one of the Great Popular Monks of the late 20th Century and has attained a status that is equal to that of other Masters who have been long since deceased since olden days. Rare is it that a modern era monk becomes as respected and worshiped as the olden days masters, in times where there were many more truly pure and enlightened monks as this day and age.
Luang Phu Hmun was a Maha Thaera Guru Monk of great age and who received Great reverence and Respect from the people of Tambon Jan for his Diligence and Purity in practicing the Vinaya as a Buddhist Monk. His predictions and instructions for ceremonial empowerment of amulets after his physical death, have been followed to the letter since his passing, for he gave special instructions to inform as to when and how he would return with his spiritual presence to empower amulets posthumously.
His Miracle Powers are Legendary, with so many stories of Miraculous events related to this Monk, who has seen the Reign of Five Kings in his Lifetime. Luang Phu Hmun's amulets are now very hard to come across.
The word 'Hmun' means to turn and increase (revolve). Luang Phu Hmun always foretold that those who Bucha his amulets, would turn their luck and fortunes around, and increase their Business Success. He also foretold that those who Bucha his amulets will be protected from 'Dtaay Hoeng (premature deadly accidents), and that the Devas will Protect the wearer of his amulets.
His amulets are now very rare, and prices have risen constantly since his passing, snapped up by the inner circle of devotees and collectors, who know about the attainments of this Monk, and that there are severe reasons to believe that he may have been an Arahant. His amulets are eminent members in the annals of the Classics.

Kam Ārātanā Buchā Luang Phu Hmun Tidtasīlō
Namō Dtassa Pakawadtō Arahadtō Sammā Samputtassa Namō Dtassa Pakawadtō Arahadtō Sammā Samputtassa Namō Dtassa Pakawadtō Arahadtō Sammā Samputtassa
Luang Phu Hmun Tidtasīlō Ma A U Luang Phu Hmun Tidtasīlō U A Ma
Kata Bucha Luang Phu Hmun
Dtua Gū Lūk Pra Putta Ongk Krū Sit Tudong Ong Āj Mai Bpramāt Krū Pob Roi Gom Dū Jer Krū Grāb Hwai
Luang Phu Hmun is renowned for having stated some Mysterious things;
Dtua Gū Bpen 1 Bor Bpen 2 Nai Phaen Din Nī (there is only one of me in this land)
Dtua Gū Bpen Hlek (i am made of iron)
Dtab Gū Bpen Tong Daeng (my liver is made of copper)
Phao Dtua Gū Bor Mī Hmai (in cremation, my body will not burn).
Bucha to Luang Phu Hmun should be performed on a Thursday, and should include offerings of; 16 Incense stick, 2 candles (lit), white flowers, or one puang malai garland. Hmak Plū Betel-Areca Nut with chewing paste (5 or 16 portions), a glass of sweet drink such as fizzy drinks, one roasted catfish, some rice or sticky rice, or fermented rice, or even steamed rice pudding.
This amulet is an extreme rarity and is in pristine condition and still in the original box. Considered extremely powerful protection, mercy charm, power and promotion, invincibility and prosperity magic from this legendary miracle monk, and one of then preferred amulets of his pantheon. A true Pra Niyom amulet of Master Class, for devotees and aficionados of Luang Phu Hmun Tidtasīlo's amulets, to treasure and wear with confidence of safety and good fortune.

Temple:Released at Wat Sutat after 5 Blessing Ceremonies
Year of Issue:
Created in 2543 BE, released in 2544 BE
Maker of Amulet:Luang Phu Hmun Tithasilo
Weight:15 grams with box
Recommended Uses:Power, Protection, Incinvcibility, Loyalty of Underlings, Mercy Charm, Fast Wittedness, Foresight, Agility, Imposing Impression on your Contestants. Muay Thai Power
Size of Amulet:3 x 2 Cm
Encasement Options
Solid Gold Custom Casing - We will email you with a price quote according to current Gold Prices, and Invoice You after Agreement (0) Solid Silver Custom Casing We will email you with a price quote according to current Silver Prices, and Invoice You after Agreement (0) Waterproof Casing (9) Stainless Steel Casing (9) None (0)