A pristinely kept and extremely rare Rian Mangorn Koo Nuea Nava Loha Pim Pised Dtok Sorng Code Ma Wat Pha Nong Lom Run Sao Ha Maha Sethee 5th Lunar Saturday Blessing Ceremony Edition Guru Monk Coin, released in 2543 BE, to raise funds for the Kuti Songk Monks Huts and improve the facilities at the temple of Wat Pha Nong Lom.
This model of Rian Mangorn Koo twin dragons Monk Coin is a very rare Pim Pised (Niyom preferred) and differs from the majority of Rian Mangorn Koo Wat Pha Nong Lom Edition coins in Nava Loha, because of the double code MA stamp. Most coins of the Nava Loha series made for Wat Pha Nong Lom have only a single code Ma Stamp (on the Sangkati chest sash of the robe of Luang Phu), and only the Pim Pised special models received double code stamps. Only very few (unknown number) were distributed with double code stamp, making this not only a sacred, powerful master class amulet, but also a rare collectors piece.
The Rian Mangorn Koo of Luang Phu Hmun is, as are all of his amulets, known for the power of Jaroen Lap Wealth Increasement, and Lucky Fortunes, as well as for their Miraculous Protective Powers. Those born in the year of the dragon love to Bucha this amulet especially, for the obvious reason of the double dragon guardians.
For those with lower budgets, who seek power above collectability and rarity, we recommend to seek the Rian Mangorn Nuea Tong Daeng or Nava Loha single Code Ma, of the same edition, which carries a lower price than this special Nava Loha Pim Pised Gammagarn double code collectors edition model.
Pra Lila Kaay Adisorn 2514 BE Nuea Pong Kluk Rak Bpam Dtra Hlang Blessed by 79 Masters LP Guay LP To LP Tim, LP Prohm, Horm, Pae, Tob, Kong, KB Wang
03806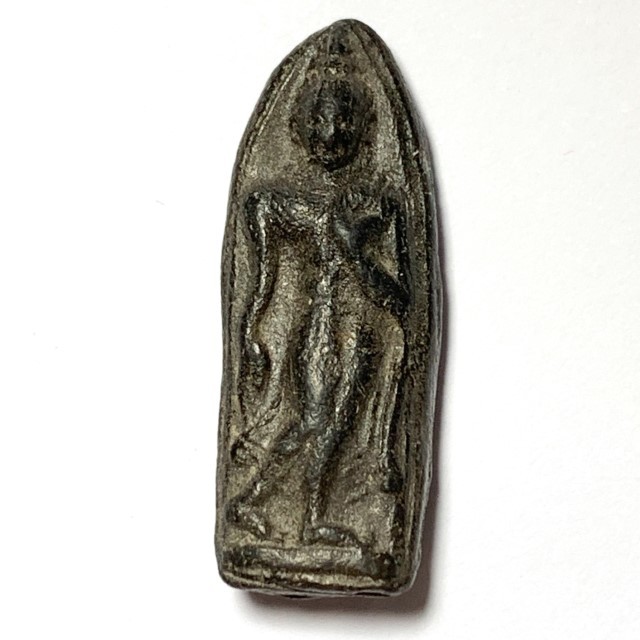 A Rare and eminent member of the Kaay Adisorn Edition Pantheon, the Pra Lila Walking Buddha, in Sukhothai style, made in Nuea Pong Kluk Rak Sacred Herbal Powders, with herbal lacquers mixed in, hand pressed, and blessed by 79 of the Greatest Masters of the Era.
This rare votive tablet is one of a large series of different models of amulets sponsored and released by the Kaay Adisorn Royal Army Barracks, in the 2514 BE Edition. Especially valued by Looksit (Devotees) of LP Guay, LP Tob, LP To, LP Kasem and LP Tim.
Free Registered Air Parcel Shipping Worldwide is Included with this Amulet. The rear face has the code stamp of the edition indented into the sacred clay as it was still wet before drying out. The lines of the fingerprints of the monk pressing the amulet are visible on the surface of the rear face of the lacquer-mixed sacred clay.

This 'Mounty Edition' is one which produced so many famous amulets, which are revered by Thai Buddhist People around the country, for the special Blessings and Empowerment of the Great Luang Por Guay of Wat Kositaram, Luang Por Kasem Khemago, Luang Por Tob, Luang Phu To of Wat Pradoo Chimplee, Luang Por Pae, and Luang Phu Tim of Wat Laharn Rai, among over a hundred other monks of great fame and powerful Wicha.
The edition is known as the mascot edition of the Military Horseback Regiment of Kaay Adisorn, in Sra Buri, with the Rian Serd Khon Nok Feather Crowned Buddha amulet, and the Rian Pra Jao Thaksin King Coin amulet as the most well known internationally and sought after by the mainstream collector and devotee.
However, the edition included an array of amulets which are all special in their own right, and now extremely rare to find, and highly valued by those in the Military, and the devotees of the Monks who were involved in the empowerment, of whom there were very many. This made this edition hence popular with devotees of every Master involved, which caused the series to become rare very quickly indeed, and of course known by each devotee differently.
A devotee of LP Kasem for example will tell you that it is an LP Kasem amulet (which it is), or a Devotee of Ajarn Fan or Ajarn Chah, would say it is from Ajarn Fan,or Ajarn Chah, but a devotee of Luang Phu Tim, will tell you it is a Luang Phu Tim amulet (which it also is), and so on and so on.
The Buddha Abhisekha Ceremony and calling of the Devas, and Chanting of Dhamma Chakra, was performed on the 16th January 2514 BE, with General Brem Tin Sulanont initiating the Brahman Part of the ceremony, and Ajarn Sawai Sumano of Wat Rachanadda in Bangkok Presiding over the Sangha's part in the Ceremony.
Below; front page of the booklet of documentation in the archives of the Kaay Adisorn Mounted Guard Regiment Museum which lists the details of the Blessing Ceremony of this edition officially, naming all monks and all amulets made in the edition

Below, the Pra Serd Khon Nok, Pra Somdej, Pra Kring and Pra Kong Kaay Adisorn amulets also released in this edition confirmed in publications to have had the presence of Luang Por Guay in the empowerment. The edition was in any case documented and archived, with the names of all monks and all amulets made in the edition by the Mounted Guard Regiment, and is indisputable. The below publication also shows some amulets from Wat Nong Pling and other temples which were blessed by Luang Por Guay.

Some of the more important names of monks involved with the empowerment of the amulets in this world famous and histgorically important edition were; 1. Luang Phu Chah Supatto (Wat Nong Pha Pong) 2. Luang Phu Dun (Wat Buraparam), 3. Luang Phu Sam (Wat Trai Wiwek), 4. Ajarn Fan Ajaro (Wat Udom Somporn), 5. Luang Phu Sim (Wat Tham Fa Bplong), 6. Luang Phu Bang (Wat Nong Plab), 7. Luang Phu Tim (Wat Laharn Rai), 8. Luang Por Nueang (Wat Jula Manee), 9. Luang Phu To (Wat Pradoo Chimplee), 10. Luang Por Pae (Wat Pikul Tong).......
11. Luang Por Gee (Wat Hoo Chang), 12. Luang Por Phang (Wat Udom Mongkol Kiri Khaet), 13. Luang Por Ngern (Wat Don Yay Horm), 14. Luang Por Noi (Wat Tamma Sala), 15. Luang Por Te (Wat Sam Ngam), 16. Pra Ajarn Nam Wat Don Sala, 17. Luang Por Mui (Wat Don Rai), 18. Luang Por Thin (Wat Pha Lelai), 19. Luang Por Guay (Wat Kositaram), 20. Luang Por Kong (Wat Ban Suan), 21. Luang Por Hmun (Wat Khao Daeng), 22. Luang Por Prohm (Wat Chong Kae), 23. Luang Por Doe (Wat Na Madtum), 24, Luang Por Horm (Wat Sak Hmak), 25, Luang Por Kong (Wat Wang Sapparos), 26. Luang Por Tob (Wat Chon Daen/Wat Chang Phueak), 27. Luang Por Oat (Wat Jan Sen), 28. Luang Por Nai (Wat Ban Jaeng), 29. Luang Por Ia (Wat Ban Dan).....
30. Luang Por Pring (Wat Bote Goeng Tanu), 31. Luang Por Nor (Wat Klang Ta Ruea), 32. Luang Por Jaem (Wat Wang Daeng Nuea), 33. Luang Por Toon (Wat Po Nimit), 34. Luang Por Tong Yoo (Wat Nong Mai Pa-Ong), 35. Luang Por Tiam (Wat Gasatratirat), 36. Kroo Ba Wang (Wat Ban Den), 37. Luang Por Bee (Wat Lan Hoi), 38. Luang Por Dtarb (Wat Makham Riang), Luang Por Mueang (Wat Ta Haen), Luang Por Kram (Wat Gum Hak), Luang Por Chen (Wat Singh), Luang Por To (Wat Saket Ang Tong), Luang por Phan (Wat Rat Jaroen), and many others.
Maker of Amulet:Sponsored by the Royal Mounted Guard, Blessed by 97 Great Masters
Weight:3 Grams
Recommended Uses:Mercy Charm, Good Karma, Safe Travels, Lucky Fortunes
Size of Amulet:2 x 1 Cm
Material:Nuea Pong Kluk Rak Herbal Powders Mixed with Lacquer
Additional Info:A Highly preferred edition in Thailand, made extremely rare being collected by military, and devotees of 79 different masters
Encasement Options
Solid Gold Custom Casing - We will email you with a price quote according to current Gold Prices, and Invoice You after Agreement. (0) Waterproof Casing (0) None (0)