Ancient Amulet – Purveyors of preferred Classic Thai Buddhist Amulets for the True Devotee and Distinguished Collector
Ancient Amulets of the Pre and Early Post-Modern Era, of high esteem and Sacred Value, for Devotees and Collectors to study and collect. Ancient Thai Buddhist Amulets. Study and Collect the Ancient Classic Amulets of the Masters of Ancient Times, and Learn about the Magical Aspects, and the Art of Perusal of Ancient Thai Buddhist Amulets of Pra Niyom preferred Master-Class Category
Palad Khik Nuea Maekasit 4 Cm Sacred Phallus Lingam Amulet in Alchemical Mercurial Metals - Luang Por Yid Wat Nong Jork
02986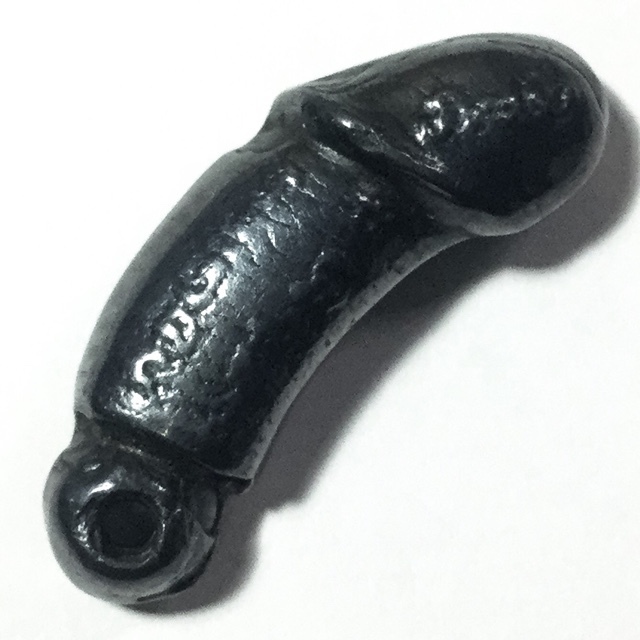 Classic and Famous Palad Khik amulet, from the Great (now deceased) Master Monk Luang Por Yid of Wat Nong Jork. The Palad Khik is fashioned from Nuea Maekasit (Sacred Sorcerous Mercurial Alchemical alloy with Lek Lai related Kaya Siddhi Elements) . Palad Khik, is one of Luang Por's most famous amulets for the many stories in the news of Miraculous events with the Devotees who owned and wore his Palad Khik .
Luang Por Yid is able to chant and empower Palad Khik to the point where the dance around of their own accord, and has been seen to do this a hundred times or more with devotees witnessing the event.
One of Luang Por Yids close devotees, Ajarn Chaiya Am Sam Aang, who assisted him during his years as an ordained monk at the side of Luang Por Yid, and who published the book of Luang Por Yid's Biography and catalogue of the Dtamra of his amulets, tells that he saw many occurrences of miraculous events as he was resident at Wat Nong Jork assisting Luang Por Yid.
He saw Luang Por make the Palad Khik shake and even jump into the air on their own accord. At that time the only other Monk who was able to perform this show of power was Luang Por Phaew of Wat Tanode Luang, who was famous for having allowed testing of Klaew Klaad Kong Grapan Chadtri with the shooting of a 11 MM Gun that was shot until the whole magazine was empty, without any damage coming to the wearer of the Palad Khik at all.
It is said then that a Master who can empower Palad Khik and make them jump in the air and dance on their own accord, has successfully empowered them with great Kong Grapan Chadtri and Klaew Klaad Evasion Magic Powers. Both Luang Por Phaew and Luang Por Yid's amulets are hence seen as equally powerful as protective amulets, in addition to the obvious Maha Sanaeh and Maha Lap Powers that are attributed to Palad Khik amulets.
As Ajarn Chaiya was at Wat Nong Jork around 2533 BE, he observed Luang Por Yid constantly with fascination, and great expectant hopes to see some Miraculous behavious. But after around 5 days had passed, he had not yet seen anything unusual and so asked to return back to his temple of residence.
Before the day he was to leave, at around 2 a.m. in the morning, hje heard some loud noises coming from Luang Por's Kuti Hut room, which sounded like a cat catching mice. So he decided he would get up and go have a look, but when he tried to get out of bed, he was frozen paralysed rather like he was being smothered by the 'Phii Am'.
'Phii Am', is an effect where you wake up, and cannot move and are completely paralysed, which Thai people blame on a kind of ghost that smothers you by sitting on top of you in the bed).
So Ajarn Chaiya then remained frozen in the same position until morning time, after which he was able to move, and got up to go and ask the other monks in the temple about his experience. They then told him that the previous evening was when Luang Por Yid was empowering amulets, and that this was why he had been so affected by strange power of paralysis.
Ajarn Chaiya says that it sounds incredible to believe when one hears that a Palad Khik can jump around of its own accord in the hand, and that one might think that it is a fictional story, and that Luang Por was using a trick or technique with is hand. But Ajarn Chaiya tells that the Palad Khik wold even still jump around when placed on the 'Pan Kroo' tray that was placed at a distance from Luang Por Yid.
Ajarn Chaiya says that he wished there had been mobile phones with cameras in those days as we have now, for he would have filmed it to show the proof. He says that if that had been possible, that Luang Por Yid would now be world news for the amazing ability, which many other supposed Masters have tried to emulate but were not able to perform this effect from afar without touching the Palad Khik as Luang Por could do.
Kata Bucha Palad Khik Luang Por Yid
Chant the Maha Namasakara 3 Times first;
Namo Dtassa Pakawadto Arahadto Sammaa Samputtassa
Namo Dtassa Pakawadto Arahadto Sammaa Samputtassa
Namo Dtassa Pakawadto Arahadto Sammaa Samputtassa
Then Chant the Kata Palad Khik
Na Hae Na Haa Na Sok Tee Maa See Gaa Tee Nang Hua Rao Hai Dang Ukhik Dtakhak Hying Hen Hying Rak Chay Hen Chay Tak Kon Rak Tang Mueang Paa Nich Paa Bpai Kaa Khaay Saam Duean Dai Luean Bpen Sethee Ukhik Dtakhak Ukhik Dtakhak
Temple:Wat Nong Jork
Maker of Amulet:Luang Por Yid
Weight:17.3 Grams
Recommended Uses:Kong Grapan Chadtri, Klaew Klaad Evasion Magic, Maha Lap, Maha Sanaeh, Metta Mahaniyom. (Protection, Lucky Fortunes, Mercy Charm, Seduction)
Size of Amulet:4 Cm Long
Encasement Options
Solid Gold Custom Casing (Waterproo​​​​​​​f) - We will email you with a price quote according to current Gold Prices, and Invoice You after Agreement (0) Waterproof Casing (0) Without Casing (0)
Welcome to the World of Ancient Thai Buddhist Amulets!