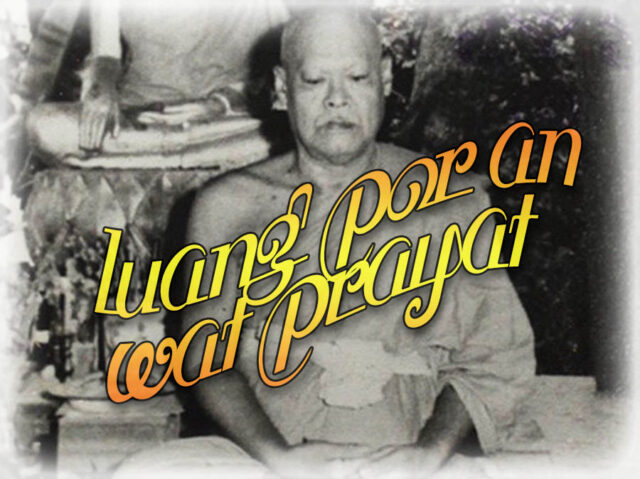 Luang Por An was a Great Master of Olden Days, whose amulets were immensely famous during the Wartime Era, for their Kong Grapan Chadtri Klaew Klaad power. He holds immensely popular status and a large following of devotees to this day, for his many powerful amulets, and his great Patipata (purity of practice) as a Buddhist Monk. Luang Por An inherited and learned most of his Wicha from Luang Por Glan, who was one of the top ten Masters with the most powerful psychic powers of his Era. Luang Por An was highly renowned for his amulets, especially his Takrut, Pra Khun Phaen, Pra Pruhnang, and his Pra Suriya Muni amulets, and Pha Yant, as well as his Rian Kanajarn Monk Coins.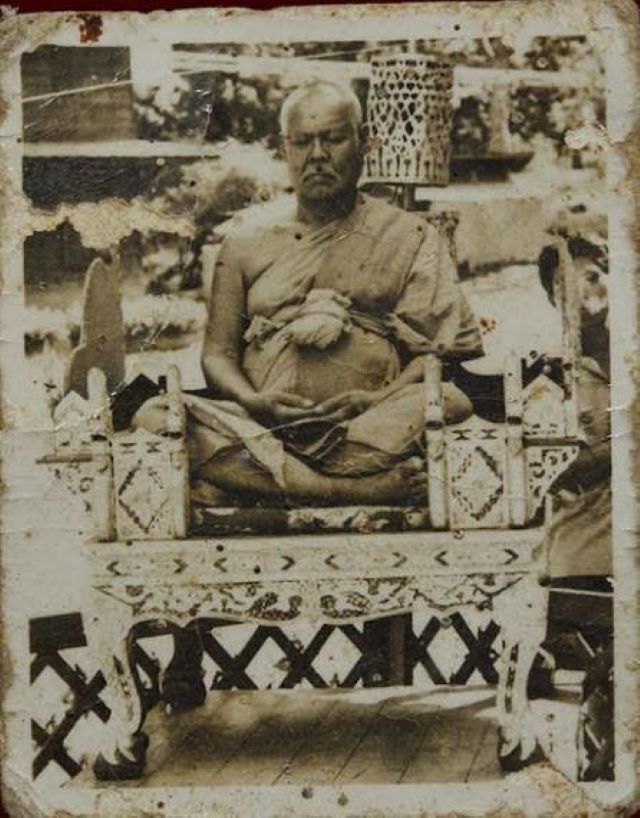 Luang Por An, was born in the year 2435 BE, and ordained into the Sangha at Wat Prayatigaram on the 26th May 2456 BE, with the Great Luang Por Glan Tammachoti as his Ordaining Upachaya, Luang Por Chaay (Wat Dtong Pbu) as his Gammawajajarn prompting officer.
The name of his Anusawanajarn witness is no longer recorded, but most devotees assume it to be Pra Ajarn Rod Widtuyo of Wat Ayotaya (also called Wat Gasankh), or a few historians believe his Anusawanajarn witness to have been Luang Por Lueang, of Wat Pradoo Song Tam. In the year 247ึ7 BE, Luang Por Glan passed away and Luang Por An became the next abbot of Wat Prayat. Luang Por An inherited all of the Wicha of his Kroo Ba Ajarn Luang Por Glan .
The Great Luang Por An passed away in 2512 BE as he was on travels visiting Wat Pra Singh in Chiang Mai, for a Buddha Abhiseka Blessing. His body was kept for devotees to worship at Wat Prayat for 25 years before he was cremated in the year 2536 BE. Most devotees of Wat Prayat will collect and Bucha amulets from both Luang Por An, and his Kroo Ba Ajarn Luang Por Glan (which are very hard to find).
It is seen that the magic of both Masters is seen to be second to none for Klaew Klaad Kong Grapan Chadtri Metta Maha Niyom power. Luang Por Glan was the abbot of Wat Prayatigaram, in Ayuttaya, and the Kroo Ba Ajarn of the Great Luang Por An, who succeeded Luang Por Glan as abbot of Wat Prayat after his passing.
LP An's Kroo Ba Ajarn, and previous Abbot of Wat Prayat, Luang Por Glan, was known to be highly Adept with a large number of Magical Wicha, be it the Wicha Fan Dab (Swordfighting), or the Science and Art of fighting with Ancient Weaponry, and had Mastered the Secret Ancient Wicha Kong Grapan Chadtri, of the Olden days Sorceror Warriors, who used Magic to protect them in Wars.
Luang Por Glan's Fame for Magical prowess caused many people to come and satisfy their curiosity as to whether Luang Por's Magic was as powerful as rumor had it, and would come to the temple to ask for his blessings. No devotee was ever disappointed, rather, impressed by the results they received from both his blessings, and amulets. Luang Por An spent many years developing his abilities under Luang Por Glan, Mastering the Many Wicha of this Great Kroo Ba Ajarn of Ancient Times, and became just as famed for his amulets as his Mentor, and who continued the legendary fame of the amulets of Wat Prayat temple, as the successive Abbot.
---