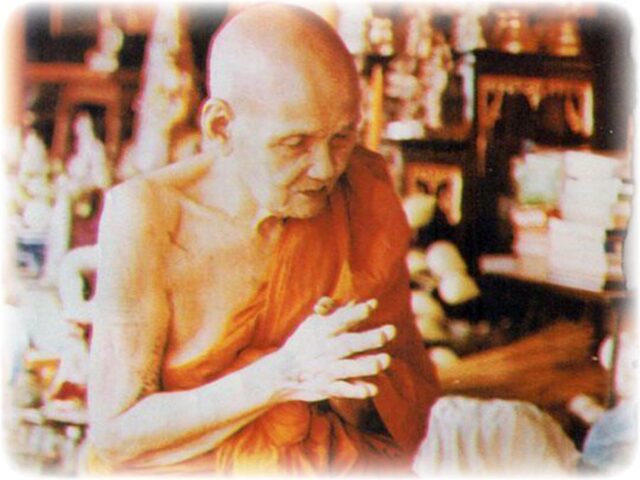 A short Biography of the Great Luang Phu Doo, Ascended Master Monk of Wat Sakae
Luang Phu Doo was a highly esteemed monk of national significance, known for his purity of practice and believed by many to have achieved Arahantship. His amulets were released after 2517 BE at Wat Sakae.
Luang Phu Doo was ordained in 2468 at the age of 21 at Wat Sakae in Tambon Tanū, Amper Utai, Pra Nakorn Sri Ayuttaya. His ordination officers were Luang Por Glan of Wat Prayatikaram and Luang Por Dae, the abbot of Wat Sakae. His ordained name was 'Prohmabanyo' (Wisdom of Brahma). In his first year as a monk, he studied Pra Pariyatti Dhamma (Academic Concepts of Dhamma) under Jao Khun Nueang (Luang Por Rod) at Wat Pradoo Song Tam. Luang Phu Doo also honed his Vipassana Kammathana skills with Luang Por Glan and Luang Por Phao, an adept apprentice of Luang Por Glan.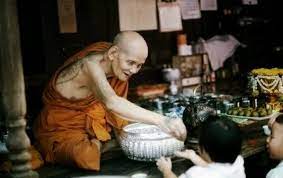 He further delved into the study of Jatakas and the Dhammapada. Subsequently, he sought Wicha (magical knowledge) from other masters, traveling to learn from guru masters in Supan Buri, Sra Buri, and other provinces. Luang Phu Doo held a profound reverence for Luang Phu Tuad and was believed by many devoted followers to be a manifestation of Luang Por Tuad himself, reincarnated to accumulate further merits.
Notably, although Luang Phu Doo never met the Arahant Luang Por Kasem Khemago of the Sussaan Trailaks in Lampang, he regarded himself as an ardent admirer of the Arahant and a student of his teachings. Likewise, Luang Por Kasem recommended his devotees to obtain Luang Phu Doo's Luang Por Tuad Perd Loke amulets.
Luang Phu Doo peacefully passed away on the 17th of January 2533 BE, at the age of 85 years and 8 months, during his 65th year of ordained life. His legacy lives on through apprentice masters who continue his teachings, including Luang Ta Ma of Wat Tham Mueang Na, Kroo Ba Bun Chum, and Luang Por Dtiw of Wat Mani Chonlakhant.
Amulets of Luang Phu Doo
Luang Phu Doo, during his lifetime, crafted a diverse array of amulets. Many of these were inspired by designs he sought from fellow masters and temples, while others were products of his own creativity. His earliest amulets, especially the Look Om wishing balls, were concocted from herbal powders mixed with lacquer, known as Nuea Pong Kluk Rak. These early pieces are exceedingly rare. Subsequently, he transitioned to employing his Gaew Mani Radtana white crystalline powders, which he used in various editions of white powder amulets.
It is believed that he created over 100 different amulet models throughout his life. These encompassed a wide spectrum, ranging from representations of deities such as Brahma and Hanuman to revered guru masters like Luang Phu Tuad. His creations also included lockets and Buddha images like the Pra Somdej. Additionally, he crafted numerous talismanic amulets, like the Mitmor and Takrut, along with other forms of magical charms, including his renowned Look Om Powder Balls.
Luang Phu Doo's Look Om amulets were made using residual Muan Sarn powders, remnants from pressing various amulet models like the Brahma, LP Tuad, LP Doo 'Roop Muean' Image, and Rachasri Himapant Lion. He personally inscribed most Look Om, although not all, as in later years, due to aging and frailty, he was unable to inscribe hundreds of amulets daily. These Look Om were often empowered with a Takrut, infused with a Heart Mantra spell, enhancing their mystical properties.
Luang Phu Doo was known for not readily distributing amulets to his devotees. He would only bestow them upon those who demonstrated sufficient faith and commitment to meditation practice. After granting an amulet, he would instruct the recipient on its use for Samadhi Bhavana (meditation practice) and 'Tam Nam Montr' (creating Sacred Prayer Water) for healing purposes and to attract auspicious blessings.
One noteworthy aspect of the sacred powders used in many of Luang Phu Doo's amulets is the presence of his famous pure white Gaew Mani Radtana powders. These powders emit a crystalline substance known as 'Pratat' (Buddha Dhatu), considered a form of Sacred Relic. The crystalline sheen results from the imbued sacred power and forms small visible beads on the amulet's surface when examined closely.