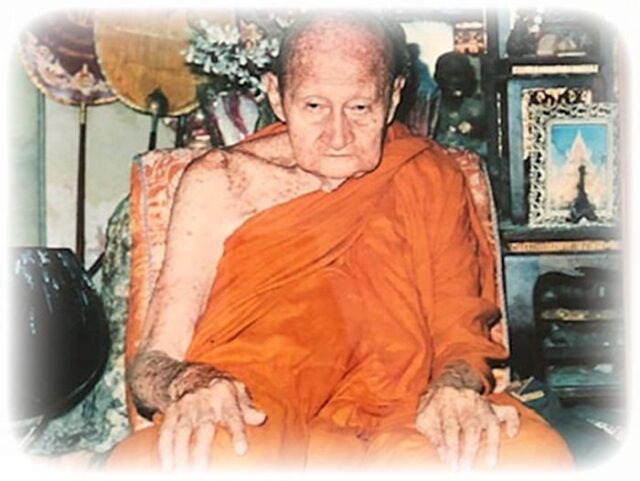 Biography of Luang Pu Seng
Luang Pu Seng, also known as Phra Khruu Sopanakalyanawat, was a distinguished and revered Thai Buddhist monk whose life and contributions have left an indelible mark on the spiritual landscape of Thailand. Born on June 10, 2434, in the Pak Klong Talat neighborhood of Bangkok, Thailand, Luang Pu Seng's journey as a spiritual leader, scholar, and compassionate figure has earned him a lasting legacy.
Early Life and Education
Luang Pu Seng was the eldest child of Mr. Phian and Mrs. Daeng Plian Suksuri, growing up with three siblings. His early years were marked by proximity to the Wat Kalayanamitr Varamahavihara, also known as Wat Sam Pao Kong, a temple renowned for its scholarly monks and esteemed abbot, Phra Khruu Pinintawarakan, later known as Phra Sunthorn Samajarn (Phra Mom). It was within this temple's spiritual ambiance that Luang Pu Seng began his journey of academic and religious studies.
Under the guidance of Phra Sunthorn Samajarn, Luang Pu Seng displayed exceptional diligence and dedication to his studies. This early exposure to profound Buddhist teachings laid the foundation for his future as a prominent monk and spiritual leader. His educational pursuits also led him to interact with distinguished monks of his time, such as Phra Khruu Taksinakanit from Wat Bang Yi Ruea Tai and Phra Khruu Phimmonthon, also known as Nak, from Wat Arun.
---
Ordination and Early Monastic Life
The passing of Phra Khruu Pinintawarakan in 2455 marked a turning point in Luang Pu Seng's life. At the age of 21, he made the pivotal decision to ordain as a novice monk at Wat Kalayanamitr Varamahavihara. This significant event was attended by prominent monks, including Phra Achaan Wannarat (Phra Mom) from Wat Ratcha Orosaaram and Phra Sunthorn Samajarn (Phra Mom) from Wat Kalayanamitr. Luang Pu Seng received the monastic title "Sopanakalyanawat" at this time, signifying his formal entry into the monastic community.
Compassion and Service
Luang Pu Seng's monastic life was characterized by his unwavering compassion and service to others. He was known for his willingness to help those in need, embodying the core teachings of Buddhism. Even as a young monk, he refrained from using the labor of novice monks for personal purposes, earning a reputation as a kind-hearted and selfless individual among local residents.
One of the hallmarks of Luang Pu Seng's monastic journey was his creation of holy water known as "Bua Buan Loi Khrab." People from diverse backgrounds sought this blessed water daily, and Luang Pu Seng never turned anyone away. He performed a unique ritual for its creation, involving the offering of three white lotus flowers and a white candle to the Buddha image, followed by the pouring of the blessed water. It was believed that the lotus flowers he gave back to those who sought blessings would miraculously float in the nearby river.
Additionally, Luang Pu Seng was highly sought after for various religious rituals and blessings. He had a special skill in inscribing talismans and amulets for devotees, often incorporating sacred Khom script characters on pieces of cloth. His expertise in these matters earned him recognition among his followers.
Contributions and Achievements
Luang Pu Seng's contributions extended beyond his spiritual guidance and blessings. In 2474, he played a pivotal role in the construction of a massive temple bell, documented as the largest in Thailand's history by the Department of Fine Arts. The inauguration ceremony, held on February 1, 2478, drew dignitaries, including His Majesty Prince Chintaworasingha, who presided over the auspicious event.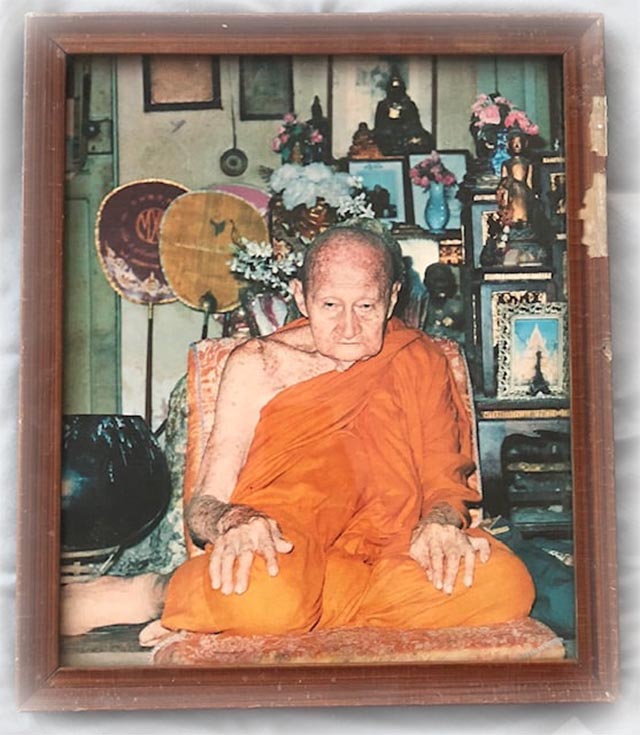 Legacy
Luang Por Seng, the revered monk, created numerous sacred items distributed to his disciples throughout various periods. These included various editions, such as the Pra Somdej Neua Phong with a five-layered base, the Pra Luang Phor Toh Paa Mard Vichai made from baked earth, the Naga coin with rice grains or golden and yellow sacred leaves, the Pra Kes Tong Kam Paa Samathi with a lotus leaf pattern, made from clouds' residue, the Pra Phim Khun Phaen Paa Mard Vichai made from powder and square-shaped fabric, measuring 9 inches in width and length each. The amulets came in different shapes and sizes, like the egg-shaped coin in red gold, the red gold-coated coin with a nickel core, the leaf-shaped coin in red gold, the armor-shaped coin in red gold, silver, and gold (to celebrate 80 years), and the egg-shaped coin (double-sided) in red gold with a black border, resembling the coin of Lord Brahma.

Luang Por Seng's sacred items possessed extraordinary metaphysical qualities. They were believed to bring good luck, protect against harm, and were highly sought after. However, these amulets have become increasingly scarce, with counterfeit versions of the first edition amulets circulating in the market.
In the year 2518 BE (Buddhist Era), something not widely known is that Luang Por Seng was not yet a venerable monk. He still administered Sak Yant tattoos to his disciples. This fact is confirmed by some of his senior disciples who lived near Wat Kanlayanamit, where there were many senior and elderly disciples of Luang Por Seng. They all affirmed the truth about Luang Por Seng's tattooing skills at Wat Kanlayanamit.

Luang Por Seng reached the end of his earthly journey on January 14, 2526 BE, at the age of 92 years, 7 months, and 4 days. He had completed 72 rains retreats. On the day of his passing, it began to rain on the Thonburi side immediately after he left this world, a phenomenon that displayed the profound respect people had for him. Those who knew the news in advance drove out to announce that Luang Por Seng had passed away. I still vividly remember that I was standing in front of my house when it started raining lightly. After a while, a pickup truck passed by and made an announcement over a loudspeaker that Luang Por Seng had passed away.
The reason for Luang Por Seng's passing was related to his consideration and compassion for the monks and disciples who cared for him. One of his disciples shared this information. At the age of 92, Luang Por Seng was quite frail. One night, he woke up in the middle of the night to go to the bathroom, a task that usually required assistance. However, out of his great compassion and not wanting to disturb his sleeping disciples, he attempted to walk to the bathroom on his own in the dark. Unfortunately, he stumbled and fell, hitting his head on the floor, causing it to bleed. Still, he didn't want to wake up his disciples to tend to him. He tried to make his way back to his bedroom and used a small towel to cover his bleeding head.

In the morning, when it was the usual time for his disciples to wake up, they found Luang Por Seng had lost a significant amount of blood. Despite this, he refused to ask his disciples for help. Instead, he tried to walk back to his room and used a small towel to stop the bleeding. As the time for his disciples to wake up approached, Luang Por Seng had lost a considerable amount of blood. Finally, when his disciples woke up, they discovered the situation and rushed to help him. However, it was too late, and Luang Por Seng had already passed away.
Luang Pu Seng's reputation as a compassionate and skilled monk continued to grow, and he remained a beloved figure in the hearts of many until his passing in 2476. His legacy endures through his teachings, acts of kindness, and the countless lives he touched. His amulets and sacred items, such as the Pra Somdej Neua Phong and Naga coin, are highly valued for their metaphysical properties. Luang Pu Seng's life and contributions exemplify the transformative power of compassion, service, and dedication to the Dhamma. His legacy continues to inspire and guide individuals on their spiritual journeys, making him a revered and cherished figure in the history of Thai Buddhism. To this day, people continue to pay their respects and worship the image of Luang Pu Seng, just as if he were still present in his original form at Wat Kanlayanamit. Those who seek solace and protection from misfortunes come to pay their respects to Luang Pu Seng, and it is said that they have indeed received miraculous blessings.