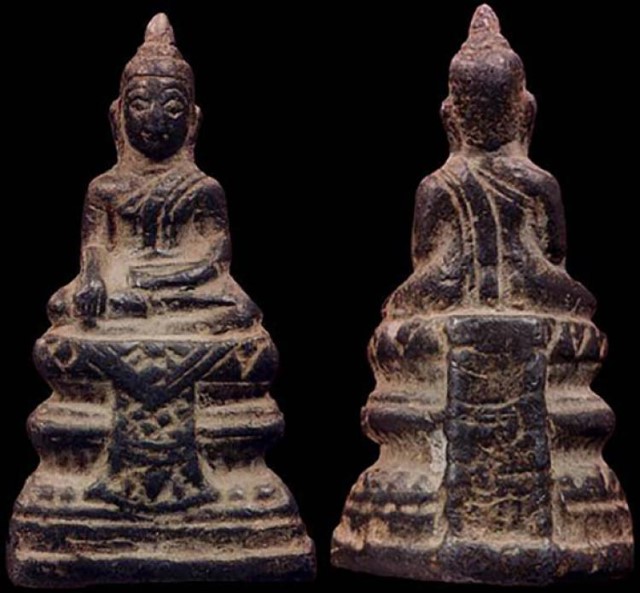 Pra Kru Wat Suwan (Ang Tong Province) Hiding Place Burial Find Amulets.
The Pra Kru Wat Suwan Pantheon of amulets were discovered, around the Year 2500 Buddhist Era, and were found at Wat Suwan, located in the Province of Ang Tong, above Ayuttaya, and adjacent to Lopburi and Singhburi Provinces in North Central Thailand. The amulets were then also reblessed in celebration of the find, and the great Luang Por Niam of Wat Noi in Supannburi was invited to preside over, and empower the amulets during the 2506 Kru Discovery amulet find Celebration Ceremony.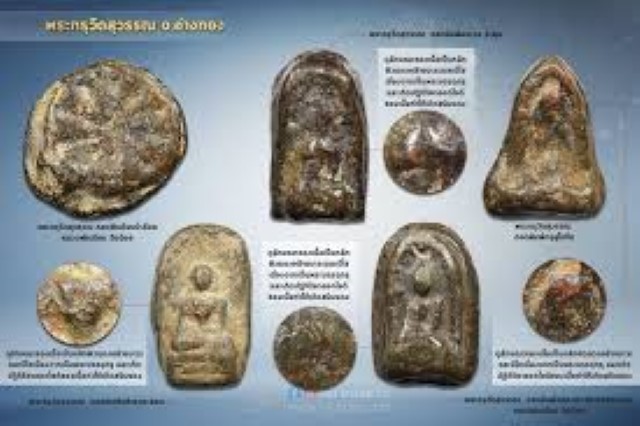 The natural appearance of an authentic Pra Kru Wat Suwan leaden amulets, is that they have a fine layer of Kraap Kru arising on portios ofthe surface, showing red rust from oxidisation. It is also important to note that the Pra Kru Wat Suwan amulets did not have their edges filed off into perfect frames, and have rough unfiled edges because of this factor. This is one of the first things to look for when collecting authentic Pra Kru Wat Suwan artifacts.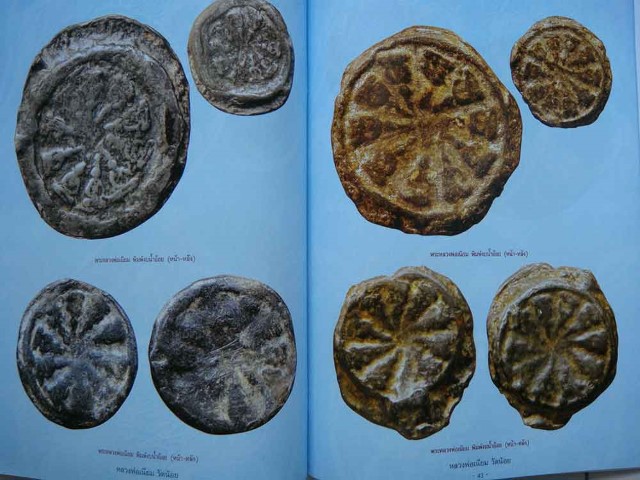 According to historical records, the great master Monk of Wat Noi in Supannburi, Luang Por Niam, was invited to assist in the making, casting, and empowerment of the additional amulets which were being made. This makes the pra Kri Wat Suwan enter into the Pantheon of aficionados of this Monk and his Amulets, and their popularity has become ever more legendary, to the point where the Pra Kru Wat Suwan, is now a piece of National Historical Heritage. The age of the ancient burial find models ranges up to 700 years to 1000 years old, and the edition added by Luang Por Noi is dated around the Mid-Ratanakosin Era, making them past the Centenarian level (more than a Century Old).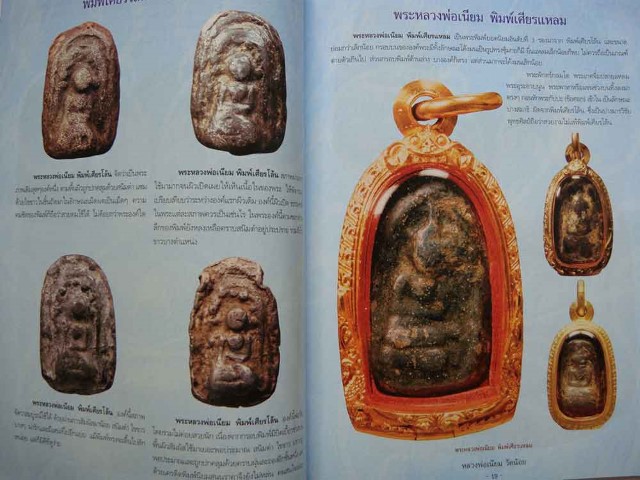 Many different Pim (models) of amulets were found in lesser and greater numbers, all differing slightly, due to the ancient casting methods used during olden days, making it impossible to make thousands of identical amulets as seen in the modern era, with modern block press engineering technology.
The amulets were cast from ancient mercurial leaden sacred alloy, & also were found in reddish baked Eerthen sacred clay. The amulets exist in many forms;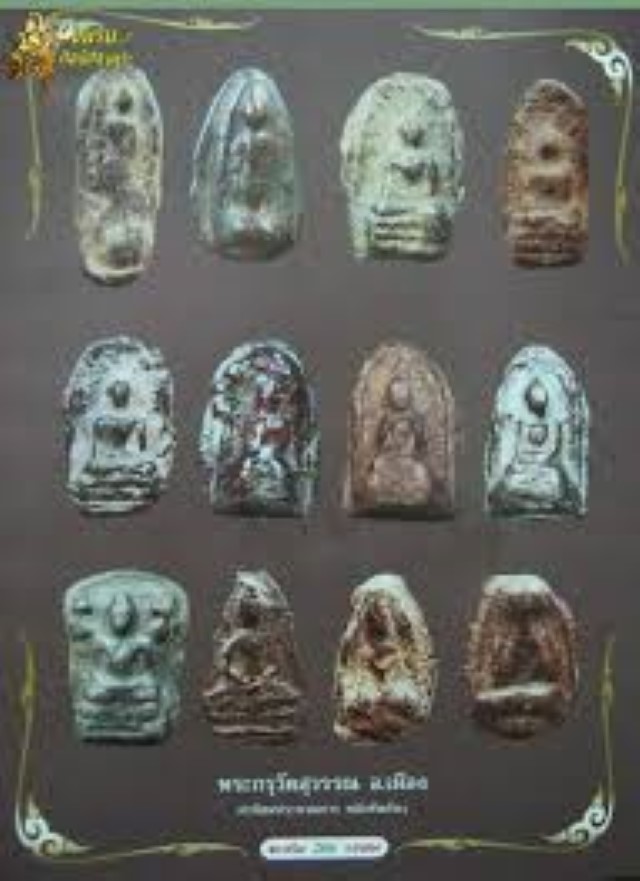 Such as the Pra Upakut, Pra Sangkajjai, Pra Rod Lampun, Pra Ruang Rang Pern, Pra Lila Laweng, Pra Lila Kampaeng Gaew walking Buddha votive tablets, Pra Pratummaas, Pra Supann Hlang Pra,Pra Mahesworn Nuea Chin Ngern silver leaden amulets, Pra Pong Supan Benjapakee amulets, identical to those found at the Kru Wat Pra Sri Mahatat find, Pra Lor Pim Pra Pratan Buddha Immages (in small and large sizes), and Pra Paruhnang Loi Ongk Buddha statuette amulets, Pra Pim Mokkhala Saribut (Maugdalyayana and Saributra) Buddha amulet, the Pra Tham Suea Ruesi Amulet in both Pim Hnaa Gae and Pim Hnaa Ruesi, Pra Ngop Nam Oy,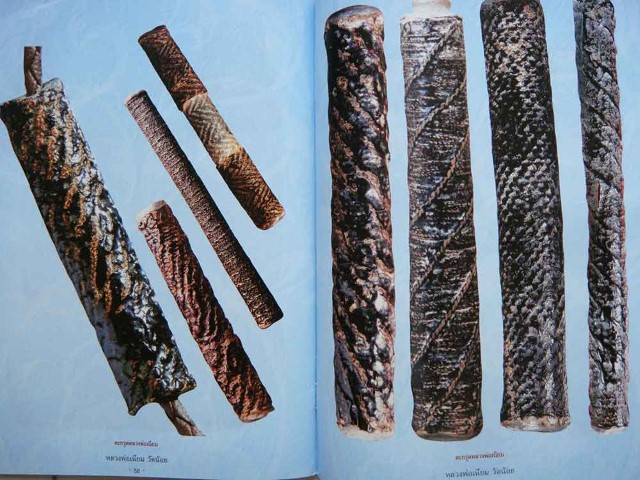 In addition we can find the Pra Kum Nakorn Khosa, Pra Pim Wat Rachadesa, Pra Put Pim Siarn Hlaem pointed head Buddha votive tablet in leaden alloy, The Pra Kong Lampun Benjapakee amulet, all versions of the Khun Phaen Ban Krang earthen amulets in all models, such as the Pim Khaen Orn, Pim Bai Mayom, Pim Pra Pratan, Pim Lueay, Pim Song Pon Yai, Pim Plai Dtat Diaw, Pim Plai Koo, Khun Phaen Pim Pha Seek, and so on.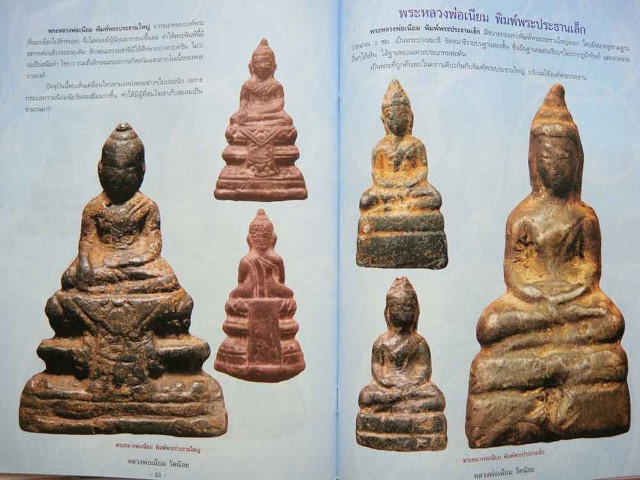 Pra Kru Wat Suwan as part of the Pantheon of Amulets of Luang Por Niam (Wat Noi).
Luang Por Niam was a Kroo Ba Ajarn and Ordaining Officer of the great Master Monk Luang Por Parn of Wat bang Nom Kho, who was witnessed to have died in complete happiness and relaxation, in meditative bliss, as an attained ascended Master. For this reason, Luang Por Noi has many faithfull devotees around the world, who worship him and hisb teachings, and revere his attainments, and wish to wear one of his blessed amulet.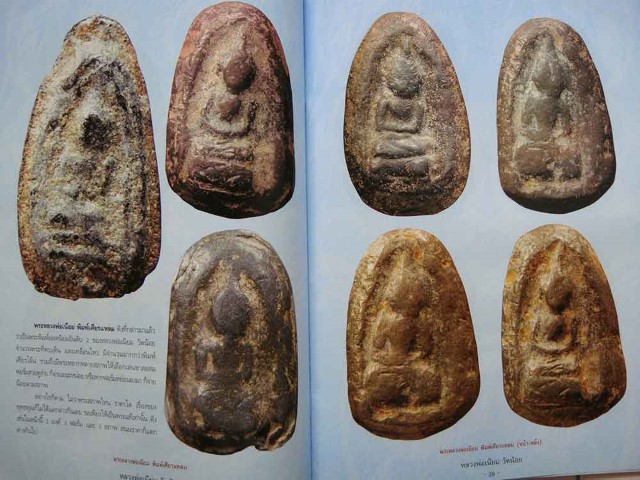 For collectors of the amulets of Luang Por Niam, who can no longer find amulets released by this great master directly at the temple of Wat Noi in Supannburi (where he was Abbot), the Pra Kru Wat Suwan amulets, are an excellent alterntive choice for Bucha.
The Pra Kru Wat Suwan amulets are also the perfect study material for students to get hold of amulets of authenticity from various eras, to study ancient lead, and ancient earthen clay amulets, to inform themselves of the apppearance of Muan Sarn, Kraap Kryu mildews, and Kraap Sanim Daeng, Pra Pid Ta, Pra Nakprok, Sanim Khiaw with red and green rust, which forms on hiding place burial find leaden amulets, as well as in the case of the Pra Mahesworn Nuea Chin Ngern,to see how Kraap Kru Saanim Khaw white silver mildew arises, and forms, on silver-based leaden ancient amulets.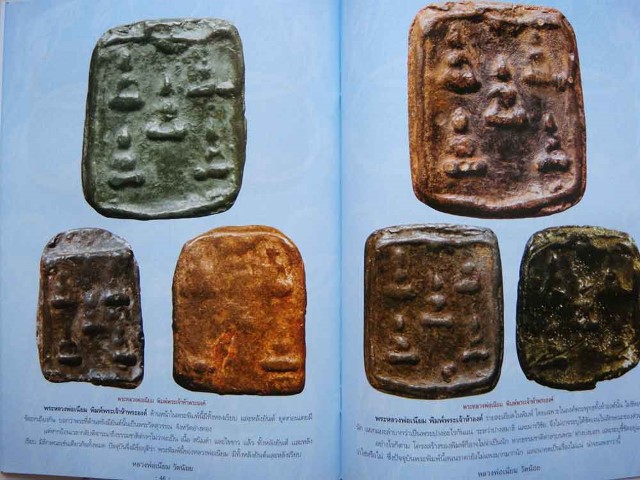 A Perfect reference series of amulets at a much cheaper price than those which came directly from each individual Kru where the first finds of each kind of amuletg were discovered. In truth, Pra Kru Benjapakee amulets, were hidden in dozens of temples around Thailand, and it is only the fact that the first time a find is discovered of a particular amulet model, that people prefer amulets from that particular burial find.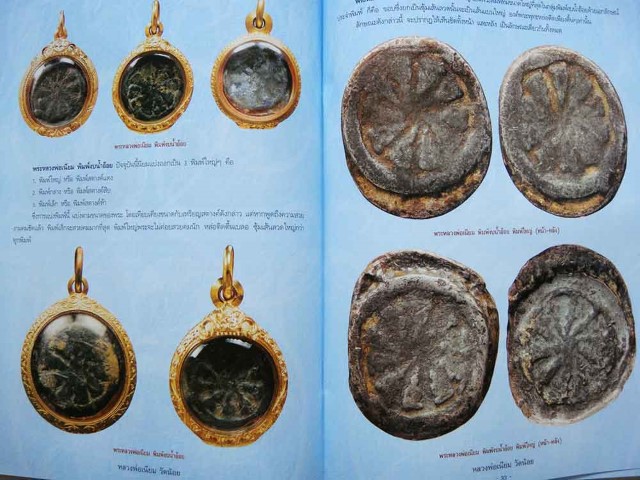 This is something that is more collector based ideology, speculative in nature, and status seeking in attitude, more based in Economic and Status-Show Based thinking, than common sense, when seeking the same sacred amulet from the same sacred blessing ceremony made by the same ancient masters who made them.
The Pra Kru Wat Suwan is a secure acquisition for any collector or devotee or student of amulets, for their discovery and authenticity and documentation of their burial is officially docummented in government gazettes, and in the amulet society annals.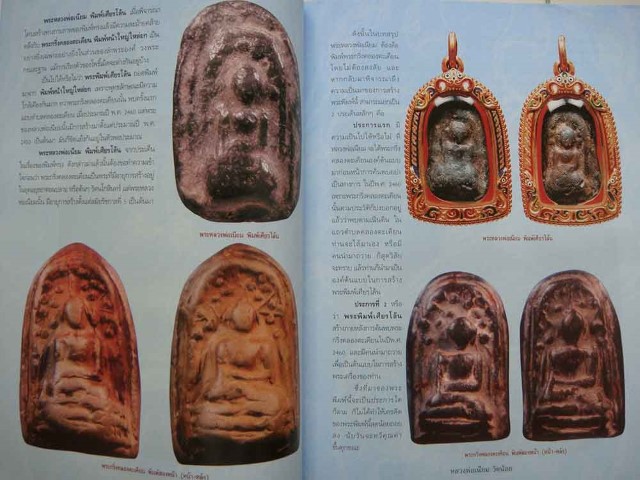 They were discovered, as people were digging into the Chedi Stupa of the temple to steal things, and managed to steal many pricelss treasures and amulets, before the Abbot became aware, and ordered the Chedi Stupa to be opened up, and the contents removed for safety.
Wat Suwan
Wat Suwan is an ancient temple of the Ang Tong Province. It was an old delapidated temple which was restored by a rich millionaire. After the restoration, he installed a double-life size Sri Langkan style art Buddha Image, and surrounded it with wall paintings, of the different impportant stages of the life of Lord Buddha, recording his key moments on his path to Enlightenment and final entering into Paranibbana. He also then arranged for amulets from delapidated temples and surrounding temples to be brought to bury inside the stupa, which came from other ancient Kru Hiding Place Burial finds of the previous eras.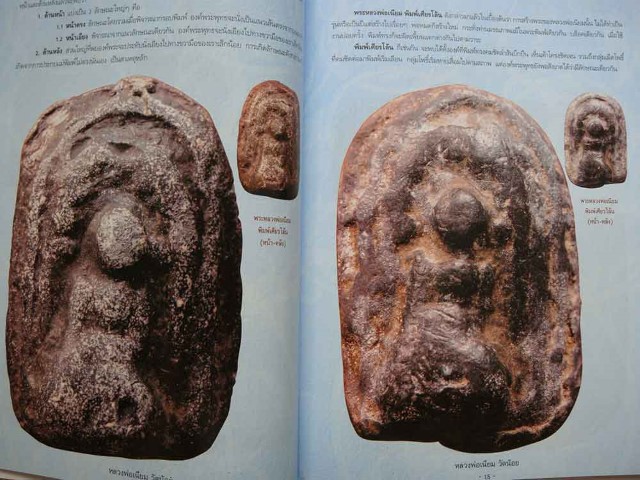 These were then hidden within the Chedi Stupa and sealed for preservation and empowerment. A new set of amulets were also case in Nuea Chin Mercurial leadden Sacred Alloy, for adding to the burial hiding place. All models were made in the same images of the ancient Pra Kru amulets brought and assembled from the surrounding Province temples.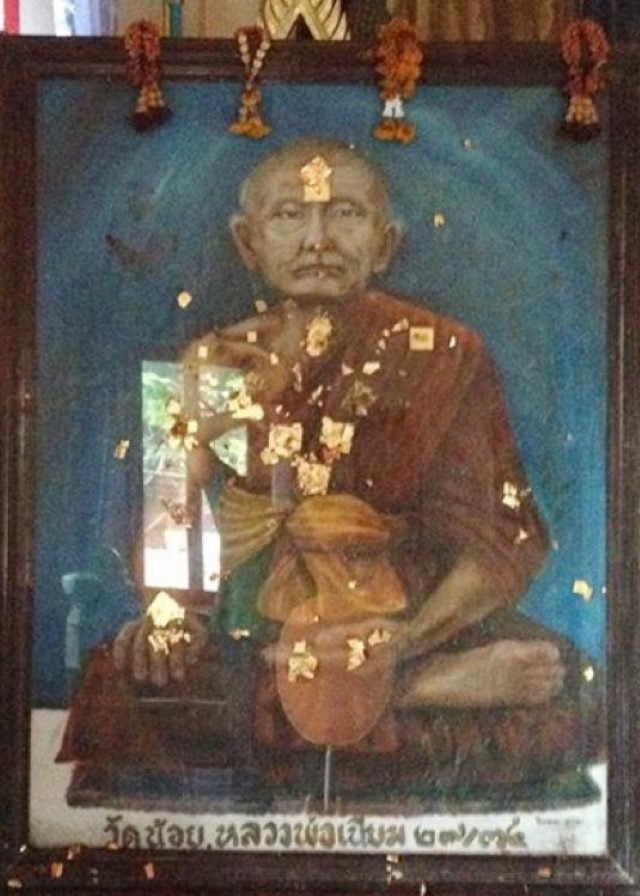 The ruins of the temple were the surviving remains from the time of the second attack and battle of Ayuttaya in the year 2307 BE, after the first attack from the Burmese in the year 2303 BE.The King of Burma attacked from two flanks, traveling North-East from Myeik in Burma through the Petchburi Province upwards, and the second regiment (both amounting to 70,000 soldiers), came southwards from the Lanna Mountain Northern Region. Both regiments met at the city of Ayuttaya. The battle lasted an immensely long time, lasting for a period of 1 year and 2 months of siege by the Burmese. The Siege ended on 7th April 2310, with Ayuttaya being conquered by the Burmese.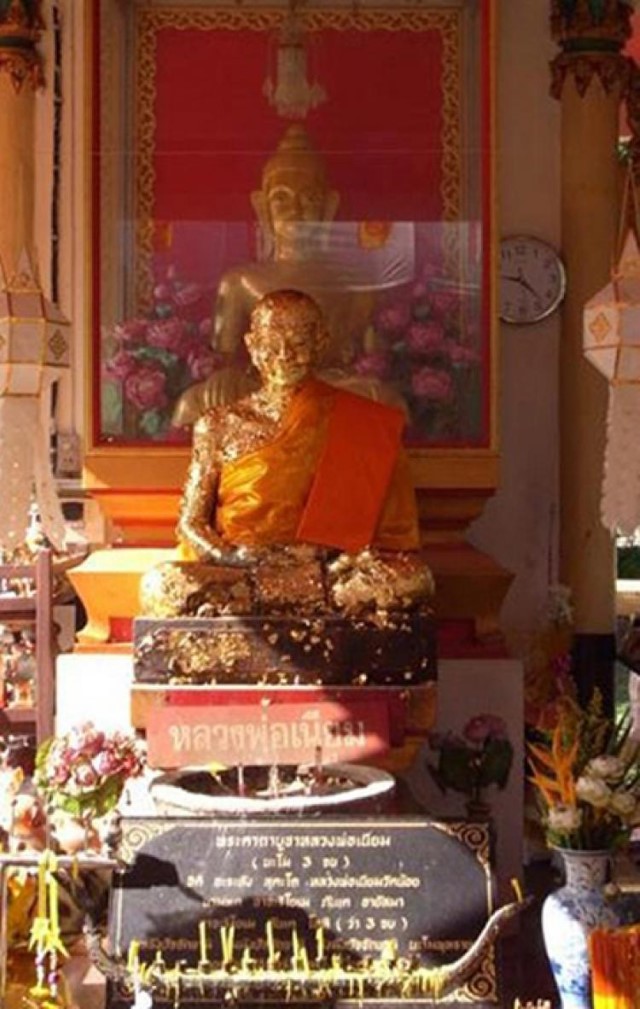 < hr />