When speaking of the Pae Maha Lap lucky goat amulet, there is one name which stands above all others, and that is the name of Luang Por Am, of Wat Nong Grabork, in Ban Kaay Rayong. Luang Por Am was, along with Masters like Luang Por Horm of Wat Sak Hmak, Luang Por Rerm of Wat Juk Gacher, and Luang Por Chaem, considered among the top Masters of the Province, long before even the Great Luang Phu Tim of Wat Laharn Rai acheived his fame. Luang Por Am was the Kroo Ba Ajarn of the Great Luang Por Lat (Wat Nong Grabork), who is famed in his own right for his powerful Pae Maha Lap Hand Carved Goat Amuletsม which he of course mastered under the tutelage of Luang Por Am.
The male Goat is known for the fact that it is able to keep a whole herd of dozens of females under his ownership, through merciful and protective influence. It is thus believed that who wears the Pae Maha Lap Khao Kwai Gae Sacred buffalo horn Goat amulets of Luang Por Am, will be an owner and controller of great possessions and wealth, with grand entourage.
Below; Luang Por Am, of  Wat Nong Grabork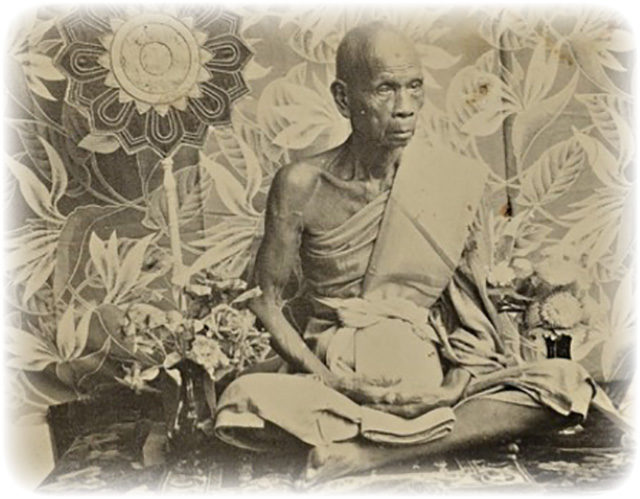 Luang Por Am, or 'Pra Kroo Taep Sittaa, was one of the Great Masters of the Central-Eastern Provinces during His Era, and the ex abbot of Wat Nong Grabork from 2431 – 2490 BE. He was rrespected and revered all around the Province, and had Great fame around the Nation for his Powerful Wicha. During his lifetime he became known as the top Master for carved Lucky Goat amulets. What is less known, and is of immense interest to investigate the lineage Wicha of the Pae Maha Lap, is the fact that Luang Por Am himself received this Wicha from Luang Por Dtaeng of Wat Ang Sila.
Luang Por Am was abbot of Wat Nong Grabork between the years 2431 to 2490 BE, being a Gaeji Ajarn of around 150 years ago, and was the Kroo Ba Ajarn teacher of many other great names of the time, such as Luang por Rerm of Wat Juk Gacher, and Luang Por Lat of Wat Nong Grabork (his successor and apprentice in magick). The Pae Maha Lap Nuea Khao Kwai Gae of Luang Por Am, is believed to possess the power to absorb Black Magick and protect the wearer/devotee from being affected.
It can be said that the Pae Maha Lap of Luang Por Am, Luang Por Lat, and now Pra Atigarn Surasit Akkawaro, the current abbot (written 2562 BE), are considered the 'cream of the crop', by serious devotees of the Pae Maha Lap, along with those other Great Chonburi Masters whose names carry fame for this Wicha such as Luang Phu Tim, uang Por Sakorn, Luang Phu Sin.
The Pae Maha Lap of Luang Por Am, was almost always made by carving a goat from 'Khao Kwai Fa Pha Dtaay', which is the horn of a buffalo which died struck by lightning in a field. It is an ancient magical belief that the horn of a lightning-struck bull or buffalo has the power of angelic beings in it, for indeed, the angelic beings of the elemental realms who control the weather, are who control these divine forces of Nature.
After the carving of the shape of the goat, Luang Por Am would then empower the Goats with incantations, and invocations of elemental powers and angelic beings, with Buddhist Blessings on top. Sometimes he would immerse them in aromatic sacred oils to consecrate them, mixed with herbal oils made from herbs and vines and flowers of the forest, with magical, healing, protective, and attraction powers. He would rebless them again and again until he felt the amulets were completely stuffed as full with magic as possible, and unable to insert any more. The magic within the amulets was hence always filled to the brim before distribution.
Luang Phu Khaw Analayo of Wat Tham Glong Plae, in Nong Bua Lampoo, was a Gaeji Ajarn Master Monk of the Dhammayut Lineage of Ajarn Mun Puratto, who was highly revered and known for his Adept Mastery of Vipassana Kammathana Mindfulness Practice. He was a Master of the same Generation as the Great Luang Phu Waen Sujjino, and the Inimitable Luang Phu Doon. He is said to be an Arya Sangha who reached a High Stage of Enlightenment.
Luang Phu Khaw's mortal remains turned into crystallised relics, which is considered to be a sign of having become Enlightened Being. Luang Phu Khaw Analayo was born on the 28th December in the Year 2431 B.E. in Ban Bor Khaneng, in Tambon Nong Gaew, in Ampher Amnaj Jaroen, in Udorn Thani Province. He was Ordained on the 2nd of May 2462 BE at Wat Po Sri, in Ban Bor Khaneng.
His Upachaya (Ordaining Officer) was Pra Kroo Puttisak, the Bishop of Amnaj Jaroen, and Pra Ajarn Bun Jantr was his Pra Gammawājājarn (Prompting Officer). Luang Phu Khaw remained thereafter at Wat Po Sri for a further 6 Years, after which he left to travel on Tudong Solitary Forest Wandering. It was here that Luang Phu Khaw met and asked to study and practice under the Great Arahant Luang Phu Mun Puratto. Luang Phu Khawwas always intensely attracted to the practice of Vipassana Kammathana, and due to this interest, he also travelled onwards to Thonburi to the temple of Wat Plab, which was famous for its Advanced methods of Kammathana Vipassana.
It was here that Luang Phu Khaw got the chance to learn Wicha with the Great Pra Sangkawara Luang Por Chum, maker of the famous Nam Tao Gan Fai Magic Gourd (known for its ability to prevent fires). The temple of Wat Plab has records in its written history annals of Luang Phu Khaw appearing to practice there, which confirms the truth of this. Luang Phu Khaw was also one of the few great Monks who was revered and often visited by His Majesty the King. Luang Phu Khaw passed away on Monday the 16th May 2526 BE at Wat Tham Gong Plae at the age of 94 Years, 4 Months and 18 Days Old in his 57th Year of Ordained life.