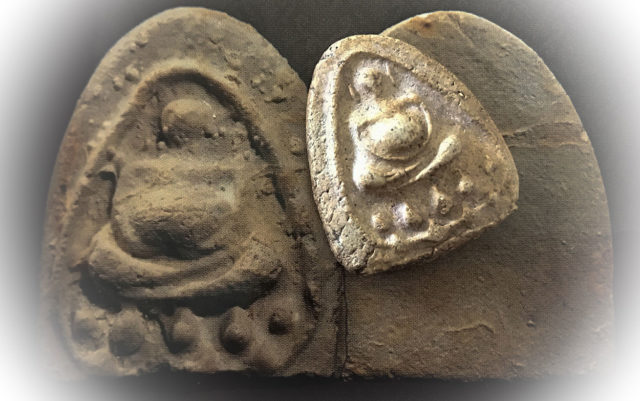 Pra Kru are amulets which have been hidden within a 'Kru' chamber, usually either within a Chedi Relic Stupa, under the ground beneath a monument, or within a Buddha statue. Amulets have been traditionally hidden by their makers for many centuries, as a way of both preserving knowledge of the existence of Buddhism in future generations, and also as a way of 'stashing' amulets in case any times of desperate circumstances arise in future, to then break open the Kru chamber and distribute amulets as a protection and prosperity bringer, when the folk are in dire need of assistance.
Pra Kroo amulets can be found made from all types of Muan Sarn, be it earthen clay, sacred herbal and Puttakun powders, or even metallic substances (especially leaden ones above all others)
This page is a catalogue of pages which document the various Amulet Hiding Place discoveries made, and the amulets found in each Kru.

Below is the section of our store containing all amulets of Pra Kru Type.
---