Pra Rahu Om Jantr Nuea Kala Ta Diaw – Pim Sema Kwam world famous preferred master-class amulet, from Luang Por Noi Kantachodto – Wat Srisa Tong (Nakorn Chaisri)
The Pra Rahu Kala Ta Diaw of Luang Por Noi, of Wat Srisa Tong, in Huay Tago, Nakorn Chaysri, is most certainly the most famous of all one eyed coconut carved Rahu Amulets in Thai Amulet History. The only other Master who has come close to equalling his fame and mastery of the Pra Rahu Kala Ta Diaw amulet, is the great Kroo Ba Nanta, of Wat Tung Man Dtai, in Lampang, whose Pra Rahu are also extremely favored and sought after.
The Pra Rahu Kala Ta Diaw of Luang Phu Noi, are the most prestigious of all in the eyes of the Pra Niyom Collector Community. This model is considered to be from the earlier time of Luang Por Noi's Era due to its slightly larger size and curvature, because his later models were flatter and slightly smaller. The amulets themselves were made by Artisans who were devoted Looksit of Luang Por Noi, who were mostly immigrants from Vientiane, in Laos, who moved to Thailand during the early Ratanakosin Period of Thai History.
As the earthen foundations of the temple of Wat Srisa Tong were being dug for the building of the temple, a golden Buddha Head was discovered, and because of this, the Temple was first given the name 'Wat Hua Tong' which means 'Temple of the Golden Head'.
The word 'Hua' means 'head' in colloquial Thai, but for referring to a Sacred Image of a Deity or a Buddha (or a Monk), the word 'Srisa', which also means 'Head', in high speech, is preferred. So the name was then changed later to 'Wat Srisa Tong'
Below; the ancient natural aging features of the surface of the rear face of the 1 eyed coconut shell carving is highly evident and visible, even to the naked eye, along with the inimitable, and instantly recognizable hand made Lanna spell Inscriptions of this Great Laoatian Magical Lineage Master Monk.
The first Abbot of the temple was Luang Por Dto, who was one of the Laoatian people who had immigrated from Vientiane. Luang Por Dtrai developed the temple continually. The Lao people who built the temple had many artisan who knew that Luang Por Dtrai had powerful Wicha Akom and the sectrets of the Laoatian Wicha Pra Rahu Om Jantr, and so they carved Rahu Amulets from one eyed coconut shells using the traditional Lao Artistic style, to give to Luang Por Dtrai for empowerment.
Luang Por would then would distribute them back to the devotees for protection and Serm Duang (improve fate and destiny).As the Lao artisans began to develop their skills and experience repeatedly carving the coconut shells, the design became ever more finely tuned and increasing in beauty, but due to the fact that there were a large number of artisans all making these carvings, the designs would be varied both in appearance of features, and in the quality and amount of detail.
Suad Pra Kata Bucha Pra Rahu
12 repetitons of the Kata Bucha Pra Rahu are to be Chanted;
Idtipiso Pakawaa Pra Rahuu Sataewaa Samaa Winyaana Idtipiso Pakawaa Putta Sangmi
Over the years, Wat Srisa Tong grew constantly throughout the lineage of Abbots, from a small temple into a large impressive temple over the years. After his passing, he was succeeded by the new Abbot, Luang Por Dtan, who was succeeded by Luang Por Lee, who was then succeeded by Luang Por Tong, after which came Luang Por Choi, and then cam the fifth Abbot, Luang Por Noi Kantachodto. It was the second Abbot, Luang Por Lee, who inherited and continued the Wicha Pra Rahu Om Jantr in the Lao tradition from Luang Por Dtrai.
Luang Por Noi was also one of the Lao People of Srisa Tong municipality in Nakorn Chaysri, who during his time as a Buddhist Monk before becoming Abbot, was practicing at Wat Srisa Tong, and learned the Wicha of Luang Por Dtrai from Luang Por Lee, and ascended later to become the next Master Adept, which was supported by a strong foundation in the Wicha Pra Rahu Om Jantr from Luang Por Noi's Father, who was also a Laymaster of Lao Sorcery too, and who made carved Rahu amulets and empowered them. So Luang Por Noi got to learn this Wicha from his Father from a very early age, and this made him the perfect apprentice for Luang Por Lee to pass on his Wicha of the Pra Rahu Om Jantr Kala Ta Diaw.
Luang Por Noi was born with the Laity Name of Navarat, meaning 'nine jewels', and brought the Wicha Pra Rahu Om Jantr Gae Kala Ta Diaw begun by Luang Por Dtrai,passed to him through Luang Por Lee, to World Fame, through his higher development of the artistic features of the artisanry and design of the carved coconut shell images. Luang Por Noi did this by raising a more stringent rule for the magical requirements in allowing only coconuts with one single eye to be used for the carving of the Rahu image.
Luang Por Noi constantly refined his instructions to the Lao Artisans of Srisa Tong to increase the level of fine detail and subtlety of their carved Rahu images, up to the point where the amulet finally possessed a standard recognisable appearance that could be easily recognisable as being from Luang Por Noi of Wat Srisa Tong. However, this took many years, for which the earlier models are much more varied in appearance than the later models, as they were still very varied in early times due to the different handiwork of each artisan, until they were taught to adhere to a rigid formula.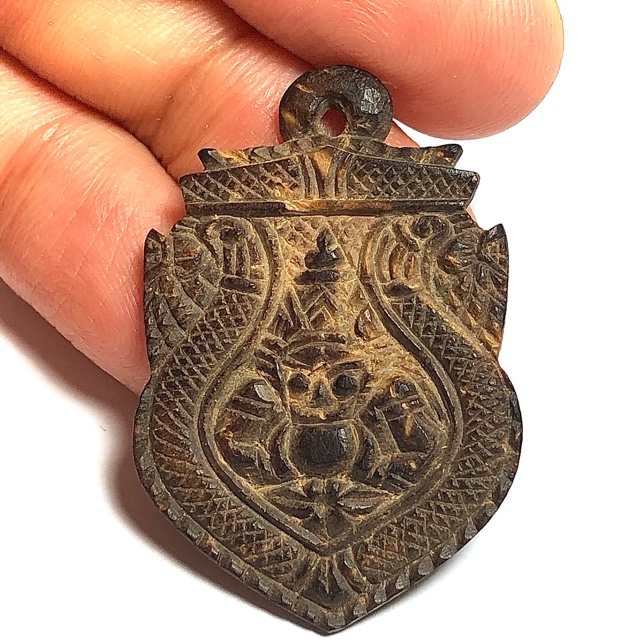 Luang Por Noi continued to develop and improve the temple of Wat Srisa Tong and the township around the temple to a great extent, and became extremely revered for his meritorious attainments. The Pra Rahu Kala Ta Diaw of all Thai temples are derived from the Original Laoatian Wicha, which entered into practice in Thailand through the Lao Immigrants, and which was developed to a much more advanced and higher level of artistic impression through the lineage of Abbots of Wat Srisa Tong more than any other temple in Thailand, most of which derived their Wicha from Wat Srisa Tong. The Thai tradition of Pra Rahu Om Jantr Coconut Shell Amulets has not only inherited just the design and creation methods used by Wat Srisa Tong, but also the Ceremonial Empowerments and Ritual Methods involved with their creation have also been inherited.
The development of the carved artisanry at the beginning in the times of Luang Por Dtrai and Luang Por Lee, and the early time of Luang Por Noi, first developed in multiple directions because some images would be square, triangular, or circular, and even in the shape of a lotus petal were seen in rare occasions.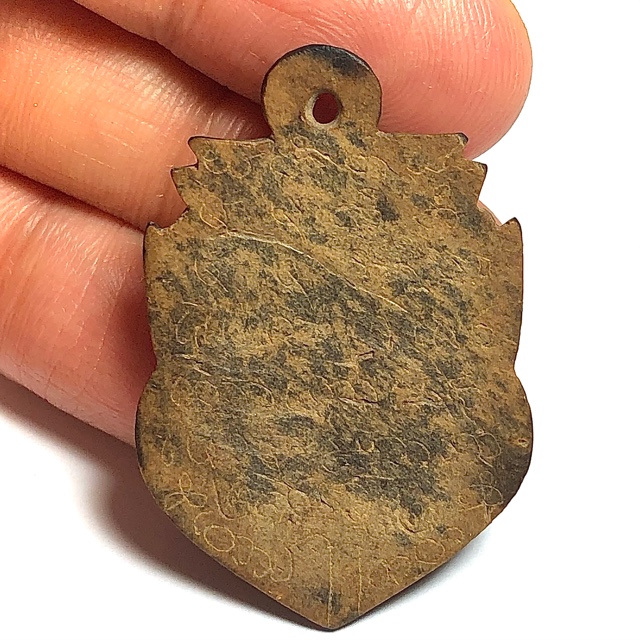 This depended on each artisan and the piece of coconut shell he had to work with. The Lao artisans would then bring the finished work to Luang Por Noi for empowerment. It was here that Luang Por Noi began to apply the next development in the refinement of his most classic and highly recognisable Pra Rahu amulets, by enforcing his master-stroke. The master-stroke, was to teach the Artisans to use oil absorption to soften the coconut shells, and be able to flatten the piece being worked with.
They would then to cut a standard shape frame. The flatness achieved from the now malleable coconut shell, with the added softness achieved through the oil soaking, allowing the Artisan to engrave the details in a much more refined fashion with a higher level of detail.
It was here that Luang Por Noi introduced a single universal design which has become the classic reference standard of Pra Rahu Amulets by Luang Por Noi; the 'Sema Kwam' shape. The word 'Sema', means the Lotus Petal.Teardrop shaped Temple Monastic Border Monument Image, and the word 'Kwam' means 'upside down'. This is hence similar in shape to the standard 'Pim Sema' shaped coin amulets seen in Thai Amulets, but is reversed to point downwards.
This then became the only model to be carved from then onwards, and despite many other shapes and sizes of authentic Pra Rahu Luang Por Noi amulets being made previously, the Sema Kwam model became the standard accepted model recognised for its inimitable appearance and ease of recognition.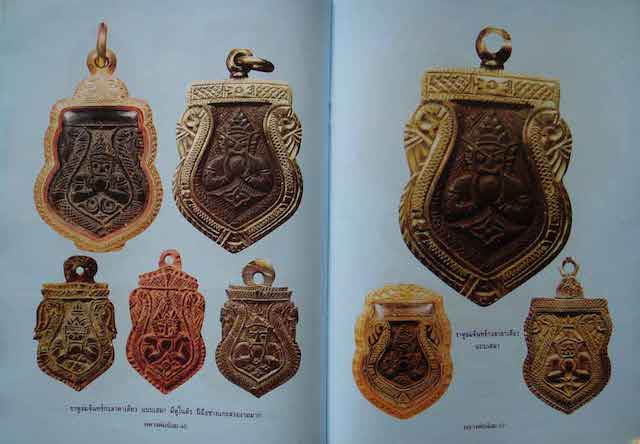 And so it came to be, that Luang Por Noi's most collected preferred Pra Rahu amulet is the Pra Rahu Kala Ta Diaw Pim Sema Kwam.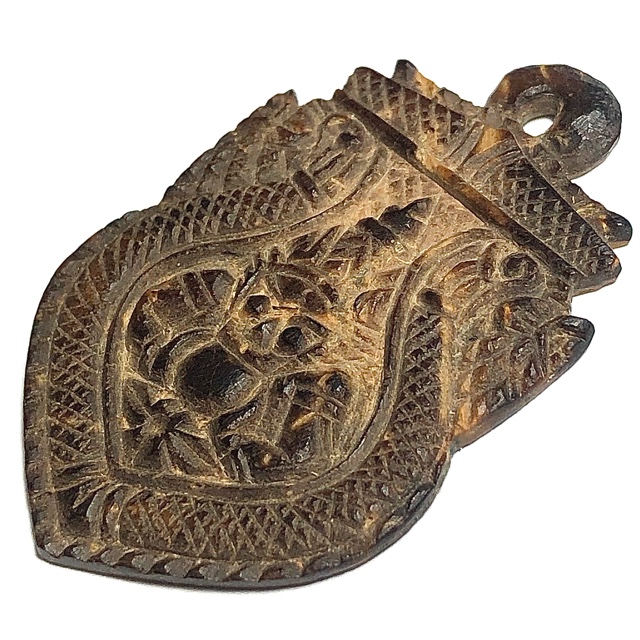 It was only rarely that Luang Por would be able to make and empower Pra Rahu Om Jantr Kala Ta Diaw amulets, because he would only empower them exclusively during the Lunar or Solar Eclipses, depending if the Rahu amulet in question would be empowered for the Yant Suriya Bprapa Solar Eclipse spell, or the Jantra Bprapa Lunar Eclipse spell. Some years there would be no release of Rahu kala Ta diaw if there were no eclipses occurring in the sky.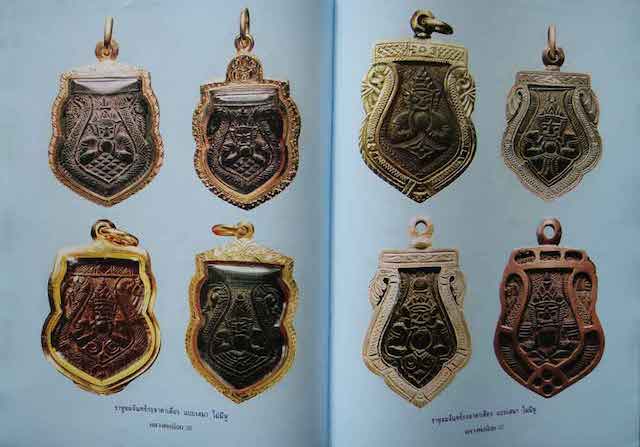 Biography of Luang Por Noi
Luang Por Noi was born on the 14th of February 2435, is father was called Nai Ma Nawa Radt, his mother was called Nang Mee Nawa Radt. Luang Por Noi was the youngest of five children. HIs father was a doctor of traditional medicine, and was also an adept lay sorceror. The locals called his father 'Por Hmor' which is a colloquial name for a witch doctor or shaman sorceror. Luang Por Noi's father was famed in the area for having had run-ins with dangerous gangsters from other districts, whose guns and weaponry were rendered useless when trying to kill him, because of his Sorcery Wicha.
Luang Por Noi was ordained as a Buddhist Monk (Bhikkhu) at the age of 21 at Wat Kae with Pra Ajarn Yiw (Abbot of Wat Kae) as his Upachaya Ordaining Officer, and Pra Piksu Mun of Wat Klang Koo Wiang as his Anusawanajarn.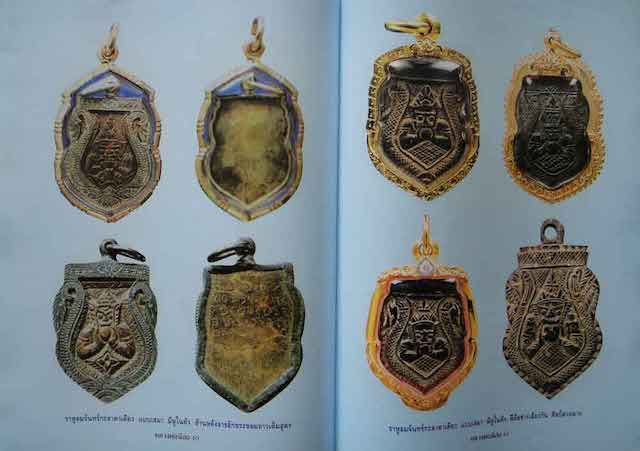 Luang Por Noi recieved the Ordained Dhamma name of 'Kantachodto'. Luang Por Noi stayed for a little while at Wat Kae, whereafter he moved to stay at Wat Srisa Tong. At the time, Luang Por Lee was the Abbot of Wat Srisa Tong, and Luang Por Noi got the chance to study Saiyasart (Sorcery) with Luang Por Lee, in particular, the Mastery of the Wicha Pra Rahu Om Jantr, and the Wicha Wua Tanu.
---