The lengendary Alchemical Maekasit Amulets of the Great Luang Por Tap, of Wat Anongkaram
An Eternal Legend in the Elusive World of Thai Occult Amulets and Magical Alchemy
Luang Por Tap, a Master Monk of the previous Buddhist Century, was renowned for his Mastery of Alchemy and Kata Akom Spellcasting Methods. He produced the legendary metallic alchemical alloy known as 'Maekasit' using the Wicha Len Prae Taat. Luang Por Tap's amulet pantheon is considered to be among the most powerful alchemical amulets of all Masters, and is highly revered for Kong Grapan Chadtri Klaew Klaad Maha Lap Metta Mahaniyom Maha Ud power.
The Look Om Maekasit, Pra Pid Ta Maekasit, and Pra Pim Son Ha are the most famous and outstanding amulets of Luang Por Tap's Pantheon. The Look Om Maekasit is found in various sizes, mostly being around 1.5 Cm diameter up to 2.0 Cm. Luang Por Tap made many models of amulets in Nuea Maekasit and Parort alchemical metals, some of the most well-known being the Pra Pid Ta Maekasit, Pra Pim Pang Son Ha, Look Om Maekasit, the Look Prort Gror, and Pra Chayawat.
Below; Luang Por Tap, of Wat Anongkaram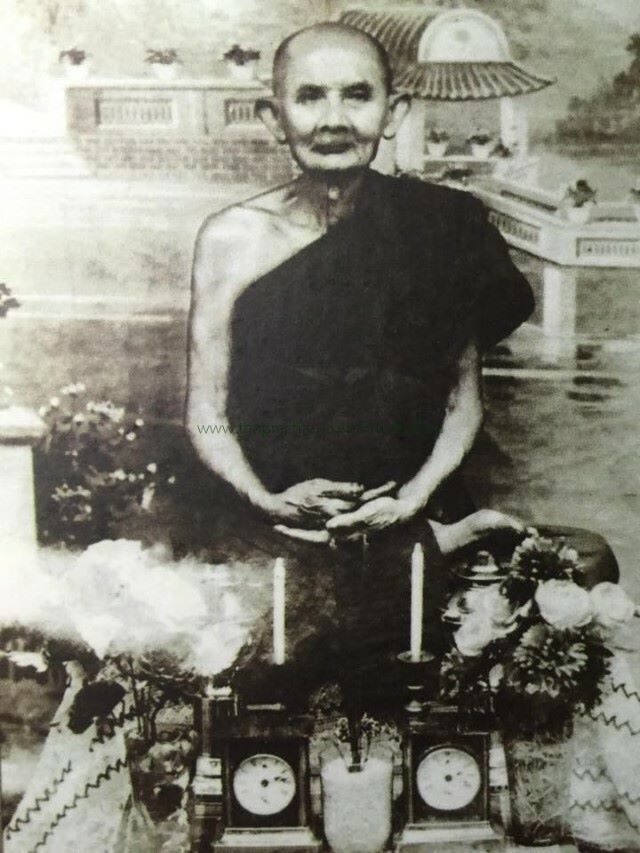 The Pra Pid Ta Maekasit was made in several small design variations, Pim Chalud and Pim Tammada models, both of which were made in Pim Lek, Klang, and Yai (small, medium, and large). Each model differs slightly depending on which block press, and regardless of each block press, the amulets were released in two forms, 'Baeb Dtaeng' (filed down into a smooth and eloquent outer border) and 'Baeb Mai Dtaeng' (unfiled with wider irregular borders).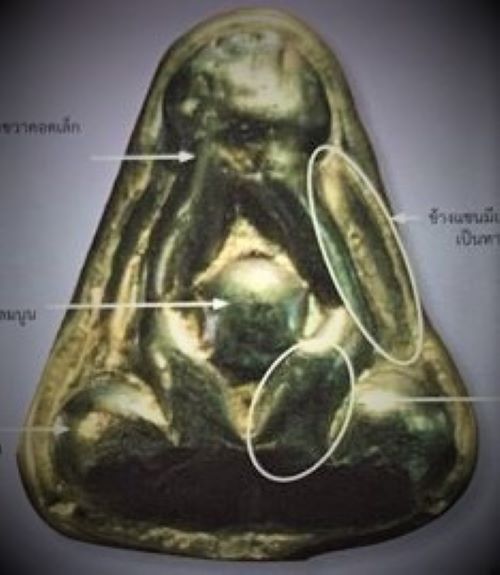 The Pantheon is also split into subcategories of Pim Dtor (Dtaeng and Mai Dtaeng, in small, medium, and large), Pim Chalud (higher more tapered angular model), Pim Maha Ud (bowed arms and legs model), Pid Ta Nang Yong (squatting model), the very rare Pim Gradum (button shape), and the Pim Siarn Hlaem (pointy head model).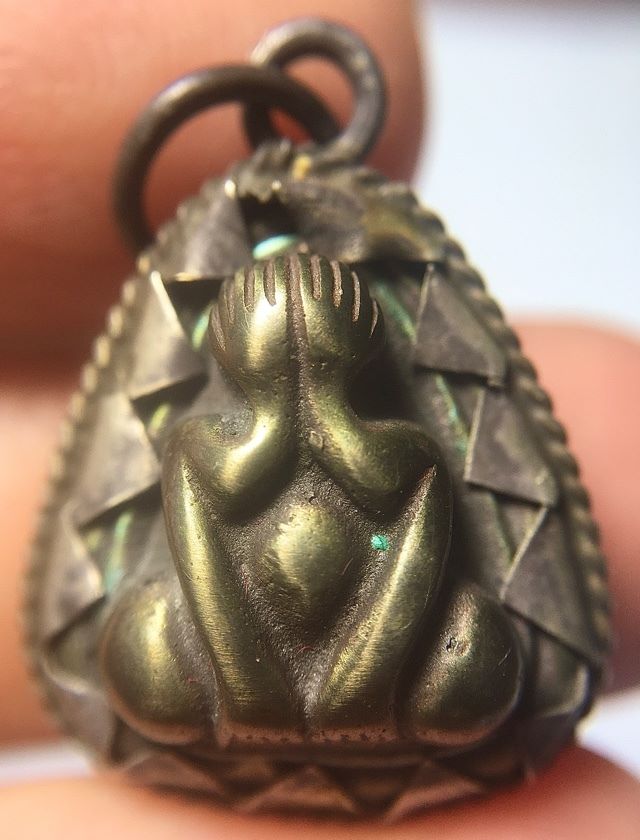 Luang Por Tap's Maekasit amulets are known to have different tones of color which shimmer through the metallic surface, ranging from silvery to some most highly preferred exhibits with blue, golden or greenish metallic sheen. Some of the most highly prized, rare, and sought-after amulets of Luang Por Tap were made during the time when both Luang Por Tap and the then abbot, Luang Por Nuam Puttasārō, were alive and collaborating with amulets.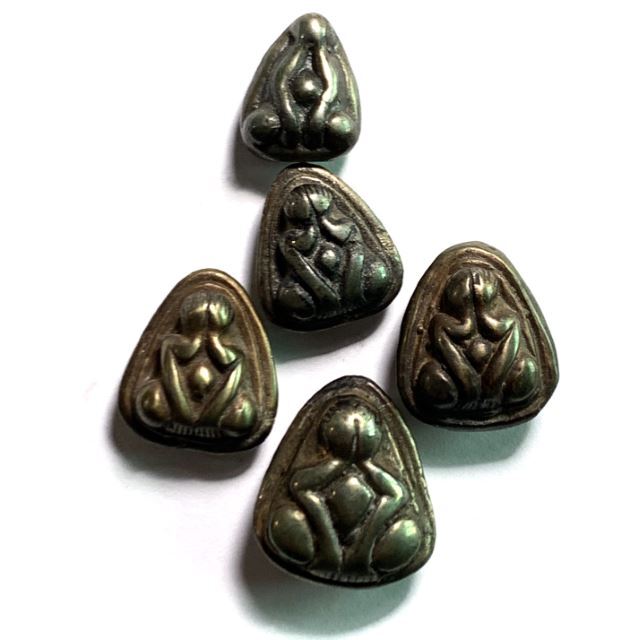 Luang Por Tap inherited the Wicha Hung Nam Man Montra Saksit for making Sacred Consecration Oil from his Kroo Ba Ajarn Luang Por Nuam (6th abbot of Wat Anongkaram). Luang Por Nuam's amulets are even rarer to find than those of Luang Por Tap himself, but it is Luang Por Tap who gained more National and International Attention. The first edition Rian Run Raek of Luang Por Nuam is especially sought after and carries an immensely high market value in the present era. However, only a few were ever made, and so they are very rarely seen.
Luang Por Tap was also known to have been a close accomplice to Pra Sangkarach Pae of Wat Sutat and Luang Phu Sukh (Wat Pak Klong Makham Tao in Chainat). In addition to his expertise in alchemy and sacred oil making, Luang Por Tap was also highly skilled in the creation of sacred amulets, which are highly sought after by collectors and practitioners alike. His amulets are known for their powerful protective and auspicious qualities, and are believed to bring good fortune, success, and prosperity to their owners.
Luang Por Tap passed away in the year 2465 BE, leaving behind a legacy of powerful amulets and sacred knowledge. Today, his amulets are still highly revered and sought after by collectors and practitioners all over the world.
---